The 16 Best Wine Accessories On Amazon, According To Wine Lovers
Every wine drinkers dream.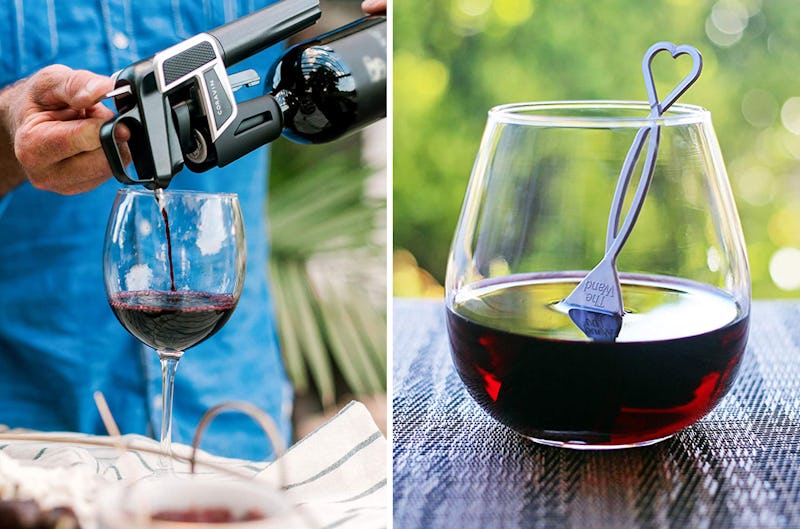 Amazon
We may receive a portion of sales if you purchase a product through a link in this article.
When it comes to the expansive world of wine, there are nearly as many types of wine drinkers as there are grape varieties. But whether you like to pop a bottle with dinner each night or save your prized vintages for special occasions, a few key wine essentials makes the whole experience more enjoyable. The best wine accessories make it easy and fun to savor your favorite wines, and even make great gifts for the wine lover in your life.
Any accessory you buy should be functional. So start by deciding how you plan to open your wine. Screw-top bottles are becoming more common, but everyone should have an opener that can remove natural or synthetic corks. Rather than a manual wine key or corkscrew, consider upgrading to a foolproof electric model.
If you plan to enjoy the whole bottle, you might want to buy a decanter. Decanting introduces air to open up the aroma and flavors of your wine, and makes for an elegant presentation. Choosing a wine glass comes down to preference, but whether you like stemmed or stemless glasses, invest in a style that's comfortable to hold and easy to clean.
If you're looking for a smaller wine accessory, there is plenty to love on this list. From a wine glass cup holder that suctions to your bath or shower, to washable wine markers that let you draw on the sides of your glass, there's a wine accessory on this list for everyone.
Below, I've rounded up the best wine accessories, as well as a few splurge-worthy items to take your wine game to the next level.
1. The Best Wine Opener
— Also available on Walmart, $39
Secura's automatic wine opener won the title of best electric wine opener, and it's still a top pick. The battery-operated opener removes corks smoothly and consistently using simple up and down controls, so you'll never have to worry about breaking or damaging corks. A foil cutter is included to make the job easier, and the low-profile charging station also serves as a display when it's not in use. When fully charged, the Secura can open up to 30 bottles of wine, and a built-in blue LED light illuminates when the battery is full.
According to one reviewer: "I absolutely love this wine opener. Not only is it beautiful, but everything about it works perfectly. The foil cutter works really well, and so does the actual opener itself. [...] Buy this, in any color you like, trust me, you won't be sorry."
2. The Best Wine Insulator
Keeping wine at its ideal drinking temperature is part of the experience for some, which is why the BrüMate Winesulator™ is a game changer. It can hold a full bottle of wine and keep it cool for 24 hours without the need for ice. This insulator is also 100% leakproof, according to BrüMate, and features a non-slip base. Plus, if you're anywhere with a "no glass rule," you're safe to go with this tumbler as it's made of durable stainless steel. Choose from more than 30 colors including both glitter and matte options.
According to one reviewer: "If you're anything like me, this will be the best purchase of your life! I consider myself to be an avid wine drinker. Meaning anywhere I go- weekend ATV riding trips, beaching, boating, patio sitting, you name it- the wine is sure to make an appearance! This Winesulator is the perfect component to your travels because it fits the perfect amount of wine to either drink all of in one sitting (what I typically prefer) or save for later while keeping it at the perfect temp (I prefer cold)."
3. The Best Wine Bottle Stoppers
Decorative wine bottle stoppers may look nice, but they don't do the best job of keeping air out of your opened bottles, which can lead to premature spoiling or flavor turns. This bottle stopper from Erhiry has a hinge closure that activates an expanding ring to create an air-tight seal in the bottle's neck. Sold as a set of two, the stoppers are great for keeping still wines fresh, and can also keep sparkling wines bubbly longer. Since the seal is leak-proof, you can store opened bottles on their side in the fridge without fear of spills. One note: This doesn't wine bottle stopper doesn't work for sparkling wines.
According to one reviewer: "I love my wine and needed to find a wine stopper that keeps my wine tasting just as good as the day I opened the bottle and this one does just that. This stainless steel wine stopper is made of high-quality materials and easy to use."
4. The Best Wine Charms
If you've ever run into the dilemma of forgetting which wine glass is yours, a handy wine charm is a great accessory to have in your kitchen drawer. This set of 16 wine tags clips over any stemmed wine glass so you can easily remember which glass belongs to who. Each one has a different charm in the shapes of famous (and familiar) landmarks, like the Statue Of Liberty or the Eiffel Tower. You can also opt for one of their other collections, including a set of beach- or wine-themed charms.
According to one reviewer: "These worked great for my wine party, and fun for guests to choose one of a place they'd been or want to go. Kept track of our glasses."
5. The Best Leakproof Wine Tumbler
Avoid spills (and wasting wine) with the leakproof BrüMate Uncork'd XL. It features a non-slip base and a specially-designed lid that locks in place. However, it does more than just prevent spills. Because it's insulated, it will also keep your wine chilled for up to 12 hours and any warm beverages hot for up to three hours. This tumbler is designed to hold up to 14 ounces which is almost equivalent to three glasses. Plus, it's available in tons of colors and styles to match you and your own style.
According to one reviewer: "Thanks Brümate for saving my furniture and carpets! No more worries about drinks spilling on a headboard when curling up with a good book (and drink) in bed or having a pet get excited and knocking over your drink with their tail (too many times). Plus, it easily fits in an IKEA desk cupholder!"
6. The Best Wine Glasses
— Also available on Wayfair, $100
For everyday use or special occasions, this set of 12 wine glasses from Libbey's Greenwich collection includes two volumes, 20 and 24 ounces, for drinking white and red wines, respectively. Made from clear, lead-free glass, they're designed to be durable and dishwasher safe, so cleanup is easy. Reviewers love the glasses' thin lip, which gives them a premium feel. The slightly angular design of the bowl gives each glass an elegant but modern look, and since the largest glass is just over 9 inches tall, the set can be stored on a shelf or in most cabinets.
According to one reviewer: "The product itself is excellent! I am very pleased with the design of the glasses, especially the white wine glasses which are stunning. The red wine glasses are large and spacious which I find is conducive to appreciating the aromas of a complex wine."
7. The Best Wine Canteen With A Straw
The Winesulator™ Infinity from BrüMate is all you'll ever need for drinking wine on location. For starters, it's triple-insulated to keep your drink at its perfect temperature throughout the whole day. It's even large enough to hold an entire bottle of your favorite vino and the convenient twist-on straw makes this canteen so easy to use. The Winesulator™ Infinity is available in nine vibrant colors including yellow, lilac, and neon pink.
According to one reviewer: "I love my Glitter Rose Gold Infinity Bottle. Keeps my Sunday brunch mimosa chilled to perfection, allowing me to chill in my yard by the golf course and drink. I even use this as a regular water bottle. And the color is just gorgeous!"
8. The Best Stemless Wine Glasses
Stemless wine glasses have become more popular in recent years, and offer a casual option for drinking wine anytime. This set of four stemless glasses has a versatile 15-ounce capacity for enjoying red or white wine. The design features a thin lip for enjoyable sipping, and though they're lightweight, they're dishwasher-safe for easy care.
According to one reviewer: "I have been buying these glasses for 3 years. They are durable, hold just the right amount, and make a casual presentation at a picnic or dinner party. Big thumbs up!"
9. The Best Shatterproof Wine Glasses
— Also available on Walmart, $29
You'd never know these stemless wine glasses from Vivocci are shatterproof, making them a great option for anyone who enjoys having a glass of wine outdoors or for those who identify as accident-prone. They're made from Tritan, a highly durable, BPA-free plastic that won't break when dropped or clinked. Unlike many other acrylic or plastic glassware brands, Vivocci's glasses are dishwasher safe and won't stain or become cloudy over time. You can choose between two volumes, 12.5 and 20 ounces, as well as sets of two, four, six, or eight glasses.
According to one reviewer: "Well I have to say I bought these for wine but I'm using them for whatever and they haven't broken yet and I've had them for a few months. They are nice."
10. The Best Wine Markers
Another way to distinguish your wine glass (or any glass you're using), these wine markers allow you to write on the sides of your glasses. This pack of markers comes with five different colors to choose from. When you're done, easily wipe your glasses clean with a wet washcloth and a bit of dish soap, or put your glasses in the dishwasher if they're dishwasher safe — your glasses will look like new.
According to one reviewer: "My mom originally bought these for a holiday party and they ended up being the talk of the party! Everyone got to decorate their own wine glass with their name and silly sayings or designs and it was impressive how the writing remained on the glass and did not smear or smudge. Also, I helped her wash dishes at the end of the night and it was surprisingly very easy to wash the writing off the wine glasses! These are great!"
11. The Best Wine Bath Holder
This shower wine cupholder makes for a perfect gift (even if that gift is just for yourself), and attaches to a smooth shower or bath surface with powerful suction cups on the back. You can easily use this for a glass of wine (or any beverage, really) — it can hold up to 7 pounds. Even better, this cupholder is made of dishwasher-safe, BPA-free plastic that couldn't be easier to clean. This is a great accessory for anyone who loves a glass of shower wine.
According to one reviewer: "I like to drink. I also like to shower. So why not both at the same time? I've had this item for a few years now. Even moving a few times, this suction cup sticks like day one! Perfect for keeping your sipper cold and not watered down while you scrub a dub dub."
12. The Best Wine Decanter
Aerating your wine, or allowing it to "open," reveals complex flavors and aromas, particularly in red varieties. This beautiful, hand-blown crystal decanter from Le Chateau holds a full 750-milliliter bottle of wine, making it perfect if you're serving wine at the table. The pour spout features a tapered lip for drip-free serving, and the wide base provides a generous surface area for quick aeration. Although this decanter is technically dishwasher safe, it's recommended to purchase a special long brush for thorough cleaning, given its unique shape.
According to one reviewer: "I was a little bit skeptical at the price of the decanter. How could it be as good or decorative as the higher-priced models? My skepticism was unneeded. The decanter is stylish and sleek and most importantly gives the wine room to breathe. It pours without a mess and it feels sturdy, but not heavy. I am absolutely DELIGHTED with it and I highly recommend at any price!"
13. The Best Wine Sulfite Remover
If you have allergies or sensitivities to sulfites, a wine sulfite remover can be a good accessory to invest in. Available in a pack of three, this tool removes sulfites and antihistamines from your wine, which many reviewers credit with fewer wine-related headaches and a sharper, crisper taste. With more than 5,000 Amazon reviews, this is one of the most popular wine accessories on the market.
According to one reviewer: "For the last few years I've been getting headaches when I drink wine (even just one glass) [...] I never knew that there were histamines in wine so it didn't occur to me that maybe it was my allergies. A friend of mine recommended these and they absolutely work! I even take them with me to restaurants. I'm so glad that I can enjoy a glass of wine with a good meal again!"
14. The Best Wine Preservation System
Whether you drink wine by the glass rather than the bottle, hate waste, or want to venture into rare or special vintages, investing in a wine preservation system like this Coravin model makes a lot of sense. The innovative design uses a needle to pierce the bottle's cork, allowing you to pour wine from the glass without oxidizing or spoiling the rest of the bottle. This means you can drink from multiple bottles without popping a single cork, and wine will stay fresh for years as opposed to hours or days. The system comes with two capsules of inert, flavorless argon gas (what replaces air in the bottle), each of which can pour up to 15 glasses of wine. This wine preservation system offers a great way to try special wines since you won't have to worry about if or when you'll finish it.
According to one reviewer: "I can now pour a glass of wine - and know that what remains in the bottle will keep perfectly for days or months. The vacuum-type wine preserver I was using before rarely kept the wine drinkable after a couple of days - so I had to finish it quickly. I can now enjoy as little wine as I want to pour, and return to it whenever I want."
15. The Best Wine Cooler Bag
This insulated wine carrier can fit two wine bottles (or one bottle and two glasses), and will keep them cool while you head to your destination. Made with durable polyester and PU leather details that add an elegant touch (without compromising its durability), this wine cooler bag is a great accessory to have on hand. It even comes with its own corkscrew opener, so you don't have to remember to bring one with you. This bag is available in 10 different colors and even in a three-bottle design, so you can find the perfect one for you.
According to one reviewer: "Love this wine tote. Used it on a cruise but will continue to bring it with me to parties/dinners etc. Got a lot of compliments about the blue and beige bag!"
16. The Best Wine Refrigerator
— Also available on Home Depot, $280
Depending on whether we're drinking red or white wine, most of us store wine either at room temp or cold. But in order to really enjoy each glass as the winemaker intended, wines should be kept and served at specific temperatures, which is where this wine refrigerator from Wine Enthusiast comes in. Though compact in size (it's 32.7 inches in height, 18.9 inches in width, and 13.6 inches in depth), it features dual temperature zones, so you can keep red and white bottles in the same unit but at their ideal temperatures. The digital touchscreen allows you to input a specific degree for each zone (or set the whole refrigerator to one universal temperature), so you can customize it to your wine collection. The refrigerator can hold up to 18 bottles on the chrome racks, and has a lower display shelf for showing off your most prized bottles.
According to one reviewer: "Well built, adjustable racks are great for different shaped bottles, easy to level, maintains temps, looks great. As for the noise, maybe I got lucky, but it is very quiet. If it's dead silent in the room, and I'm actively listening for it, I can tell when it's running from maybe 10ft away. Otherwise, I never notice it."