4 Manifestations To Do On Your Birthday Every Single Year
Like a b-day wish, but even more powerful.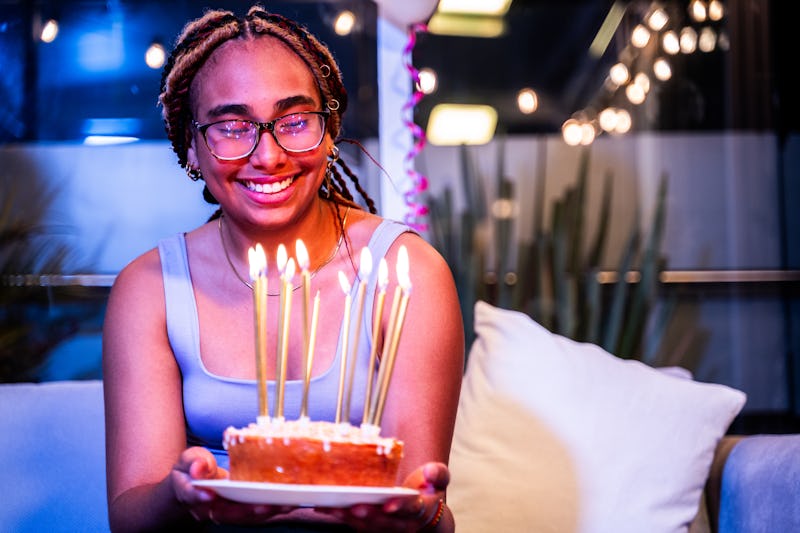 Frazao Studio Latino/E+/Getty Images
For many people, Jan. 1 marks the start of a new era. For others, their birthdays are the true mark of a new year. Birthdays can be a lot of pressure, which is why the annual event often inspires deep self-reflection. But as you reminisce on the last 365 days, you might also find yourself dreaming about what's to come — after all, you not only want your day to be great, you want the year ahead to be one for the books, too. Luckily, according to manifestation coach Kathleen Cameron, four manifestations can help you ensure that your next year is filled with abundance, happiness, and all of the best vibes.
If you don't enjoy commemorating your birthday or hate acknowledging the passage of time, the yearly celebration might not be as fun as it was when you were younger. But birthdays don't have to be a total wash. By starting your day with positive, gratitude-filled affirmations, you can set yourself up to have a great day and an even better year. "These affirmations are designed to empower you on your birthday, helping you set intentions that align with your desires and values," says Cameron. "They encourage you to focus on personal growth and positive impact, making your birthday a meaningful and transformative day for yourself and those you touch with your presence and intentions." Maybe these mantras will change your outlook on birthdays, too — the only way to find out is to put them into practice and see where the next year takes you.
Source:
Kathleen Cameron, success, life, and manifestation coach