Everything I Did On A Once-In-A-Lifetime Trip To Botswana
Lions and diamonds and baboons, oh my.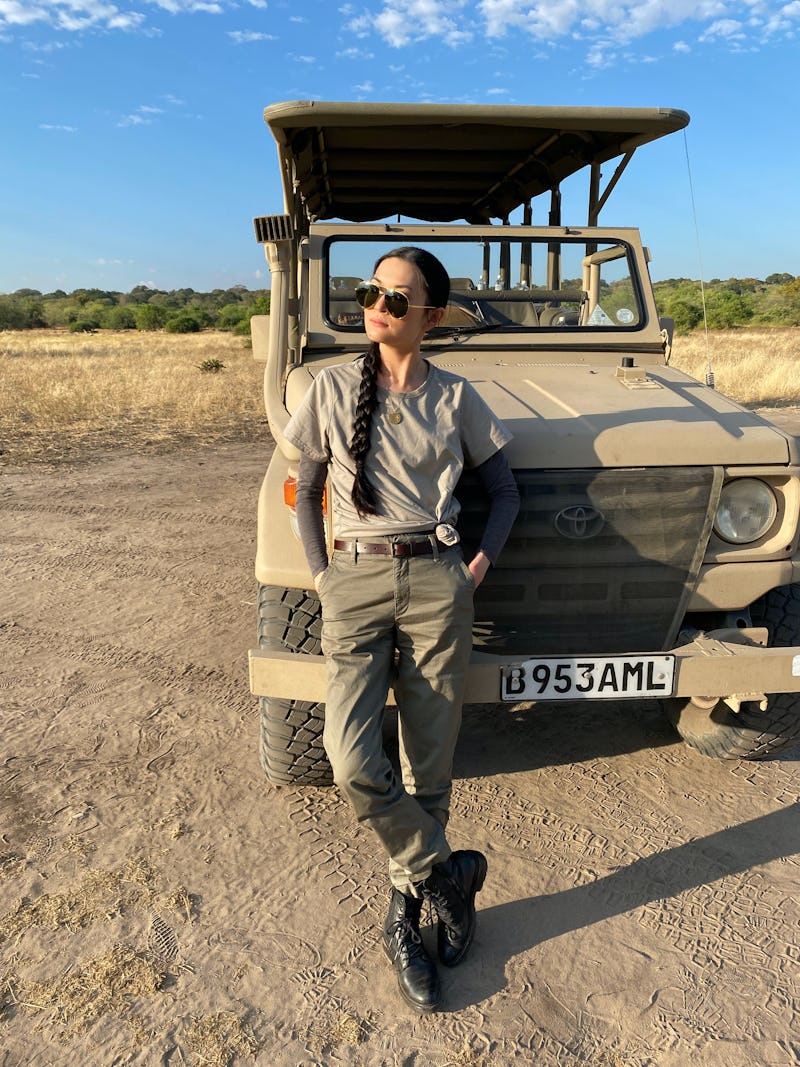 Photo courtesy of Jennifer Yee
This past May, I joined Ben Bridge Jeweler on a weeklong journey through Botswana. I was mainly excited to travel to a corner of the world I had never seen before and eager to explore what the country is most known for: its raw, untouched nature and diamonds, the foundation of Botswana's economy.
Between early morning safari game drives at Chobe National Park and sunset boat rides along the Chobe River, I experienced Botswana's captivating beauty and saw some of the most diverse and fascinating wildlife in the world.
I also learned the origins of De Beers diamonds, the company that's currently collaborating on the Ben Bridge Signature Diamond — and the resulting jewelry collection, which highlights Ben Bridge's commitment to ethical sourcing.
And so, a 14-hour plane ride later, I embarked on a trip full of adventure and education. Here's everything I did along the way.
A Sunset Sail On The Chobe River
My travels included a trip to Chobe National Park located in Kasane, a corner of Botswana that borders three countries: Namibia, Zambia, and Zimbabwe. There, I stayed at Chobe Game Lodge, where the musical whirring and chirping of insects are the only sounds in this peaceful getaway from the outside world.
The drive from the airport was an enjoyable introduction to the park's inhabitants: Giraffes lazily lunched on leaves, and impalas huddled and scurried together. As I made my way to my room, I encountered families of warthogs, my unofficial guardians for my stay. The guides reminded me that the lodge's fences only kept out elephants, and any other animal could easily greet me at my door.
After settling in, I sailed on the Chobe River at sunset. A hippopotamus, which I learned is one of the more treacherous animals, made a brief cameo as it quickly peeked its head above water. Baboons, elephants, and crocodiles, who looked like friends, were hanging out at dusk.
They are in fact, not friends, as my guides so kindly informed me. "Friends" in the land of wildlife is wishful cartoon thinking. Nature operates as "survival of the fittest."
Photo courtesy of Jennifer Yee
Photo courtesy of De Beers Botswana
Photo courtesy of De Beers Botswana
A Game Drive Safari At Twilight
Five a.m. call time in place, the safari guides retrieved me for a game drive in Chobe National Park. I was comforted amid the crisp, chilly morning by robust cups of coffee and thick blankets (it was winter in Botswana), as we drove through the stillness of sleeping desert plains, waiting for the sun to rise. We spent the day of the game drive observing the diverse array of wildlife in their habitats, learning about this sprawling ecosystem.
During the drive, elephants dusted themselves with sand and dirt to protect themselves from the heat; their craggy skin made even the youngest ones look wise and old. Baboons, with their babies clinging to their bellies, skittishly sifted through elephant dung in search of food. Breakfast comes in all shapes and forms, even if it's leftovers.
Meanwhile, giraffes — sleek, fast, and utterly elegant in stature — galloped between the trees. If you ask me, they're the supermodels of the animal kingdom.
Photo courtesy of De Beers Botswana
Photo courtesy of Jennifer Yee
Photo courtesy of De Beers Botswana
We searched for the leaders of the food chain, the lions, for the majority of the day. At last, in a quiet moment at dusk, we encountered a pride of lionesses. We held our breath as they neared us, moving beautifully and ominously at once. They were plotting for their next meal, concentrating on the herd of unlucky impalas over yonder.
One of the most peculiar, spectacular, and emotional experiences of my journey was hearing the lions' roar — a sound so strange and yet so natural, like the rumbling of thunder signifying an impending storm.
Photo courtesy of De Beers Botswana
Photo courtesy of De Beers Botswana
Inside An Active Diamond Mine
The next day was a journey to the Jwaneng Diamond Mine, the world's most valuable diamond mine (also known as "The Prince of Mines"). Hard hat and reflective vest on, I peeked into the depths of the mine, a cavernous hole filled with flurried activity.
The diamond industry begins here, and whether it be those who operate this heavy machinery or the doctors who help delivery 100 babies per month at the local hospital supported by the Jwaneng Diamond Mine, each facet of the diamond industry is intertwined.
Touring The De Beers Sales Facility
The De Beers Global Sightholder Sales facility sits in Gaborone, Botswana's capital. Each of its high-security rooms are sterile and orderly — a departure from the previous day's dusty plains.
There, rough diamonds are sorted and analyzed before they are sold to Sightholders, the select group of companies authorized to purchase De Beers rough diamonds. For many of its diamonds, the company has begun to use Tracr, a program that ensures a stone's traceability and provenance.
I learned that traceability and the commitment to sourcing conflict-free diamonds are two of the key initiatives that leaders in the industry have taken over the past 20 years to ensure a socially responsible supply chain. For both De Beers and Ben Bridge, transparency in sourcing is important at every level of a diamond's journey, not just for those involved directly in the mining and sourcing process but for retail consumers as well.
In these rooms, the pile of rough stones looked like playground pebbles. It was easy to forget they'd soon take on a more glamorous look after they've been polished.
Photo courtesy of De Beers Botswana
Photo courtesy of De Beers Botswana
Photo courtesy of De Beers Botswana
We then made our way to the village of Molepolole to visit the cutting and polishing facilities of Leo Schachter Diamonds, a De Beers Sightholder. That's where I discovered what diamonds could mean beyond jewelry.
By keeping the cutting and polishing process local to Botswana, Sightholders like Leo Schachter Diamonds have helped increase employment and create a web of support to the local communities. The company also funds a local day care center.
At the end of the trip, I said farewell to a country whose warmth and generosity outshines any of the polished stones that make their way into the world. Diamonds may be the backbone of their economy, but it's the people and wildlife who are the beating heart of Botswana.