Dua Lipa & Joe Lycett Among Celebs Calling Out Qatar's Human Rights Laws
Footballers, pundits, and activists have called out the World Cup host nation's attitude towards women and anti-LGBTQ+ laws.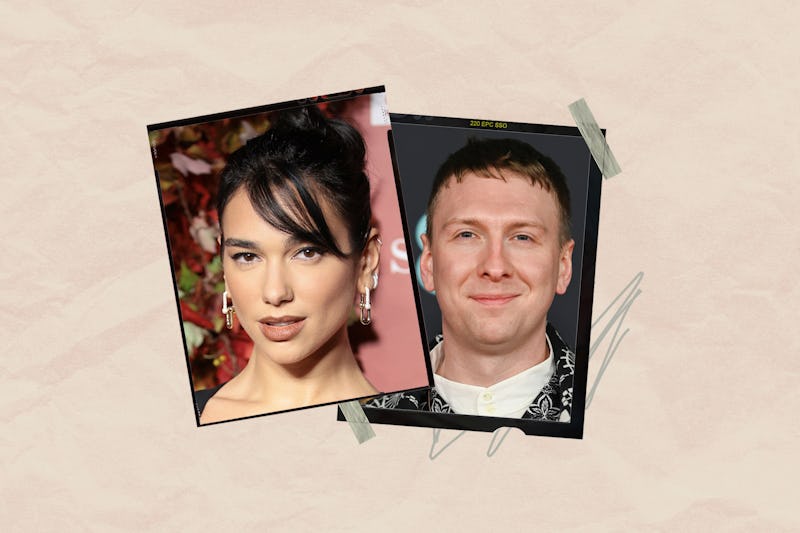 Dimitrios Kambouris/Getty Images for Albie Awards / Kate Green/Getty Images
Football fans are likely counting down the days until the 2022 FIFA World Cup kicks off in Qatar on Nov. 20. However, away from the pitch, the tournament has been shrouded in controversy ever since the Middle Eastern host was first announced back in 2010. Over the past decade, human rights groups have criticised Qatar for its poor treatment of workers, while others have called out FIFA's decision to host the World Cup in the country due to Qatar's poor human rights record, especially relating to attitudes towards women and anti-LGBTQ+ laws.
As per PinkNews, the Qatari World Cup ambassador, Khalid Salman, sparked outrage on Nov. 8 when he described homosexuality as "haram" (forbidden) and "damage in the mind." Salman later added that "everyone is welcome in Qatar, but our religion and culture will not change for the championship."
Per The Guardian, the UK foreign secretary, James Cleverly, also faced a wave of criticism when he suggested that any LGBTQ+ football fans planning to travel to Qatar — where homosexuality is criminalised — should "be respectful" of the host nation which "has very different set of cultural norms to our own." Speaking to the Mirror, Football Association of Wales chief executive, Noel Mooney, also asked LGBTQ+ football fans to avoid "provocation" when visiting the country. "If you're going to a mosque and running around with a rainbow flag, then that kind of stuff is when we ask people to demonstrate common sense," he told the outlet.
The ongoing backlash has prompted some to take a stand against the World Cup's host nation, including activists, charities, the England team captain, and more.
Jake Daniels
Blackpool FC player Jake Daniels, who came out as gay earlier this year, said he is "not the happiest" about FIFA's decision to hold the tournament in Qatar, suggesting that he would support a World Cup boycott. "I know [some] people wanted to boycott it, which would have been good," Daniels told Vogue. "But the World Cup's massive. If you're comfortable to go and do it, you do it."
He continued: "It would frustrate me, because why am I trying to hide my personal life for other people? Like, I'm going to play football for you and you can't respect how I want to be, so it's just not what I want to do."
Joe Lycett
On Nov. 13, comedian Joe Lycett publicly challenged David Beckham to abandon his position as an ambassador of the Qatar World Cup. In a now-viral video message, Lycett explained that he will donate £10,000 of his own money to charity if the footballing legend agrees to walk away from his role. If not, the comedian plans to "throw the money into a shredder" during a live stream on Sunday, Nov. 20, ahead of the tournament's opening ceremony.
"I consider you, along with Kim Woodburn and Monty Don, to be a gay icon. You were the first premiership footballer to do shoots with gay magazines like Attitude, to speak openly about your gay fans," Lycett said in a statement. "But now it's 2022 and you've signed a reported £10 million deal with Qatar to be their ambassador during the FIFA World Cup."
The comedian added: "You have always talked about the power of football as a force for good ... so with that in mind I'm giving you a choice. If you end your relationship with Qatar I will donate ten grand of my own money (that's a grand for every million you're reportedly getting) to charities that support queer people in football."
Dua Lipa
Following reports that the "Physical" hitmaker might be performing at the 2022 World Cup opening ceremony, Dua Lipa has spoken out against Qatar's record on human rights.
In a statement shared on the singer's Instagram Stories, Lipa denied that she will be performing, clarifying, "I will not be performing and nor have I ever been involved in any negotiation to perform."
"I will be cheering England on from afar and I look forward to visiting Qatar when it has fulfilled all the human rights pledges it made when it won the right to host the World Cup," the Grammy winner added.
Melanie C
During an appearance on the Not My Bagg podcast, Spice Girl Melanie C said Qatar's attitudes towards homosexuality make her "very uncomfortable."
Speaking of her bandmate's husband, David Beckham — who is a paid ambassador for the Qatar World Cup, per the Daily Mail — the "Wannabe" hitmaker continued: "It's difficult. David is a friend, and everybody has to make their own choices ... I understand people want to talk about sport being able to change culture, but when there's so much money involved, it's tricky."
Meanwhile, in an interview with Attitude, Mel C called out those who plan on working in Qatar during this year's tournament. "It's greed. They can try and spin it that they're there to make change, but it's bull**** — it's about money." The singer continued: "Obviously I'm a huge England supporter, whatever the gender, but it's hard to get fully behind it when you know where the money's coming from."
Ian Hislop
On the Nov. 4 episode of the BBC's Have I Got News For You, regular panelist Ian Hislop called out guest host Gary Neville's decision to work as a commentator at the 2022 World Cup. As per the Independent, Hislop asked the former Manchester United player, "the elephant in the room is still there. You're commentating there, aren't you?"
After pointing out that Neville has a "choice" whether or not to attend, Hislop then asked him what his "defence" was, prompting the ex-footballer to defend his position.
"My view always has been, you either highlight the issues and challenges in these countries, and speak about them, or you basically don't say anything and stay back home, and don't go," Neville explained, to which Hislop replied, "There's another option: you stay at home and highlight the abuses. You don't have to go and take the Qataris' money … It's just not a very good defence."
Beth Mead
On Nov. 3, England Lioness Beth Mead told BBC Radio 4 that she will not be "backing or promoting" the World Cup in Qatar, explaining that the country's laws on homosexuality are "the complete opposite to what I believe and respect."
"It's disappointing in the sense that there's no respect on a lot of levels, even though it's a game of football," Mead said of the tournament. "Although I'm cheering for the boys who are going to play football there, from the minute it was announced I thought it wasn't the best idea."
Peter Tatchell
The veteran LGBTQ+ rights activist Peter Tatchell has been vocal in his criticism of FIFA and Qatar's laws on homosexuality. As per The Guardian, Tatchell staged a protest against the host nation's criminalisation of LGBTQ+ people at the National Museum of Qatar in Oct. 2022. He was reportedly stopped by police in the country's capital, and later said in a statement, "If a Qatari footballer came out as gay, he would not he would be more likely to be jailed, than be selected for Qatar's national team. That's discrimination. It's against Fifa's rules, and Fifa is doing nothing about it."
Harry Kane
As per PinkNews, England captain Harry Kane has opted to wear the OneLove armband throughout the tournament in Qatar along with other team captains from countries including Belgium, Denmark, France, Germany, Switzerland, the Netherlands, and Wales.
The OneLove campaign aims to "use the power of football to promote inclusion and send a message against discrimination of any kind as the eyes of the world fall on the global game."
Speaking of his decision to wear the band, Kane said he is "honoured" to do so. "As captains, we may all be competing against each other on the pitch, but we stand together against all forms of discrimination," Kane explained, "Wearing the armband together on behalf of our teams will send a clear message when the world is watching."
Josh Cavallo
Professional footballer Josh Cavallo, who came out as gay in Oct. 2021, previously expressed his concerns about the 2022 World Cup being held in Qatar. "I read something along the lines of that [they] give the death penalty for gay people in Qatar, so it's something I'm very scared [of] and wouldn't really want to go to Qatar for that," he told The Guardian.
Speaking at the Attitude Awards in London on Oct. 12, Cavallo also called on FIFA and Qatar to "do better." He continued, "The athletes they cheer for [may be] bisexual or non-binary ... "I vow to stand up for the LGBTQ+ athletes and the fans at the World Cup in Qatar who can't live openly or authentically. Qatar, FIFA, the world is watching. Do you see us?"
The Welsh National Team
On Nov. 1, the head of the Football Association of Wales (FAW) confirmed that players had been informed of Qatar's human rights record ahead of the 2022 World Cup. As PinkNews reports, the head of international affairs at FAW, Mark Evans, also disclosed that a "significant" number of staff at the Football Association of Wales have opted to not visit the country during the tournament.
Speaking to reporters, Evans shared that the Welsh national team want "all fans coming over to feel as safe and welcome as possible," while the team's manager, Rob Page, also revealed that the Welsh captain will wear the OneLove armband in support of LGBTQ+ rights. "The team is determined to wear them. It's very important to us," Evans added.
Gary Lineker
Former footballer and BBC pundit Gary Lineker called out the aforementioned UK foreign secretary's advice to LGBTQ+ people during this year's tournament, sarcastically writing on Twitter, "Whatever you do, don't do anything Gay. Is that the message?"
As per The Guardian, Lineker also confirmed that the BBC's coverage of the 2022 World Cup will address the controversy surrounding Qatar. as a host nation. "I'm sure we'll do it on the first night," he revealed. "Obviously, we're not going to do it in every buildup to every game, but of course we'll talk about it and openly."
Prince William
As President of the Football Association, many would expect Prince William to attend the 2022 World Cup in support of the England squad. However, as The Sun reports, the senior royal is not expected to visit Qatar during the tournament. Although sources say this is likely down to William's increasingly busy schedule, others claim that the Prince of Wales has opted to stay away due to the ongoing backlash agaisnt FIFA's decision to host in Qatar.
This article was originally published on