HIV Charities & Resources To Know After Watching It's A Sin
Getting a HIV diagnosis today doesn't have the same implications as it did in the 1980s.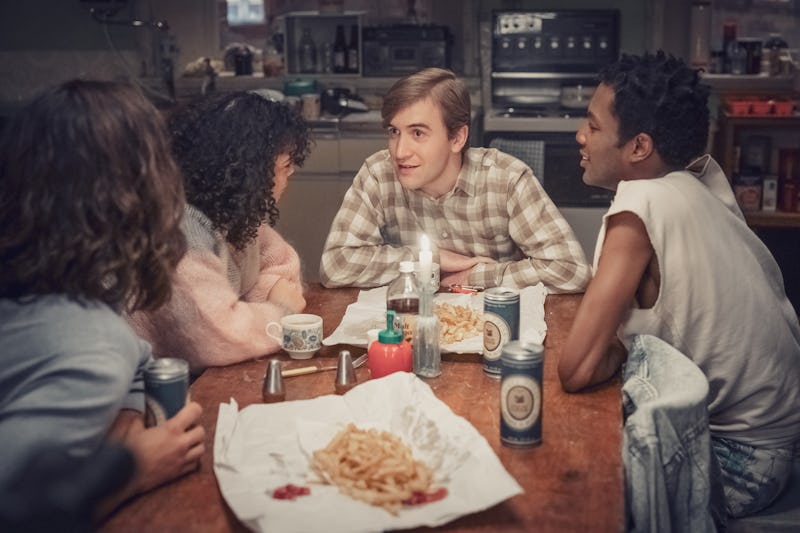 Channel 4
Russell T Davies' new Channel 4 series It's A Sin premiered on Jan. 22, and immediately had a massive impact. The drama – which follows five flatmates as they negotiate living life to the full in the shadow of the AIDs crisis in 1980s Britain – has put a spotlight on the activists that have worked tirelessly to bust the stigma surrounding HIV. Getting a HIV diagnosis today doesn't have the same implications as it did four decades ago. And there are great UK organisations that advocate for and support HIV positive people, some of which we've listed below.
Due to scientific breakthroughs over the last 30 years, 98% of people with HIV in the UK are on treatment, and 97% are virally suppressed, which means levels of virus in the blood are so low that they can't pass it on. Diagnoses have continued to fall, year on year, while in March 2020, the BBC reported that a man from London was the second person in the world to be cured of HIV, according to doctors. Meanwhile, charities and activists have created safe spaces to speak about HIV, and they also lobby the government for funding and resources.
Unless you've done your research on AIDS and HIV from the 1980s to now, you may not know much about it. So, a good place to start are with the UK organisations who have worked to open up conversations, educate and extend support to those who are affected by HIV. Below, we list the charities you can donate to now, and the resources where you can read up on HIV today.