Chipotle's New Protein Option Sounds Amazing
Act fast because it will only be around for a limited time.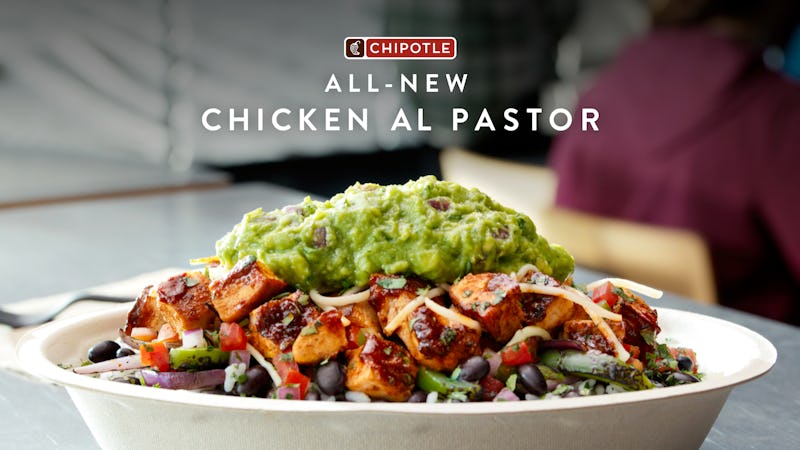 Courtesy of Chipotle
Chipotle lovers, you're not gonna want to miss this. The beloved restaurant announced on March 14 that it's bringing a brand new protein option, Chicken al Pastor, to locations all over the world. Your go-to order is about to get a serious upgrade. The tasty menu item won't stick around forever, though, so you'll need to get your hands on the goods ASAP.
The new Chicken al Pastor innovation hits stores worldwide starting March 14, marking the brand's first global launch of a menu item. The limited-edition option is made with a mix of delicious flavors, including Chipotle's fan-favorite adobo chicken that's been marinated in morita peppers and ground achiote, as well as a dash of pineapple, fresh lime, and topped with hand-chopped cilantro.
If you've never had Chicken al Pastor before, you can expect the juicy menu item to add just the right amount of heat to your bowl, burrito, tacos, salad, or quesadilla. Plus, each bite of the savory dish will also feature the perfect blend of smokiness and sweetness for even more flavor. And if you're still not sold, the protein is made in small batches throughout the day from responsibly raised chicken, so you know your order will always be fresh.
Though you probably don't mess around when it comes to your go-to Chipotle order, you'll definitely want to make an exception this time. In a quote featured in a press release for the menu innovation, Chipotle's Chief Marketing Officer Christ Brandt shared his mouthwatering review of the limited-time offer. "We've put our own spicy spin on al Pastor with our freshly grilled chicken and have created a truly delicious menu item that fans will crave," said Brandt. "It's where fire meets flavor."
It's unclear how long the Chicken al Pastor will stick around, so you might want to make a Chipotle run sooner rather than later just to be safe. Or, you can have the bite delivered to you for free through the Chipotle website or app for a limited time.
To celebrate the launch of the new menu item, this free delivery promo will last from March 16 until March 26, so be sure to pencil in some Chipotle during that window of time. The deal is only available at participating locations, and can only be applied to orders worth $10 or more — all the more reason to get the side of chips and guac.