5 Crystals For Manifestation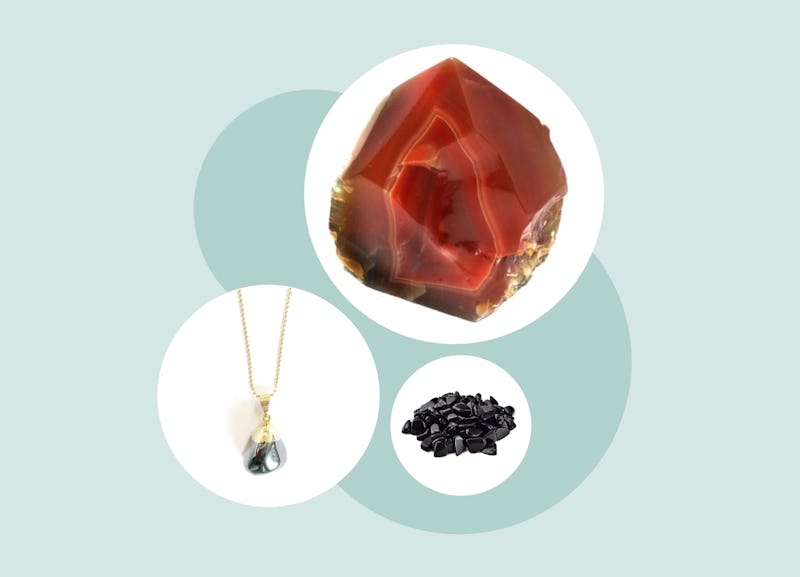 Etsy/Crystal Age/Brooklyn Farm
There are no limits to what you can manifest. Maybe you're dreaming of a partner who unabashedly shares your love for Bravo shows, or you aspire to qualify for the New York City Marathon. It could be as simple as wanting to adopt a pup from your local rescue center. No matter what you're manifesting, all you need is a specific goal and focus. Experts say adding crystals for manifestation to that recipe can supercharge your intentions.
While stones can't literally sign you up for that Real Housewives-themed speed dating event, crystals for manifestation serve as little reminders of what you're working towards. They can help provide the clarity, energy, and courage to make small — or big! — steps towards the goals you're manifesting. "When you actively use crystals, the practice, the energy, and your intentions combine to create the life you want," says Robyn Vie Carpenter-Brisco, author of Let's Get Stoned: Using Stones and Crystals to Create a Life That Rocks!
Whether you're putting your mind to manifesting love, money, or a backstage pass to a Harry Styles concert, believing you can make it happen makes all the difference. Crystals, with their encouraging and loving energies, can't hurt either.
We only include products that have been independently selected by Bustle's editorial team. However, we may receive a portion of sales if you purchase a product through a link in this article.
Pyrite
If you're hoping to lure wealth and success into your life (who isn't?), add a pyrite to your crystals collection. It's the stone of golden opportunities and a master of manifesting. Don't expect pyrite to magically deposit money into your bank account, though. "Pyrite helps encourage you to take actions to manifest what you want," says Carpenter-Brisco. With pyrite on your side, you'll open yourself up to prosperous opportunities of all kinds, from richer friendships to a spontaneous trip to Thailand to paying off your student loans.
How to use it: In the morning, sit still gently holding a pyrite in your hand. Then imagine all that you want to manifest for the day, even if that's simply a Sweetgreen salad or for your chatty coworker to shh. Keep a notepad nearby; meditating with a pyrite is prime time for genius ideas to flood your brain.
Rose Quartz
To manifest love in your life, opt for a rose quartz. If that looks like ring-on-the-finger love, great. If that feels more like forgiveness for yourself, also great. Rose quartz can heal all matters of the heart by drawing love towards you (it is called the romance stone, after all) and bringing peace to relationships gone awry. "The comforting and soothing energy of rose quartz can also help heal a broken heart, allowing the release of pent-up emotions and grief," says Yah'ki, a reiki and crystal healer.
How to use it: To tap into rose quartz's peaceful, loving vibes, lay down and meditate with a rose quartz crystal on your heart, concentrating on the type of love you want to manifest. Or, if you're hoping to attract new love, place a piece by your bedside table. (Ooh la la!)
Carnelian
Carnelian is the crystal of creativity. No finger pointing, but if you've been struggling to start up your Substack or lacking inspiration to finish the cross stitch project that's been sitting on your bedside table for two years, carnelian is the crystal for you. It'll tap into your creativity, so you can stir up new ideas that'll get you closer to the goals you want to manifest. "Carnelian helps you remember that your imagination is truly the key to your success," says Carpenter-Brisco.
How to use it: Each morning, meditate with a carnelian resting in your hand. Sit still, focusing on what you want to create that day, whether that's a quilt for your niece or a persuasive email that'll encourage your boss to finally give you a raise.
Red Jasper
Manifesting isn't a passive mindset. It takes energy, focus, and confidence — all of which you can find in a red jasper crystal. "Red jasper is a perfect stone to manifest courage and strength," says Yah'ki. Its empowering energy will shake off any uncertainty and kickstart your energy so you can start making small steps towards your goals. (Say, dusting off your LinkedIn if you're hoping to hop jobs soon, or dedicating a new savings account for a deposit on your future dream home.) Red jasper is all about manifesting bigger and better things, so don't just reach for the stars — reach to another galaxy.
How to use it: To feel red jasper's high energy all day long, wear a piece of red jasper jewelry. Its fiery power will bring momentum to whatever you're manifesting.
Obsidian
If nay-saying thoughts like "I can't do this" and "I'm too scared" are mentally blocking you from manifesting your dream life, obsidian is a must for your crystal collection. The strong black stone helps shake off those psychological obstacles, so you'll feel more confident to take risks. "Obsidian works to harness negative energy and detox it out of the body, or it could block the negative energy from entering the body to begin with," says Carpenter-Brisco. Yes, spending summers in Sicily does sound nice, and yes, maybe it is time to apply to grad school.
How to use it: Sleep with an obsidian tucked under your pillow. It'll ease any negative thoughts so you can rest soundly. You'll feel energized to tackle your "must manifest" list in the morning.