Here's Your Daily Horoscope For June 20, 2022
Beware of overcommitting.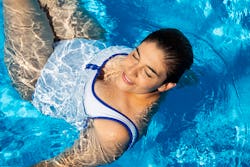 Westend61/Westend61/Getty Images
Bustle's resident astrologer Mecca Woods, founder of My Life Created, shares every zodiac sign's daily horoscope for today, June 20, 2022.
The moon is in inspiring Pisces today, bringing along some optimism and buoyant vibes along with it. Jupiter, the planetary ruler of Pisces, is currently in can-do Aries and lending us motivation to move forward. If we're in a funk for any reason, the astro-weather for the day might be able to help us find a way out.
At the start of the day, brainy Mercury in Gemini teams up with Jupiter in Aries, giving us the ability to envision something big and craft a plan to make that vision real. With the help of this cosmic combo, just having the right conversation with the right person could help us to reach a goal. This planetary pair can also lead us to a plethora of new opportunities or spark some generosity within us.
With the help of Venus in stable Taurus, which is also providing us some support as she teams up with the moon in Pisces later this evening, it's a great time for forging connections with people — for business, pleasure, or giving back. However, a face-off between the Pisces moon and the sun in Gemini by late tonight warns us against overcommitting our time. Shortly afterwards, la luna enters Aries, getting us excited about what's next.
You might have some sage words of advice or encouragement to offer that could help make someone's day. Send a text, give someone a call, or share it on social media.
You have people looking out for you, even if you don't realize it. There could be some blessings or gifts that land in your lap today because of the power of your community and how much you're loved.
Think of a few ways that you can use your influence to help people in need or contribute to a worthwhile cause. If there's anyone that knows how to get people interested in something — it's you!
You have some hope in your heart today thanks to some of the good things brewing for you. Now's the time to take a chance on something you want and be open to what the world has to offer.
Someone may come through to repay you for a favor. They could put you on to a new opportunity or introduce you to a VIP. On a similar note, don't be too proud to call in a favor either.
A promising contract or business offer might be presented to you today. This could be something that improves your finances or helps you get further in your career.
Talking to a wise or knowledgeable person can help you with seeing a situation in a more positive light or give you the chance to learn something new. Be a student for a day.
Romance won't disappoint today, so don't be afraid to put yourself out there or make your feelings known. Meanwhile, look for opportunities to creatively collaborate or partner with others.
Being at home or among the people you love will be like a balm for you today. It's also the perfect time for a heartfelt conversation with your partner or someone close to you. Expect a good outcome.
You could find love through an app, social media, or someone you know. For Caps that are partnered up, grab your sweetheart and do something fun, yet intimate.
You could soon have some money coming your way, which should have you feeling a bit more security. At the very least, you're reminded of your worth and how important it is to get it.
Expect a warm or positive response to your ideas, content, or something you have to say. The timing is optimal for meetings, discussions, or networking. Trust that you have something to offer.
Want to learn more? Check out your June 2022 monthly horoscope.