11 Weird Habits You Didn't Know Dogs Adopt From Their Owners
Who knew dogs could be introverts or extroverts?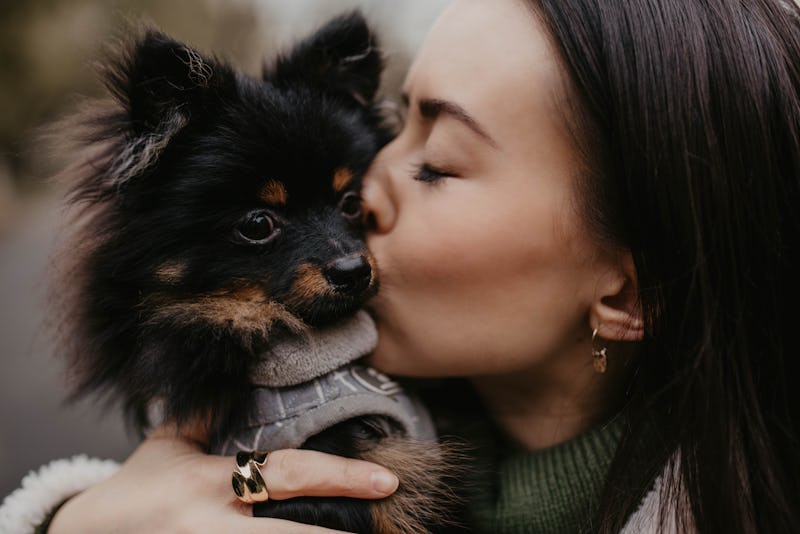 Kyle Kuhlman / 500px/500px Prime/Getty Images
It's long been held that dogs tend to look like their owners (re: that montage in 101 Dalmatians). But this common saying actually has science to back it up — plenty of research has revealed that dogs often share facial features with their human counterparts, including details as specific as eye appearance (say what?). That being said, looks aren't the end-all-be-all when it comes to ways the dogs mimic their owners. Some canine pals seem to act like their humans, too, and vice versa.
"Dogs are very observant and will witness and take in more visual and auditory stimuli than their humans may notice," Stephanie Liff, DVM, of Pure Paws Veterinary Care, tells Bustle. "Because of [their] vigilant nature, they are likely to pick up some habits they are witnessing regularly from their human." While sharing habits may mean you have to be careful not to encourage some less-positive behaviors — even if they're really cute — it mostly means that your dog will find ways to fit happily into your routine.
A lot of habits dogs share with their owners are intuitive to your furry friend. They're just adapting to fit into your life — another reason dogs have been so historically beloved by humans. To help understand why it is that dogs mimic the people around them, here are 11 weird and surprising dog habits you may not know can be adopted from owners, according to experts and research.
While not all dogs will pick up on these habits — and some vary by breed and temperament — it is true that dogs tend to share behaviors with their owners. This is generally quite a positive thing that will keep your dog happy in the life you provide for them, as long as it's healthy and loving.
Experts:
Stephanie Liff, DVM of Pure Paws Veterinary Care
Russell Harstein, certified dog and cat behaviorist and trainer
Nicole Ellis, certified professional dog trainer
Blake Rodriguez, certified dog trainer and behavior specialist and founder of Dream Come True K9
Studies cited:
Payne, C., Jaffe, K. (2005). Self seeks like: many humans choose their dog pets following rules used for assortative mating. J Ethol 23, 15–18 . https://doi.org/10.1007/s10164-004-0122-6
Nakajima, S. (2013). Dogs and Owners Resemble Each Other in the Eye Region, Anthrozoös, 26:4, 551-556, DOI: 10.2752/175303713X13795775536093. https://www.tandfonline.com/doi/abs/10.2752/175303713X13795775536093
Hoffman, C. L., Stutz, K., & Vasilopoulos, T. (2018). An examination of adult women's sleep quality and sleep routines in relation to pet ownership and bedsharing. Anthrozoös, 31(6), 711–725. https://doi.org/10.1080/08927936.2018.1529354
Huber, A., Barber, A., Faragó, T., Müller, C. A., & Huber, L. (2017). Investigating emotional contagion in dogs (Canis familiaris) to emotional sounds of humans and conspecifics. Animal cognition, 20(4), 703–715. https://doi.org/10.1007/s10071-017-1092-8
Chopik, W. J., Weaver, J. R. (2019). Old dog, new tricks: Age differences in dog personality traits, associations with human personality traits, and links to important outcomes. Journal of Research in Personality, Volume 79, April 2019, Pages 94-108. https://doi.org/10.1016/j.jrp.2019.01.005
Friederike, R., Ludwig, H., Cecilia, H. (2011). Automatic imitation in dogs. Proc. R. Soc. B.278211–217 http://doi.org/10.1098/rspb.2010.1142
Pereira, M., Lourenco, A., Lima, M., Serpell, J., Silva, K. (2021). Evaluation of mediating and moderating effects on the relationship between owners' and dogs' anxiety: A tool to understand a complex problem. Volume 44, 2021, Pages 55-61, ISSN 1558-7878. https://doi.org/10.1016/j.jveb.2021.03.004.
This article was originally published on