Dunkin' Collaborated With Ice Spice On A New Drink That Features Munchkins
Ben Affleck even helped announce the beverage.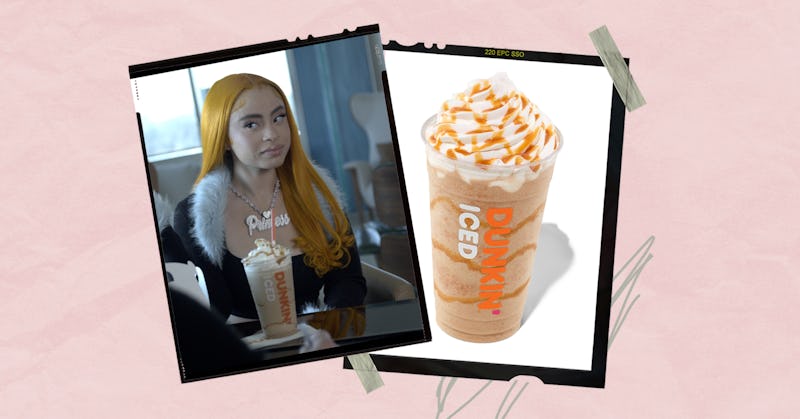 Courtesy of Dunkin'
Move over, Pumpkin Spice Latte, because a new fall staple sips has just arrived. Dunkin' has teamed up with viral rapper Ice Spice to create a brand new autumnal coffee offering because you can't spell pumpkin spice without "Ice." The drink also takes inspiration from Dunkin's beloved Munchkins donut holes, so yeah — there's a new fall staple drink in town.
The new beverage, called the Ice Spice Munchkins Drink, was announced on Sept. 12 during the MTV VMAs via a commercial starring Ice Spice, whose real name is Isis Gaston, and everyone's favorite Dunkin' stan, Ben Affleck. In the 30-second spot, the 23-year-old rapper spitballs ideas for a new collab with the Oscar winner-turned-Dunkin' brand ambassador. "I'm a Dunkin' girl," Ice Spice tells Affleck. She points out all the reasons why a collab with the brand makes sense — not only is her name evocative of the iced version of everyone's favorite seasonal sip (the PSL) but her fans are also called Munchkins after her hit song "Munch (Feelin' U)" went viral. It all makes so much sense, so she pitches the drink name for the actor before Affleck attempts to rap for the viral sensation.
Just as the name implies, the Ice Spice Munchkins Drink features a blended mix of Pumpkin Munchkins cake pieces and Frozen Dunkin' Coffee, which means if you do end up trading in your precious PSL for the Ice Spice-approved sip, you'll still get your pumpkin fill one way or another. It might sound like an odd pairing but think of the cake pieces as a unique take on the cookies and cream texture. Finally, the drink is topped off with whipped cream and a caramel drizzle for a drink fit for a princess.
The collab was first teased on Sept. 10, after Dunkin' posted a photo of a munchkin wearing Ice Spice's signature "Princess" chain with the caption, "putting the ice in pumpkin spice." In case you had any doubts the rapper was here to stay, the Ice Spice Munchkins Drink marks the first time Dunkin' has combined its coffee with its classic donut holes — one of the many records she will presumably break in her career. LOL.
The Ice Spice Munchkins Drink joins Dunkin's fall menu lineup alongside the Nutty Pumpkin Coffee and, of course, the Pumpkin Spice Signature Latte. If you want to lean into the pumpkin goodness even further, you can also grab a Pumpkin Cake Donut, Pumpkin Muffin, or pair your drink with the treat that inspired it all, Pumpkin Munchkins.
The Ice Spice Munchkins Drink is available at Dunkin' locations nationwide starting Sept. 13. for a limited time while supplies last.