An Honest Review Of Dunkin's 3 New Canned Coffee Flavors
The cake batter flavor lives in my dreams now.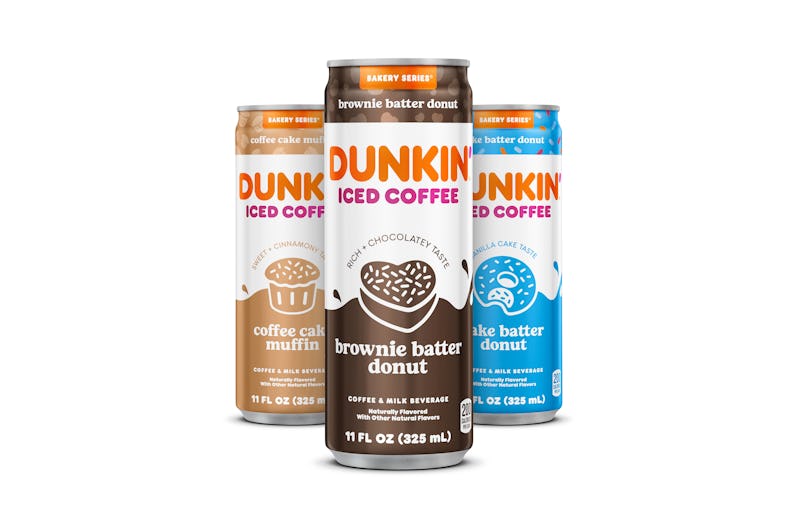 Courtesy of Dunkin'
You don't have to be a Ben Affleck-level stan to know there's no better combo than an iced coffee and a sweet treat from Dunkin'. But what if you could get both items in one? Well, now you can, because on Feb. 27, the coffee giant launched a new line of ready-to-drink (RTD) coffees inspired by your favorite Dunkin' bakery items. Before you go switching up your morning coffee routine, though, you probably want to know if the new sips are as sweet as they sound. I got to try Dunkin's new canned coffees, and this review breaks down everything you need to know about the bakery-inspired flavors.
The RTD beverages, called the Dunkin' Iced Coffee Bakery Series, combine Dunkin's signature iced coffee with real milk and cane sugar, and are available in three familiar flavors: Cake Batter Donut, Coffee Cake Muffin, and Brownie Batter Donut. Cake Batter Donut is made with the delicious taste of vanilla cake, while Brownie Batter Donut contains the same rich chocolate flavor you love from the OG donut. Coffee Cake Muffin, on the other hand, features a hint of spice, thanks to the woody cinnamon flavor. The drinks are only available at retail and convenience stores, which means you won't have to make a trip to your local Dunkies to get your coffee fill.
As someone whose sweet tooth is basically my kryptonite, you can imagine this line instantly caught my attention. But do the drinks actually live up to their names? I conducted a taste test to find out, and here's what I thought of each flavor.
Cake Batter Donut Flavor Review
As soon as I open the can, I'm hit with the unmistakable scent of vanilla. But despite the beverage's bakery-like aroma, the drink balances the vanilla and coffee flavors really well. The coffee taste isn't too strong, which I can appreciate as someone who prefers a coffee with a sweet flavor over a deep-roasted one. I usually like to nurse my coffees throughout the day, but the drink's super smooth and milky texture made me want to finish the whole thing in record time.
Coffee Cake Muffin Flavor Review
I love me some coffee cake, so I was pleased to catch a whiff of the familiar scent of coffee cake as soon as I opened the can. The aroma was a good indicator of what was to come, because the drink's blend of cinnamon and coffee tastes exactly like the breakfast bakery item in liquid form.
The coffee flavor is even more pronounced than the Cake Batter Donut (no surprise there — it's in the name), but it doesn't dominate the drink like I expected it to. The sweet cinnamon spice comes through first with each sip, with the coffee flavor pulling ahead just enough at the end. Though I don't usually gravitate towards drinks with a prominent coffee taste, this one might be my favorite of the bunch because it perfectly replicates the coffee cake flavor to a T.
Brownie Batter Donut Flavor Review
Unlike the other two flavors, the scent of this drink doesn't immediately come through upon opening the can. Once I take a whiff I'm able to find the rich chocolate aroma, but it makes you do the work. That being said, the deep cocoa scent can be pretty overwhelming, especially if you're not a big chocolate fan, so I think the subtle smell works in its favor.
The Brownie Batter Donut flavor is different than the rest because I honestly don't taste the coffee flavor whatsoever. It tastes like chocolate milk that's seriously heavy on the syrup. This one is definitely for the coffee drinkers who don't actually like the taste of coffee at all.
Overall, I got the sense that the coffee was an afterthought in each drink, but the sweets stan in me isn't mad about it, TBH. Bitter coffee lovers might want to steer clear of the lineup, but if you're looking for a sweet start to your morning, the Bakery Series will be right up your alley.
To find a store with the sweet sips near you, make sure to check out Dunkin's RTD website.