Dunkin's Pumpkin Spice Latte Is Officially Back This Week
Plus, more seasonal drinks to add to your favorites.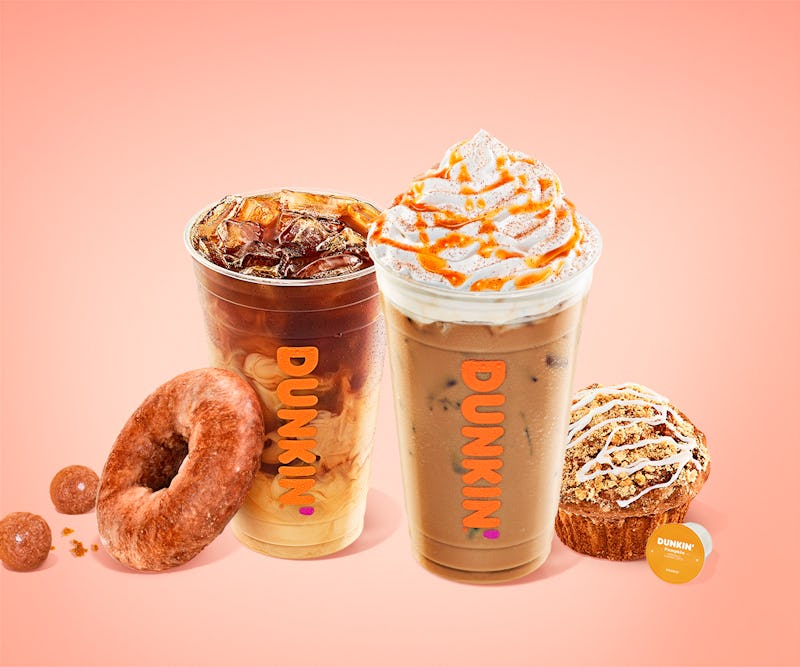 Dunkin'
Praise the pumpkin spice gods: Pumpkin spice season is nigh. Just how nigh? Well, Dunkin' is bringing back its pumpkin spice products earlier than ever this year. As of August 17, you'll be able to score all your Dunkin' fall favorites, as well as some new classics. Prepare thine pumpkin spice bodies.
As announced last week, Dunkin' is bringing back all their autumnal delights from pumpkin-flavored coffee drinks to a glazed pumpkin cake donut to a maple sugar bacon breakfast sandwich. Soon you can start your day with seasonal treats like Dunkin's Pumpkin Muffin, which comes topped with white icing and streusel crumbs. Plus, Dunkin' is bringing back the most autumnal of autumnal treats: the Pumpkin Spice Signature Latte.
Dunkin's Signature Pumpkin Spice Latte, which debuted in the summer of 2020, combines espresso with pumpkin and vanilla and comes topped with whipped cream, a caramel drizzle, and cinnamon sugar topping. You'll be able to get it hot or iced, the latter of which is ideal for the not-quite-fall weather. If you've yet to give in to the PSL craze, now's as good as time as ever.
In the mood for something chill? Say hello to Dunkin's new Pumpkin Cream Cold Brew. When you take a sip, you'll taste hints of cinnamon, clove, nutmeg, and pumpkin, of course. Try the new Nutty Pumpkin Coffee for a more complex flavor, which features Dunkin's Original Blend Iced Coffee with a pumpkin spice swirl and for a fruitier option, Dunkin's blood orange refresher served on ice is here for this year's harvest.
To celebrate the return of fall to Dunkin' stores, fans can enjoy a $3 Medium Pumpkin Cream Cold Brew or Pumpkin Spice Signature Latte through September 13, 2022. Work smarter, not harder by ordering your freebie — and maybe a snack to go along with your beverage — ahead of time through the Dunkin' app before heading to the drive-thru. You'll be grateful for the ease of it all and will be happy you don't have to wait for your order, trust.
What's more is that Dunkin's Pumpkin Spice K-cups and packaged coffee are now available at grocery stores across the country, as well as Dunkin' restaurants. For the time being, you can join the rest of the internet in pumpkin spice anticipation.
Additional reporting by Siena Gagliano.
This article was originally published on