This Wordle Rival Is Taking Social Media By Storm
Here's everything you need to know before playing.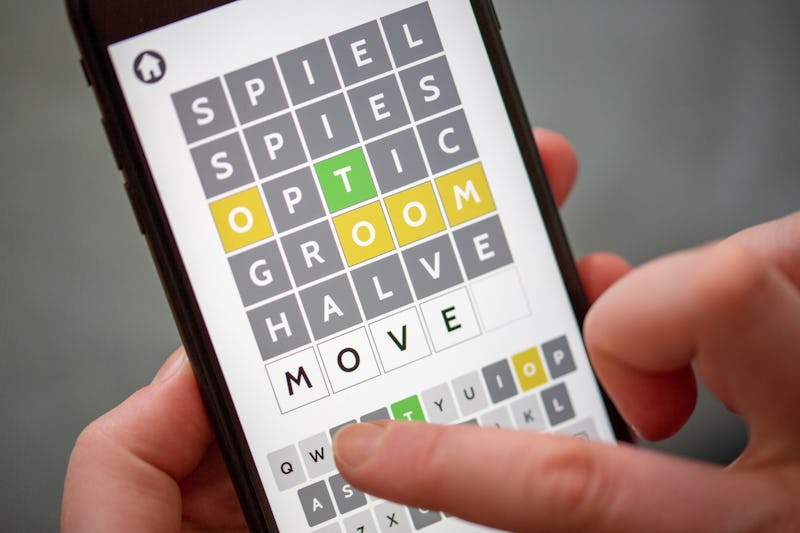 picture alliance/picture alliance/Getty Images
Reddit engineer Josh Wardle created a word-guessing game for his puzzle-loving partner in 2021. Within a few months, the online game — known as Wordle — had taken the internet by storm. So much so, that it was acquired by the New York Times in 2022 for an "undisclosed seven-figure sum." The rules of the viral game are simple: players must attempt to guess a five-letter word in six tries or less. However, a brand new puzzle of a similar vein has arrived to give Worlde a run for its money, and here's everything to know about the Guardian's Wordiply.
Created by the Guardian's literary editor, David Shariatmadari, the rules of Wordiply are fairly straightforward. At the beginning of each game, players are given a "starter word" and have five attempts at getting the longest possible word that includes the original starter word.
For example, if your starter word was tie, a long word that includes the starter could be Responsibilities.
The closer a player is to the longest possible word, and the more letters a player uses in total, the higher their final score.
After penning the Jan. 2022 article outlining how to win at Wordle using linguistic theory, Wordiply creator Shariatmadari was asked by a fellow Guardian editor to come up with a rival puzzle.
Writing of his experience curating the final game, Shariatmadari revealed that he spoke with experts while generating initial ideas, including data journalist and former competitive Scrabble player, Oliver Roeder, professor of gaming at New York University, Clara Fernández-Vara, and the former New York Times game designer, Sam Von Ehren. Ultimately, it was Shariatmadari's older brother Daniel who helped shape the game's final concept.
"It does feel as if it's destined to have a life of its own," Shariatmadari said of the Wordiply puzzle. "From this point on it belongs to the people who play it ... I hope you enjoy it — because it's your turn now."