20 Slow-Cooker Recipes That Are Surprisingly Fast
Impatient cooks will love these.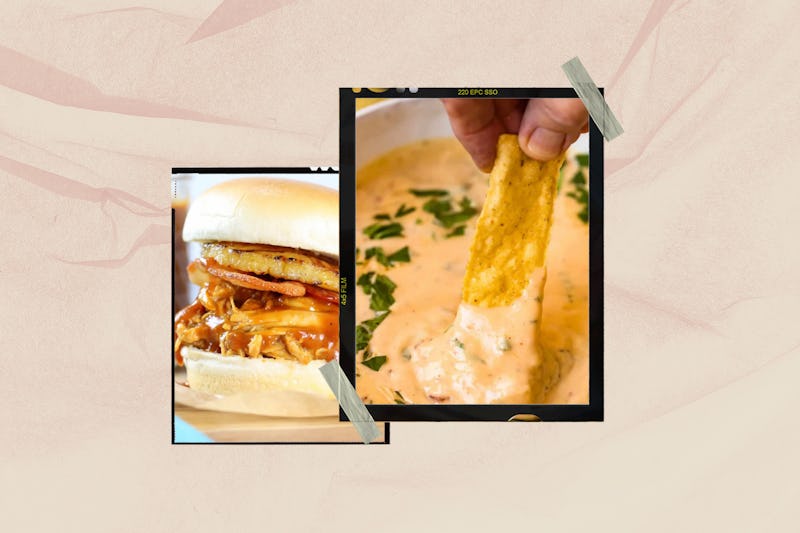 Yummly/Taste and See/Cookie Rookie
My least favorite part of cooking isn't the chopping, dicing, or slicing, but the cleanup that comes afterward, which is why I love slow cooker meals. They're mess-free, hassle-free, and generally easy to throw together, and despite their name, there are plenty of fast Crock-Pot recipes that are perfect for cooks who don't have all day to wait for their meals.
When you think of Crock-Pot and slow cooker meals, the word "quick" probably doesn't come to mind. Many recipes take eight hours or more, and while there is little work to be done during those long hours, it's still a time-consuming cooking process that can take over a large part of your day. If you have time in the morning to get your slow cooker dinner prepped and turned on, when you get home from a long day, there's a meal waiting for you to enjoy. But, if you're like me and appreciate, nay, require your beauty sleep, setting the alarm to get a roast ready in the morning doesn't sound like the best way to start the day.
If you still want to use that slow cooker that's currently taking up all your counter space, there are plenty of quick recipes — and, by slow cooker standards, I'm calling anything under three hours quick here — that you will have time to put together after work without waiting up all night to eat.
For the impatient cooks out there, here are 20 quick slow cooker recipes to live by.
1. Teriyaki Chicken And Rice
Damn Delicious is living up to its name with this damn delicious and damn easy teriyaki chicken and rice dish. Loaded with vegetables and bursting with flavor, this dish can be done in three hours, with the right slow cooker.
2. Buffalo Chicken Meatballs
With the Super Bowl right around the corner, it's time to start thinking about food for your football party. These buffalo chicken meatballs from Damn Delicious require minimal effort to make and eat, so you can spend more time yelling at the TV.
3. Crock-Pot Risotto Milanese
A Pretty Life In The Suburbs has found a way to make a delicious side dish that requires less attention and less cleanup, which leaves more time to enjoy your meal and your company.
4. Hawaiian Chicken and Bacon Slow Cooker Sandwich
Just when you think you've seen every kind of game day sandwich, Taste and See gives you this juicy, delicious Crock-Pot Hawaiian chicken sandwich.
5. Pork Ramen
Although you can make instant ramen noodles in your microwave, these slow cooker ramen noodles from Bourbon and Honey come with a lot more than dehydrated vegetables and a spice packet. It's the perfect comfort Crock-Pot meal that you will actually have time to make after work.
6. Brownies
If you never thought to use your slow cooker to make dessert, you've been looking at Crock-Pot cooking all wrong. Kleinworth Co.'s coconut brownies are a sweet, moist, decadent dessert that you don't have to worry about burning or drying out in the oven.
7. Cashew Chicken
Although it still takes three hours to make, this cashew chicken from Favorite Family Recipes is totally worth it. Juicy, tender, and crunchy, this is a takeout favorite you can easily make in your own home.
8. Artichoke Dip
If you're looking for an easy appetizer, look no further than Gimme Some Oven's Crock-Pot artichoke dip. Creamy, cheesy, and filling, it will surely be a hit at any Super Bowl party.
9. Beef and Broccoli
If like me, your Seamless order history is filled with Chinese food, then you will love this beef and broccoli dish from Tammilee Tips. No frying or sauteing is necessary, this Crock-Pot meal is perfect for the lazy cook on a budget.
10. Queso Dip
Is there anything better than warm, melty cheese? No, there isn't, which makes this quick and easy slow cooker queso from Cookie Rookie so delicious.
11. Salsa Verde White Chicken Chili
When it comes to cooking chili, you're probably used to having the Crock-Pot on all day. The Comfort of Cooking's salsa verde white chicken chili, however, can be done in as little as three hours, meaning if you forget to start your slow cooker in the morning, you can still have a bowl of delicious, spicy chili for dinner without waiting until midnight.
12. Spiced White Hot Chocolate
Winter isn't coming, it's officially here. Thankfully, Mom On Time Out's slow cooker spiced white hot chocolate is the perfect way to stay warm and satisfy your sweet tooth during these cold months.
13. Sticky Chicken Wings
Using Damn Delicious' high-heat cooking method, you can make tender, juicy chicken wings that are quite literally finger-licking good.
14. Caramel Apple Crumble
Want a sweet dessert, but don't want to wait all day? Enter Fake Ginger's Crock-Pot caramel apple crumble, which when cooked on high, only takes two hours. No, it isn't as fast as a microwave mug dessert, but this is Crock-Pot cooking, after all.
15. Asian Chicken Lettuce Wraps
The Comfort of Cooking proves once again how well Asian-inspired food and Crock-Pot cooking go together with these chicken lettuce wraps. With minimum effort and a two-hour time commitment, you can be snacking on these crunchy, crispy snacks.
16. Slow Cooker Miso Salmon
For a simple, delicate, and easily adaptable quick slow cooker meal, consider Eating Well's method of preparing salmon in the Crock-Pot. Minimum prep work and maximum flavor make this dish a perfect last-minute slow cooker dinner for fish lovers.
17. Parmesan Risotto
Bunny's Warm Oven has mastered the delicate art of risotto with this slow cooker parmesan risotto recipe. Creamy, cheesy, and warm, it's the perfect side to almost any dish.
18. Fresh Bread
Want freshly baked bread without having to buy a breadmaker? Jo Cooks will show you how with its recipe for slow cooker bread. The best part: it can be done in under two hours.
19. Tuna Noodle Casserole
Maybe it isn't the prettiest dish on the list, but this slow cooker tuna noodle casserole from The Kitchn is definitely one of the tastiest. Warm, cheesy, and super easy to make, this one is so good, it might end up in your regular meal rotation.
20. Italian Chicken With Tomatoes
There's nothing more comforting at the end of the day than a nice warm Italian dish. The Comfort of Cooking makes an Italian chicken and tomato slow cooker dish that's rich with fresh flavors and juicy chicken morsels. Can you say yum?