Here's Your Horoscope For February 2023
No retrogrades, just amazing vibes all around.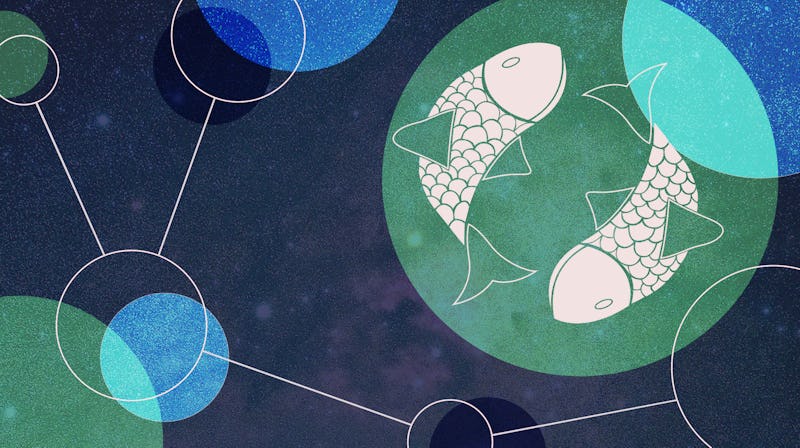 February is a retrograde-free month! Mark your calendar for Feb. 5, as the Full Moon in courageous Leo brings celebratory endings that aren't exactly what you expected. Be consistent with your efforts, self-aware, and strong enough to venture out of your comfort zone to reach the heights of your potential.
Come Feb. 11, Mercury enters enterprising Aquarius, bringing progressive ideas and sudden breakthroughs. You may become a better judge of character and a more knowledgeable problem-solver.
Tap into your intuition and communicate with compassion as the Sun sweeps through Pisces on Feb. 18. The dreamy and inspirational Pisces season energy will invite you to have more faith and offer your loving support and gratitude to others. Happy birthday, Pisces!
With a nudge from the New Moon in Pisces on Feb. 20, the blossoming of new creative ideas and relationships will prove that your manifestations can come true. Keep your heart open to surprises and dare to believe in undying love. On the same day, Venus — which oversees partnerships and values — braves the wildfire of Aries, bringing instinctive passion and assertion to your romantic life. Be bold, make the first move, and love yourself fiercely.
In order to maintain your happiness, you must chase what you want with fearless courage and endurance. Be unapologetic in your pursuits and embrace the feel-good feeling of Venus blazing through your zodiac sign from Feb. 20 to March 16. When new ideas emerge, don't push them aside if they seem unrealistic at first — anything is possible with the right blend of passion, manifestation, and diligence.
Change is on the horizon. Try to keep up! Your stubborn nature could be holding you back from fully achieving your goals or finding inner peace. Welcome support from your friends and community who share your hopes and dreams. Remember, you don't have to prove anything about yourself by pushing through challenges alone.
A powerful mental shift is underway, encouraging you to forget misguided beliefs. If you have a career goal or other type of desire that you don't know how to achieve, swallow your pride and ask someone else for their helpful perspective. By the end of the month, as the New Moon ushers in new beginnings on Feb. 20, you will be full of clarity and inspiration for the future.
When changes occur in your community or friend circle, consider whether you have become too reliant on others to fuel your self-worth and happiness. What matters most is what you think of yourself and how well you can maintain your self-esteem, even when others aren't cheering you on. Keep a positive mindset. Don't be afraid to romanticize your life if it helps you seek magic in the everyday.
Your personal experiences could be difficult for others to understand, but that doesn't mean people don't care! Tell them how you'd like to be supported instead of assuming they know the answer. As the month progresses, dive deep into your innermost feelings and explore what you've buried beneath the surface. Be gentle with yourself as you heal. Allow your routines and priorities to transform to reflect your healthier emotional state.
February will get off to a confident start. It's time to change your self-perception and find new ways to uplift yourself rather than being overly critical or self-deprecating. As the New Moon instigates fresh beginnings in relationships (even if you've been together for a long time) and Venus enters your intimacy sector, you may be ready to take things to the next level with someone you care deeply for. Follow your heart and express yourself fearlessly.
If you're ready to live the life of your dreams, it's time to take action. Take things one day at a time and make realistic changes to your routine that will bring the excitement and magic back to your everyday life. Believe in your capabilities. As bold and passionate Venus moves through your relationships sector, you will feel empowered to be direct with your feelings — but be wary of making romantic gestures if you don't know how they will be received.
A restless desire to accomplish your financial goals will fuel your ambition and determination. There's no better time to push through any last hurdles standing in the way of your next career milestone. Once dreamy Pisces season begins, you could find yourself fantasizing about someone new in your life. Keep your standards high but remember, the more you idealize the future, the harder it will be for reality to match your expectations.
As the voice of reason in your friend group, you may find yourself helping others solve their problems this month. Try not to be too matter-of-fact when offering advice and feedback, and remember, not everyone shares your perspective. As the month progresses, you may feel a stronger desire to spend time at home and with family. Stay grounded and make more of an effort to express gratitude for the people who make you feel safe and secure.
Your achievements may feel bittersweet or underwhelming this month. You may realize that the success you've already earned didn't bring as much happiness as you'd hoped. You'll be inspired to reassess what you want moving forward. What do you truly value in life? What keeps you motivated? When you're ready to start fresh, make sure that the new goals you set are heart-centered rather than rooted in unhealthy desires.
Aquarius, brace yourself for frustrating drama. You may reconsider whether you and your partner are still on the same page. Sometimes, what you want isn't necessarily what's good for your relationship. Thankfully, the rest of the month will boost your spirits and encourage you to prioritize self-care. Put yourself first, revamp your morning routine, and take an afternoon nap when needed.
Speak up about your ideas at work, and you'll find that your colleagues are just as excited about them as you are. You may have convinced yourself that it's better to blend in with the team, but this is your chance to show off the unique traits, skills, and perspectives you bring to the table. By the second half of the month, you will be the main character! Take advantage of this fresh start; let creative ideas and exciting adventures inspire your daydreams.