Tequila Lovers, Rejoice: High Noon Has 4 New Seltzers For You
Here's where to get them.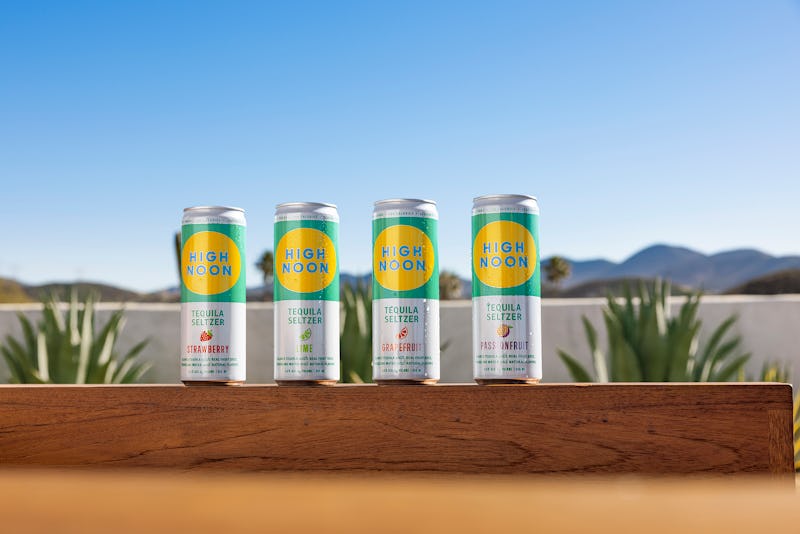 Courtesy of High Noon
March is officially here, which means spring is right around the corner, which means it's basically summer. OK, maybe that's a bit of a stretch, but if you're already in the warm weather mindset, you're gonna want a drink that makes you feel like you're sunbathing by the pool — even when it's 50 degrees outside. Well, lucky for you, on March 1, High Noon announced a new line of tequila hard seltzers (yes — tequila) that'll surely do the trick. Here's what you need to know about the new sips before they hit stores later this spring.
High Noon may be known for its vodka hard seltzers, but the expansion to tequila marks the brand's biggest innovation since its inception in 2020. The new High Noon Tequila lineup includes four delicious flavors made with blanco tequila, real fruit juice, and sparkling water: Strawberry, Lime, Grapefruit, and Passionfruit. Each bev comes in a 355-mL ready-to-drink can and contains 4.5% ABV, the same amount as the OG vodka versions. Looks like your favorite tequila cocktails have some competition.
The High Noon Tequila variety eight-packs will begin rolling out in stores in March, and will be available nationwide in May for a suggested retail price of $21.99.
Though many of High Noon's vodka options are available to purchase individually, don't expect to grab a single can of your favorite tequila sip on your way to the beach. Once the line hits stores, the drinks will only be available in the variety pack option, which comes two cans of each flavor.
To find a pack near you, make sure to use the Store Locator on the High Noon website. With the Store Locator, you'll be able to find a store near you within a 10-, 15-, 20-, or 25-mile radius that's stocked with the flavor(s) of your choice, or place an order for delivery via Drizly. You can also use the Locator to find local restaurants that sell High Noon to help narrow down your options for date night or find the perfect spot for a night out with your squad.
It might still be winter on the calendar, but it'll be summer in the alcohol aisle before you know it. In the meantime, you can pass the time with classic High Noon Vodka.