7 People Share The Moment They Realized They're Bisexual
No, it's not "just a phase."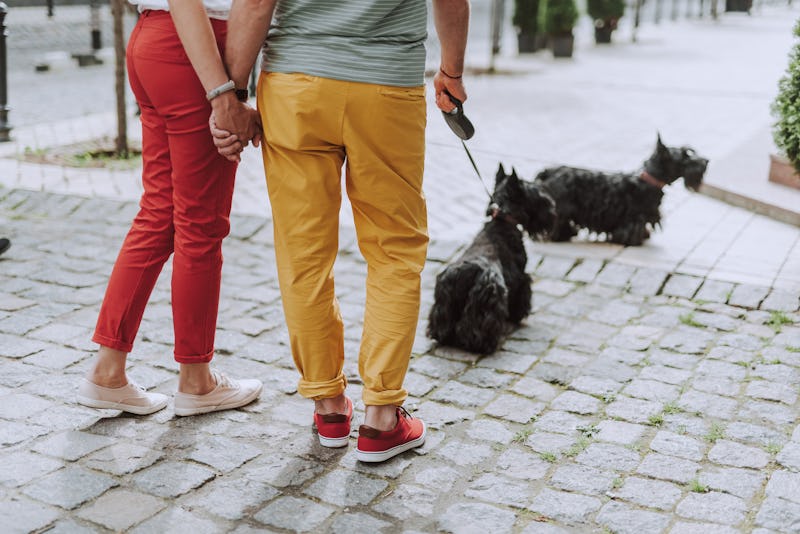 Shutterstock
Many people know that the "B" in LGBTQ+ refers to bisexuality, but there's still some confusion around what it means to be bi. For many people who are still figuring out their sexuality, bisexual erasure and stigma can make it hard to realize you're bisexual. But identifying a label that feels like home to you — whether that's bisexual or another term — can make it so much easier to feel confident, happy, and comfortable in your skin.
The term bisexual refers to a person who's attracted to two or more genders. According to the Human Rights Campaign (HRC), research has suggested that nearly 50% of people in the LGBTQ+ community identify as bisexual. Additionally, Sept. 23 is Bisexuality Visibility Day and this year makes the 24th annual observation of the day.
While bisexual folks make up a large portion of LGBTQ+ individuals, they often face stigma from inside and outside the community. Bi people are often labeled straight or gay if they make a relationship official, or they're seen as "greedy" if they choose to date casually since they are attracted to multiple genders. There are plenty of misconceptions surrounding bisexuality — including that it's a phase, that bi people cheat more often, and that men can't be bisexual. These myths can make it even more difficult for people to realize that bisexual is the identity that fits them best — and that can lead to years of frustratingly searching for other labels that never seem to feel quite right.
That's why Amy Quichiz, a writer and community organizer, says that openly celebrating her bisexuality is empowering. Quichiz tells Bustle, "Being bisexual to me means being powerful. In such a heteronormative world, being bisexual is fearless — a society that keeps putting me into their toxic boxes cannot touch me."
Despite bi erasure, bisexuality is a valid sexual orientation, and one that makes many in LGBTQ+ communities feel seen. Here's how seven women and nonbinary people came to the realization they were bisexual throughout their lives, because not everyone knows they're bi right away — and that's OK.
Realizing you're bisexual doesn't have to look a certain way, and doesn't have to happen at a certain time in your life to be valid. Everyone's journey to claiming the term is unique to each person, which is just one reason why bi visibility is so important all year. Finally having a label that you can wholly identify with can be a life-changing, empowering experience.