McDonald's Summer Menu Includes A Tiramisu McFlurry
Coffee-laced soft-serve ice-cream, you say? That's amore.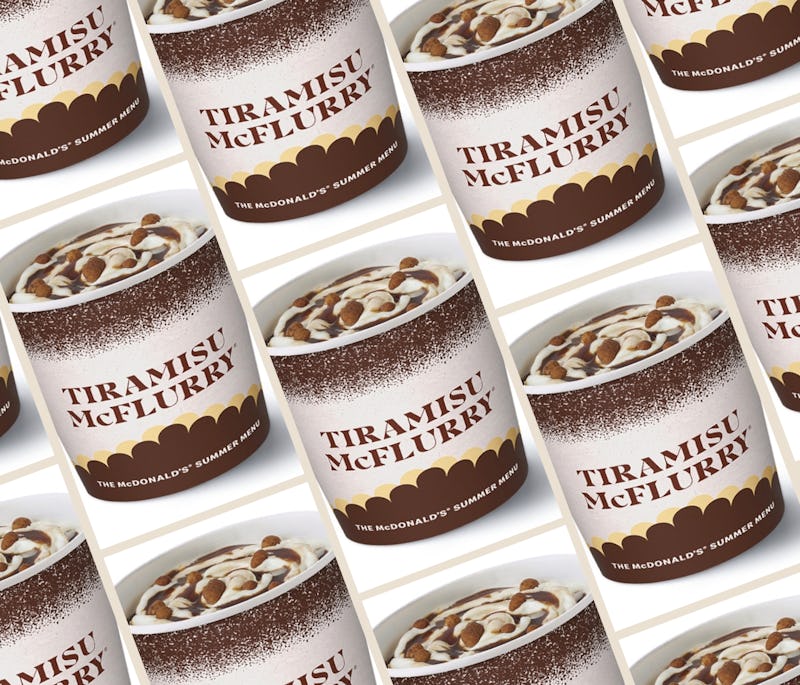 McDonald's
Attention all Sleepless In Seattle fans: long after featuring as a sexual innuendo in the iconic rom-com – to widespread confusion – everyone's favourite coffee-and-cream laden dessert is now headed to the Golden Arches for the McDonald's treatment. Tenderly swirled with flecks of biscuit and a coffee-chocolate sauce, it certainly is a thing to behold. Devotees of the fast food chain's McFlurry lineage will also note that this is the first time McDonald's have drawn direct inspiration from the pudding world – usually, they partner up with other existing brands. Delizioso. So, here's how to buy the McDonald's Tiramisu McFlurry in the UK.
Salivating already? The new Tiramisu McFlurry is launching in the UK between Jun. 8 and Jul. 26, as part of Maccy D's summer "Taste of Italy" menu – which sounds like the sort of thing Stanley Tucci might approve of – and will set you back £1.69 (or £1.19 for the mini version). According to My London, who have already tracked down the new ice-cream, it represents "pure, unadulterated bliss in a paper cup."
Elsewhere on the Mediterranean menu, you'll find a lasagne-inspired Italian Stack burger (complete with mozzarella and bechamel sauce) and the Crispy Chicken Italiano – which does exactly what it says on the tin, tbh. And later in the summer (from Jul. 27 to Sep. 6 to be precise), halloumi fries are finally landing on the menu for the very first time, along with two Spanish-inspired burgers and some refreshing fruit punch.
Fans of the McSpicy chicken burger will be truly devastated to hear that it's been temporarily sacrificed for the greater good, and won't be available again until Sep. 6. The chocolate and raspberry McFlurrys, the Grand Big Mac, the Grand Big Mac with Bacon, and Cheesy Garlic Bites have also fallen casualty to the summer menu. RIP, for now.