How To Hide Cords Under A Desk
Temporary and permanent solutions that'll make your space look *so* much better.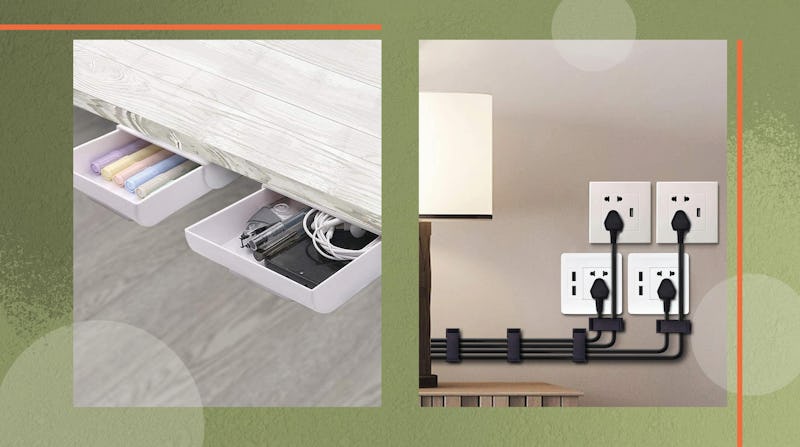 Bustle/Amazon
We may receive a portion of sales if you purchase a product through a link in this article.
Whether you're working from home or in an office setting, one thing stands true: When your desk is overrun by chaotic cables, chargers, and cords, it can take your focus off your work tasks. The good news? It doesn't have to be that way. Amazon is filled with useful products that'll help you figure out how to hide cords under your desk. The top picks can accommodate all of the cords that you need to conceal and can be as temporary or fixed in place as desired, taking aesthetic factors into account as well.
What To Consider When Shopping For Ways To Hide Cords Under A Desk
When on the hunt for products that can help wrangle the cord situation under your desk, the first thing you'll want to determine is how permanent a solution would be best for your setup. If you're constantly plugging and unplugging cords (think phone chargers, computer chargers, etc.) or moving from workspace to workspace, then a solution that allows you to quickly and easily do that is likely best — think options like a cable management box, extra drawer/basket space, or cable ties.
Alternatively, if you don't really mess with the cords (like if you have a printer that's always plugged in), then you likely can go with a solution that's more fixed in place; this includes adhesive clips that guide the cords in a more streamlined way or channels that run along your desk and/or walls to conceal cords entirely.
Regardless, make sure the solution you choose can accommodate the number of cords that you have and any power strips or extension cords as well. You'll also want to go with one that you find aesthetically pleasing — some options are designed to be more stylish, while others are meant to be more minimal, so think about what you prefer.
Shop The Best Solutions To Hide Cords Under A Desk
In a hurry? Here are the top products to hide cords under a desk:
Unruly cords no more! Scroll on for eight clever ways to hide cords under your desk.