12 Ways To Make Your Partner Feel Loved Without Saying A Thing
Actions really can speak louder than words.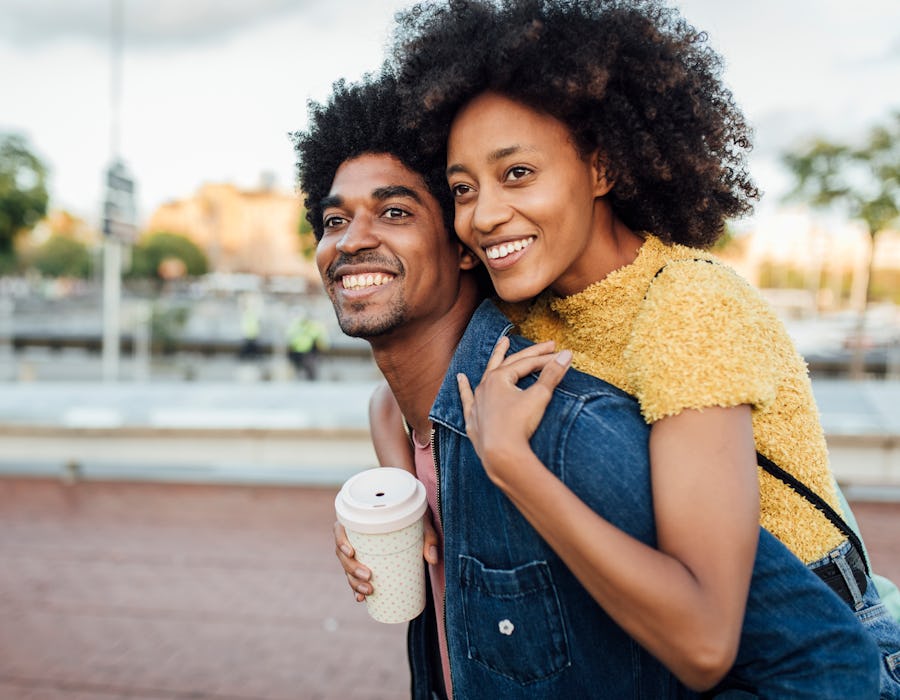 RgStudio/E+/Getty Images
If you've been with a partner for an extended amount of time, you know that reality isn't about constant butterflies and sparks. You fall into a routine and things can become mundane or cyclical to no one's fault. "As your relationship evolves, less time is spent on drooling on each other. It becomes more about making life happen and managing our busy schedules," behavioral scientist and relationship coach Clarissa Silva tells Bustle. "The routinization of our daily lives can make us under-appreciate our significant other. Making an effort to convey the depth of what you feel can bring you back to the honeymoon phase of the relationship and prevent possible future resentment, feelings of neglect, or distance."
While it's important to remember not to push or rush a connection, there are some ways you can feel closer to your partner and make them feel loved without forcing things along. Believe it or not, making small adjustments to foster a newfound love or closeness can bring you together in a way you may not have experienced before.
All relationships require lots of effort and maintenance in order for it to be successful both short- and long-term; however, there are some little tricks to help grow that depth and connection, where you can amplify those feelings of love and keep those fluttering wings flapping in your stomach.
Of course, love requires constant time and attention to keep it going. Once you commit to a relationship, effort and care is still needed to be put in thereafter. Don't assume simple tricks are enough to keep your connection alive. However, as long as you keep strengthening your relationship and sharing that love in a reciprocal manner, experts say you're bound to have a higher probability of working out in the long run. Here are 12 ideas on how to make someone feel loved and deepen your connection, according to experts.
If you're looking for ways to strengthen your bond with your partner, these are a few things that can help. Just remember, be authentic and kind, and you're already halfway there.
Studies:
Khalid, S., Deska, J. C., & Hugenberg, K. (2016). The Eyes Are the Windows to the Mind: Direct Eye Gaze Triggers the Ascription of Others' Minds. Personality and Social Psychology Bulletin, 42(12), 1666–1677. https://doi.org/10.1177/0146167216669124
BARTON, A.W., FUTRIS, T.G. and NIELSEN, R.B. (2015), Linking financial distress to marital quality: The intermediary roles of demand/withdraw and spousal gratitude expressions. Pers Relationship, 22: 536-549. https://doi.org/10.1111/pere.12094
Experts:
Clarissa Silva, relationship coach, behavioral scientist
Stef Safran, relationship expert
Dana Lam and Martin Kupper, relationship coaches
Shlomo Zalman Bregman, matchmaker and rabbi
Jonathan Bennett, relationship counselor
Kiaundra Jackson, LMFT, marriage and family therapist
This article was originally published on