Here's How To Add Captions To Instagram Videos
Finally, subtitles for your stories.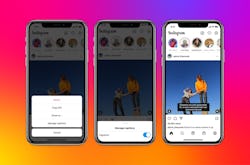 Instagram
Whether you're hard of hearing or forgot your earbuds at home, navigating Instagram without the audio can be a major roadblock to making the most of the platform. But you can kiss that problem goodbye when you learn how to add Instagram "Captions" stickers. Though users have been able to manually add captioning to their videos since May 2021, the platform just announced a new auto-generated captioning feature.
The captioning feature first debuted in May, allowing you to easily include closed captions in your videos like you would any other text or sticker. The launch marked a shift towards accessibility for users who are D/deaf or hard of hearing, and also makes life easier if you prefer to flip through your friends' Instagram Stories sans audio.
Beginning Mar. 1, users will be able to see auto-generated captions on videos on their feed, with the ability to turn the feature on and off. According to TechCrunch, users will need to head to Account Settings in Instagram and toggle the "show captions" options on or off. As on TikTok, where auto-captions were introduced in April 2021, Instagram captioning will be generated by AI, meaning that the accuracy of these transcriptions will improve over time.
To add captions on videos or Reels you post, click into "Advanced Settings" when you're finalizing the post. Toggle on the "Show Captions" option under the "Accessibility" header. You can turn captions on or off on videos you've already posted by clicking on the three dots in the top right hand corner of the post, clicking "Edit Post," and navigating to "Advanced Settings" from there.
In addition to seeing captions on videos that appear on your feed, you can still manually add captions to your Instagram stories. This will make sure everyone sees the captions, whether they have the captioning feature on or not. Record a video in stories or pull one from your camera folder. Select the "captions" sticker from the sticker gallery to automatically transform your audio into text — this is where you'd go when adding your location, a .gif, or music. Then customize away like you would any other story — you can edit everything from the position of your caption to its style, color, and text. This is distinct from TikTok's auto-caption feature, which you can only switch on or off.
The social media platform announced that captions would be available in 17 languages at launch, with "more to come."
This article was originally published on