I'm Obsessed With Instagram's New GIF Comments
Where words fail, memes speak.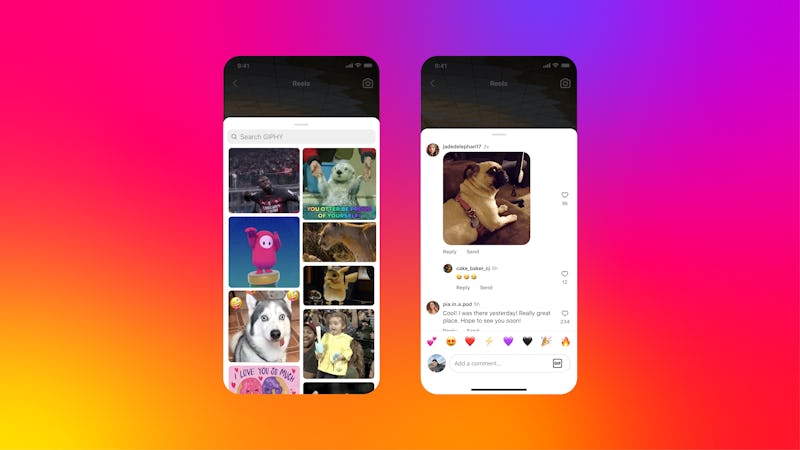 Courtesy of Meta
Everyone knows the comment section has been the best part of social media since the early days of YouTube. Now, Instagram is giving creators a reason to spend even more time scrolling through the LOL-worthy reactions, because the social media platform launched a new feature that allows users to drop a GIF in the comment section (!) instead of just text and emojis. That means the next time an engagement announcement has you at a loss for words, or a meme makes you laugh so hard you can barely breathe, you can post a GIF that perfectly describes how you feel.
Instagram began rolling out GIF comments globally the week of May 15, after enabling the feature in a limited availability phase for select users. The animated images come straight from the GIF search engine Giphy, but don't worry, because you don't need to download the app in order to use the feature. Plus, you can access the platform's expansive library of memes without having to leave IG or make an account like you would on the app. In fact, leaving a GIF comment is literally as easy as pushing a button, so don't be surprised if your next IG post is flooded with GIF comments, because it's sure to be a hit among your not-so-tech-savvy relatives.
To try the feature for yourself, all you have to do is navigate to the comment section of a post, then tap the GIF box on the right-hand side of the text box. From there, you can either pick the GIF that best represents your reaction by scrolling through the Giphy pop-up or search for a word or phrase in the text box at the top of the page. No, seriously, it's that simple.
Just be sure to give it a good, hard think before selecting a GIF, because once you tap an option, the moving image will automatically be posted to the comment section. Of course, you can always delete the comment after it's been posted but that can be a little embarrassing, especially if the creator already saw the comment notification. Also, keep in mind that you won't be able to write a message with text or emojis along with your GIF, but you can reply to your own comment by tapping the "Reply" button.
You can use a GIF in the comments of a grid or reels post, which means you never have to leave a written comment again if you don't want to. Sure, the future was supposed to be all about flying cars and hoverboards, but this is pretty cool, too.