Everything To Know About The Iran Protests Over Mahsa Amini's Death
The Iranian regime has issued its first death sentence in relation to the protests.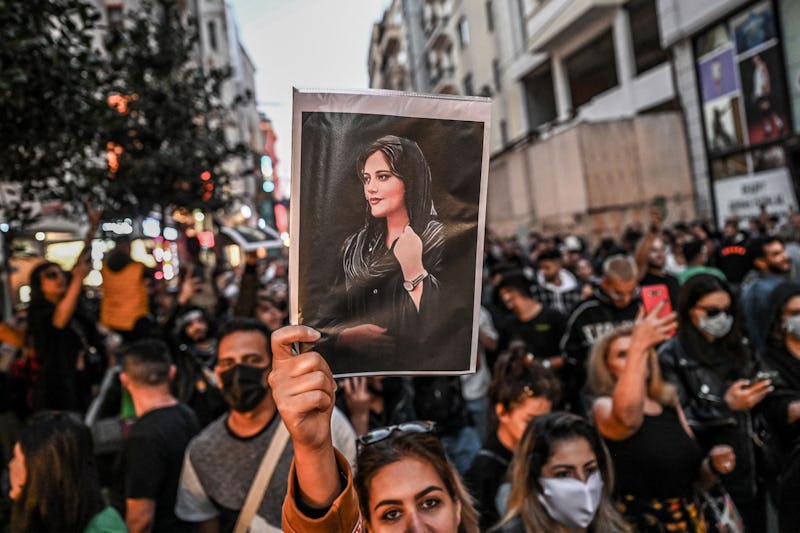 OZAN KOSE/AFP/Getty Images
Protests have broken out across Iran after Mahsa Amini, a 22-year-old Kurdish woman, died at the hands of the police. On Sept. 13, Amini was held by the country's rigid "morality" police for supposedly breaking the rules surrounding the hijab. The laws require women to cover their hair and bodies with a headscarf and baggy clothing. Since the 1979 Islamic Revolution, women have been banned from wearing tight trousers, clothing that reveals their knees, or even brightly coloured outfits. Following Amini's death, there have been widespread protests — predominantly across Iran, but also venturing across the globe — with people demanding change. Below, we take a look at what exactly happened to Mahsa Amini, and the social justice movement her death has sparked, and what has happened since.
What Happened To Mahsa Amini?
Witnesses claim that Amini was detained outside a metro station in Tehran and then forced into a police van where she was violently beaten by the morality police before being taken to a detention centre. As a result, the young woman slipped into a coma and died in the hospital three days later. However, the police deny this narrative, and state that Amini had no physical contact with officers, and suffered a sudden heart failure at the facility.
The authorities also released CCTV footage that shows the 22-year-old Kurdish woman collapsing to the ground. But Amini's father, Amjad Amini, told news outlets that his daughter was healthy and that he saw bruises on Amini's body during the short period he was granted access. He told Ham-Mihan newspaper: "She did not have epilepsy, nor heart disease. The worst disease she had was a cold. The video they showed from the detention centre was also edited."
What Is Happening In Iran Now?
From the capital Tehran, Saquez in Western Iran, to parts of Kurdistan, protests have erupted across the country since Sept. 16, with unverified footage on social media showing people throwing stones while security forces open fire and throw tear gas. Per Los Angeles Times, Iran Human Rights has estimated that at least 154 people have been killed during the protests, and the Kurdish human rights group Hengaw added that 221 people had been wounded in the Kurdistan region, per The Guardian.
Access to Instagram and WhatsApp has been largely curbed since the protests gathered pace on Sept. 21, but videos posted show that demonstrators are demanding answers from the police, whose statement seemingly contradicts that of the witnesses, as well as calling for the abolition of the morality police in Iran.
Meanwhile, Iranian authorities have denounced the protests as "acts of chaos" and an "evil strategy" to weaken the Islamic Republic, attacking Kurdistan militant opposition bases in drone strikes. Supreme Leader Ayatollah Ali Khamenei gave his full support to the security forces in a speech on Oct. 3, referring to Amini's death as a "bitter incident" provoked by Iran's enemies, per Reuters.
On Nov. 14, reports surfaced regarding Iran issuing its first death penalty related to ongoing protests, per The Guardian. Although the individual at the time of writing is unnamed, the execution has been ordered following the protestor allegedly setting fire to a government building. And rights groups have suggested that this execution could well be the first of many to come as Iranian leaders are continuing to suppress nationwide protests.
Outside of Iran, some countries are attempting to take action to support the freedom of speech of Iranian citizens. The EU and UK have issued sanctions against several Iranian officials concerning their abuses of rights. The individuals affected by these sanctions face travel bans and asset freezes.
Speaking on the reason behind issuing these sanctions, UK Foreign Secretary James Cleverly said: "Together with our partners, we have sent a clear message to the Iranian regime — the violent crackdown on protests must stop and freedom of expression must be respected."
Why Are Women Cutting Their Hair In Solidarity?
Women worldwide have been posting videos of themselves cutting their hair in solidarity. Apart from protesting Amini's treatment at the hands of the morality police, the cutting of hair also takes on a political meaning, as a stance against women's oppression under the Islamic Republic's strict laws.
Frustrated with the conservative regime, which requires keeping hair covered with the hijab, some Iranian women are also burning their hijabs in protest. Despite knowing that under Iranian law, women who violate the strict dress code can be fined, jailed for up to two months, and subject to public flogging, per Wall Street Journal.
Discontent had already been brewing before the recent protests in Iran, and the Mahsa Amini case is bigger than an isolated incident, underscoring pre-existing issues. A common refrain chanted during these protests is: "Women, life, freedom!"
How Are Younger Generation Protestors Getting Involved?
Among the flood of Iranian protest clips, it is clear to see that teenagers can often be seen at the forefront of the movement. When an Iranian school brought in a member of the Basji — a hardline militia group run by the powerful paramilitary Islamic Revolutionary Guard Corps — to speak to the students, crowds of girls heckled him by taking off their headscarves and chanting, "Get lost, Basiji." From the satellite city of Karaj, videos have also emerged of school girls (sans hijab) yelling at their pro-regime principal until he left the premises, per BBC.
Of course, such outright opposition does not come without its dangers. There has been recent outrage at the death of 16-year-old Nika Shakarami, who joined the protests in Tehran on Sept. 20 and disappeared for 10 days, before her family allegedly found her battered body in the morgue of a detention centre. The death of 16-year-old protestor Sarina Esmaeilzadeh is another troubling case.
Celebrities Supporting The Movement
There have been a number of celebrities standing in solidarity with the women of Iran, from Meghan Markle, who wore a T-shirt with the words "Women, Life, Freedom" in Farsi written on it, to Oscar-winning French actors Juliette Binoche and Marion Cotillard, who posted themselves cutting their hair. "For freedom," Binoche exclaimed, before cutting off a handful of hair with scissors. The rest of the video clip also showed various French celebrities doing the same with their own hair, including singer Jane Birkin and her daughter, actor Charlotte Gainsbourg, Isabelle Huppert, and Charlotte Rampling.
In the European Parliament, Swedish member Abir Al-Sahlani cut off her ponytail during a speech addressing the EU assembly in Strasbourg on Oct. 4. "Until Iran is free, our fury will be bigger than the oppressors. Until the women of Iran are free, we are going to stand with you," the Iraqi-born MEP said, ending her speech by quoting the "Woman, Life, Freedom" protest chant in Kurdish.
Turkish singer Melek Mosso has also cut off her own hair while performing onstage, sharing a recording afterwards on Instagram and captioning in Turkish: "If you want to grab us by the hair and drag us into your darkness, we will cut that hair too! Freedom should be equal for all in the world. All women deserve to live humanely in this world!"
Since the recent wave of unrest, Iranian celebrities have been warned against fanning the flames of the riots by showing their support for the protests, but that hasn't stopped actors, athletes, and artists from doing so. The Rings Of Power's Nazanin Boniadi, who recently spoke to Bustle about her activism and the love she has for her homeland, Iran, has also been using her platform for good.
Other celebrities have also been showing solidarity with the plight of Iranian women, posting various messages of support on social media. These include Angelina Jolie, Olivia Colman, Bella Hadid, Jessica Chastain, Dua Lipa, Eva Mendes, Brian Cox, and Rupi Kaur.
This article was originally published on