M&S Is Now Selling A Magnum Version Of Their Light-Up Gin
Wave goodbye to traditional centrepieces.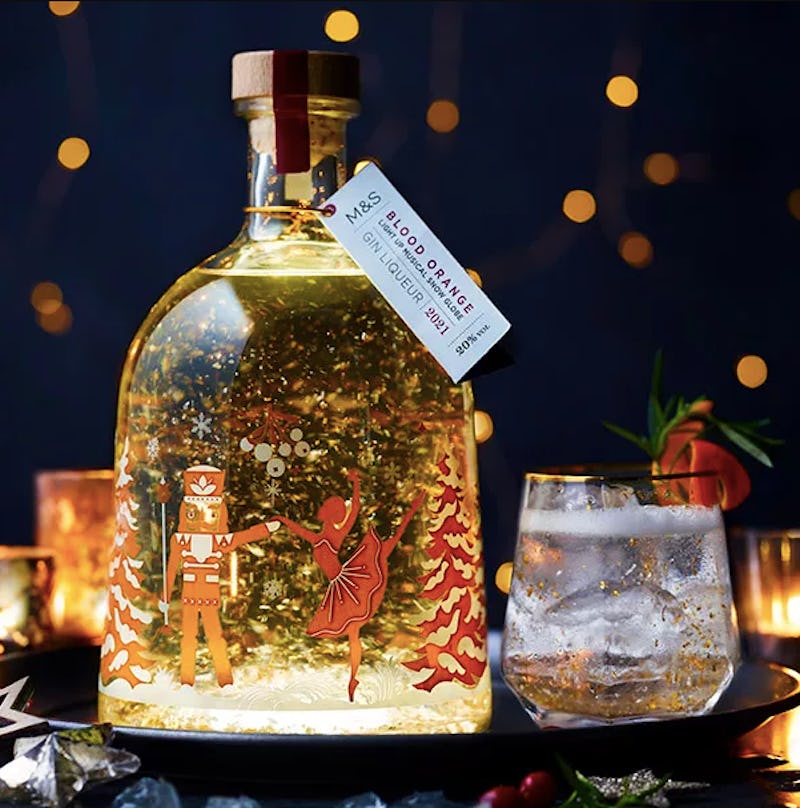 M&S
Christmas is about to literally sparkle all over again because the M&S light-up Christmas gin liqueur range is back and better than ever. Following the success of its clementine gin liqueur snow globes in 2020, M&S has announced two new flavours which come with a brand new bottle design and edible flakes of silver leaf. Talk about a treat.
As well as the now classic flavour clementine – which has a bottle beautifully painted with a wintery, Christmassy woodland scene – you can now pick up a spiced sugar plum gin liqueur (complete with shimmery edible silver snowflakes) and a Madagascan vanilla spiced rum liqueur. Both drinks are housed in beautiful, light-up bottles with scenes inspired by The Nutcracker on the outside. They are each priced at £20 and can either be picked up in store or via Ocado. Who needs a centrepiece and candles when you have this gin on the table?!
Even better, the retailer has now also introduced a magnum sized version of their light-up gins. This one comes in a brand-new blood orange flavour and has 23-carat edible gold and silver leaf inside. These limited-edition bottles come in at £40 and can be found in store only.
Elsewhere in the LED department, M&S are selling a light-up box of chocolates that depicts a beautiful village scene covered in snow. The chocolates themselves are shaped like houses and come in flavours such as blond salted caramel, creamy Madagascan vanilla, and intense dark chocolate torte.
You'll also find hampers to die for; the best biscuit boxes in the business, and Christmas pudding-flavoured truffles. Not to mention the introduction of the The Marksologist, a collection of six premium, ready-to-drink cocktails you enjoy in the comfort of your own home without any faff.
This article was originally published on