Your Horoscope For March 2023
A cosmic reset might nudge you to meet the love of your life.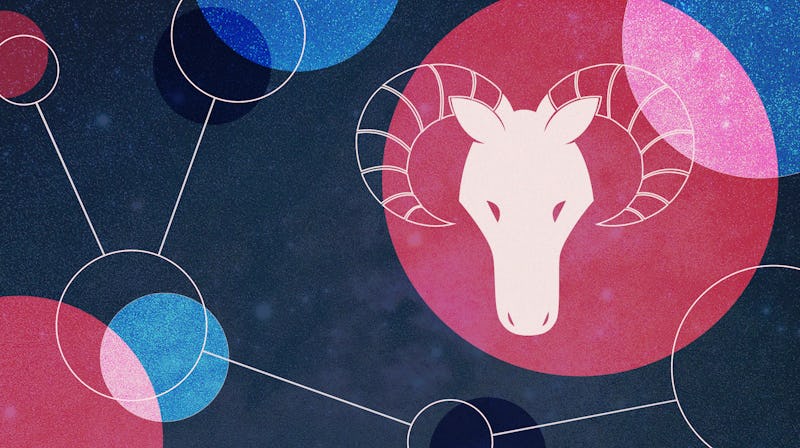 Monumental cosmic changes will transpire this month. First, Mercury's move into intuitive Pisces on March 2 will deepen your sensitivity and bring subconscious thoughts to the surface. Come March 7, you may uncover previously hidden or unknown information during the analytical full moon in Virgo. Lessons about boundaries and self-discipline will push you to develop more emotional maturity as Saturn enters Pisces on March 7. However, Venus' move through affectionate Taurus on March 16 will lighten the mood, encouraging you to explore sensuality and romance.
Conversations could grow intense on March 19 as Mercury voyages through bold and abrasive Aries. Monitor your tone when you express your passion and enthusiasm. As the sun follows Mercury's move into Aries, the beginning of a daring new season will invite you to put yourself first. On March 21, the new moon in Aries will bring the most dramatic cosmic reset yet, ushering in ambitious new beginnings and opportunities to meet the person of your dreams.
Slow-moving Pluto will begin its intense transition into progressive Aquarius on March 23. You'll crave connections with like-minded people, and your appreciation of community spaces and social justice will get a boost. Expect to feel fiercely loyal and protective over your loved ones on March 25 as Mars rages through Cancer. You may struggle to maintain your motivation and deal with passive-aggressive people.
Happy birthday, Aries!
Put your head down and focus this month, Aries. You're on the brink of a breakthrough at work that will lead to a long-desired accomplishment. It's time to stoke your ambition, passion, and competitive spirit. Actively search for answers and solutions instead of waiting for them to come to you. Step up as a leader, and avoid reacting too sensitively or defensively if someone challenges you. There are gentler ways to express your point of view.
What do you want in a romantic partner, Taurus? It's time for you to get even more specific about your desires to save yourself time and energy in the dating world. As dramatic Aries season begins on March 20, you may have to assess your deeper motives and intentions. Do you center yourself as the victim in every story? Learn to apologize without making excuses for your actions.
Gemini, you're encouraged to turn inward. Analyze your deep-seated attitudes and behaviors, especially the emotional instincts that tend to hold you back. The inner work you do at the start of the month will leave you feeling responsible, mature, and ready to set your sights on the future. Chase new goals and dreams with vigor, but don't let your regular routines fall by the wayside. Consistency is better than intensity.
Long-awaited conversations may finally bring the closure you need. However, before you confront someone with the truth, do your best to analyze the facts of the situation with an objective eye. This month, tap into your courage and confidence. That'll help you chase your goals and embrace the challenges Mars brings when it shifts into your zodiac sign on March 25. Standing up for yourself isn't always easy, but even if you're timid at first, you'll ultimately summon glorious resilience and independence.
Leo, your motivation this month will stem from a restoration of faith. Yes, you really can accomplish your biggest dreams — especially if you focus on being practical, resourceful, and efficient. Sticking to consistent routines can unlock new achievements. Although you're great at maintaining your assertive composure, you may need to break down some emotional walls and put your pride aside to express your sensitivity. Speak up when you're hurt or disappointed.
Personal transformations and independence will be at the forefront of your mind this March. As the full moon aligns with your zodiac sign, certain journeys will come to an end and a refreshed point of view will come into focus. As you grow independently, your relationships must also evolve to support the person you are today. Initiate intimate and transparent conversations with your loved ones about your feelings, and remember to hold space for others to share their experiences, too.
March will be a healing month for you, Libra. It's time to stop second-guessing yourself; tap into your intuition and trust your judgment. A deeper assessment of your mental and emotional well-being will reveal why you might struggle to love yourself without self-criticism. Inner work matters. How can you show up for yourself? The more self-awareness and acceptance you cultivate, the stronger your relationships with others will be, too.
Scorpio, a critical conversation with your friends or someone in your community could determine how you feel at the start of the month. Handle situations logically instead of allowing your emotions to heighten your reactions, and don't give up until reasonable solutions are found. As Mars sweeps through comfort-loving Cancer on March 25, you may begin to long for a home away from home. Consider what your intuition is telling you. What would make you feel most nurtured and fulfilled? Perhaps it's a trip abroad, a catch-up with relatives, or a deeper spiritual practice.
Sagittarius, a career breakthrough may boost your pride this month. Celebrate your success, but beware of building your self-worth around your external achievements. Moving forward, don't be so hard on yourself if you can't finish every task on your to-do list. Your attention will be pulled toward your love life as Mercury and the sun move through passionate Aries. Express yourself from the heart, but avoid being too over-the-top with romantic gestures until you really get to know someone.
The cosmic energy this month will encourage your ongoing quest for knowledge. Treat every experience as an opportunity to learn something new about yourself. You may be challenged to take accountability for the wrongful things you've said in the past. Moving forward, choose your words carefully. Growth can be uncomfortable, but the more you embrace these difficult moments, the more self-aware you'll become.
Sudden realizations around upsetting experiences in your past may be the catalyst for your healing this March. Give yourself time and space to explore your emotions. As Mercury enters Aries on March 19, prepare for social challenges that will teach you to be more understanding of different perspectives. Express your opinions freely, but don't take things so personally if you're met with opposition; constructive feedback is a gift.
A certain chapter in your relationships with loved ones is coming to a close. There's no better time than now to assess whether you are upholding healthy boundaries and supporting each other's needs. When Aries season begins on March 20, expect a boost of money-minded ambition. Direct your energy toward your work life and avoid reckless purchases.