19 Instagram Captions To Use For Your New Year's Eve Posts
Overthinking it was *so* last year.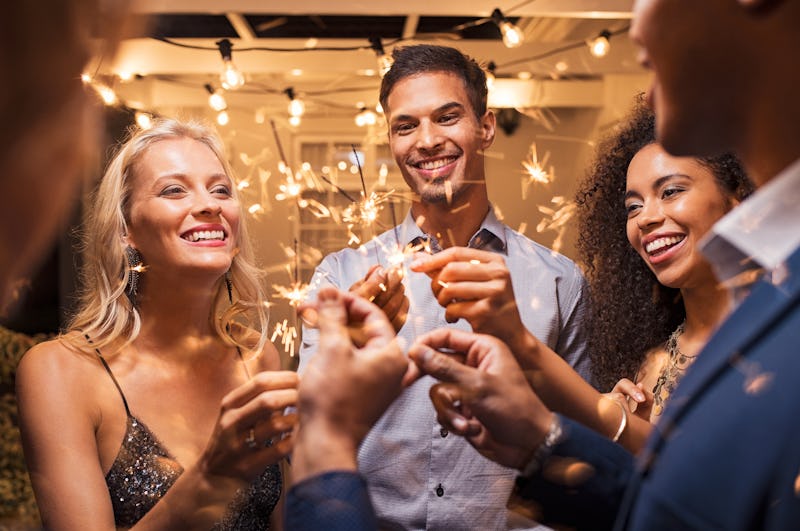 Shutterstock
If there's one thing we can agree on, it should be that the holiday season provides ample opportunity for Instagram greatness. Decorations, feasts, friends — the world wants, nay, needs to know just how extra you've been this year. And, the most important part of a great Insta post, in addition to a slammin' photo? A great caption. If you're not sure of where to start (or just want to plan ahead), check out these unique New Year's Eve Instagram caption ideas to get a sense of what you can post to celebrate the end of the year.
Humans have been celebrating some variation of New Year's Eve for as long as they've been tabulating the passage of time. Much of our current NYE practice is gleaned from the ancient Roman celebration of the god Janus, who also served as the namesake for January.
Perhaps the most recognizable American New Year's Eve tradition is the great big ball drop, which occurs every year in New York City's Times Square. This practice began at the turn of the 20th century after city officials realized their former NYE celebration — a tolling of church bells followed by fireworks — was not, in fact, the safest option for their merry revelers, because the fireworks often rained ash over the crowds. The concept of a ball drop was gleaned from a maritime tradition, which utilized ball drops as a way of letting seafarers keep track of time. And besides, city officials thought, the sound of sheer human hullabaloo drowned out any accompanying songs, music, or bells anyway.
Now, that ball drop — in addition to countless other New Year's Eve celebrations worldwide — is often Instagrammed by millions on the final night of the year. Whether it's in a story or an actual Instagram post, it's probable that you're going to want to post something to commemorate the way you spent the last night of 2022 — so, let this list of unique NYE captions give you some inspo about what that post should be.
This article was originally published on