How To Do "No Spend September," According To TikTok
A little mindful budgeting can go a long way.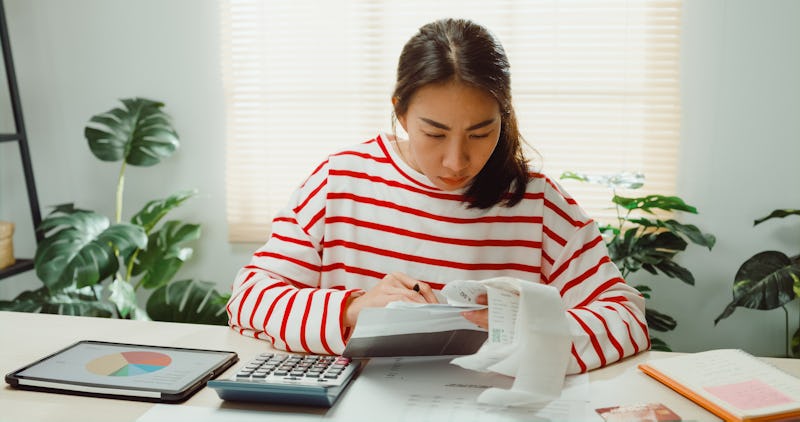 MTStock Studio/E+/Getty Images
If you spent the summer galavanting around Europe, a self-imposed finance freeze might not be such a bad idea. But let's be real: resisting the urge to buy yourself a little treat, or splurge on the latest celebrity perfume is easier said than done. Thankfully, TikTok has a solution — it's called "No Spend September," and yes, there are rules to keep you in check.
The fall season is ripe with fresh starts and much-needed resets, and No Spend September is no exception. The concept has been circulating around the FYP for a while now — in fact, the related hashtag has over 5.2 million views as of Sept. 11. But establishing a set of rules for yourself isn't always easy, so if you have any interest in joining in on the trend but don't know where to start, @hails.g detailed all the ways they plan to save money this month, and encouraged others to follow suit. "Feel free to join me on this little challenge," says the user. "I've never done anything like this before because I'm a raging shopaholic."
Of course, it goes without saying that it's basically impossible to go an entire month without spending any money. But in order to curb spending habits, @hails.ig came up with nine money-related guidelines for the month of September, and they're honestly so helpful. Along with obvious rules like "no impulse buying" and "only spend money on necessities (groceries, gas, meds, bills)," the creator is restricting themself from buying things like home decor, furniture, drinks, and coffee (unless their boyfriend pays, of course). Oh, and don't expect to see the TikToker near a Target anytime soon. "No matter what, there is no need for me to go into Target," shares the creator. "If there's something that I actually do need, I can find it somewhere else."
If @hails.g's guidelines seem a little too strict for your liking, don't worry, because the creator has made room for some spending exceptions. Take the fifth rule, "plants are okay," for example. Though the creator admits it's a little random, the exception has good reason to be on the list. "I've already predetermined that I was going to buy some plants for my flower boxes this month, so I'm giving them a pass," explains the user. Similarly, the creator has given themself a pass to check out an upcoming Owala water bottle drop. The good thing about these guidelines is that if they don't apply to you, they can easily be substituted for something else you were already planning on buying, like concert tickets or a new haircut just in time for fall.
Speaking of exceptions, you don't have to deprive yourself of all of life's little luxuries during No Spend September. The creator encourages limiting yourself to one meal under $30 a week because if there's anything worth investing in, it's food. Suddenly No Spend September isn't looking so bad, huh?
Another TikToker taking on the spending challenge is Taylor Kennedy (@tayykenn_), who made their own list of rules for the month. Unlike @hails.g, Kennedy is allowing themself to spend money on coffee — but only $25. To keep tabs on their moolah, the creator is also requiring themself to track the non-essential purchases they would've bought so they can add it up later.
Similarly, user @Madigummybears knows it's "not realistic" to quit spending money cold turkey, so as a compromise they've created a set of guidelines that are tailored to their lifestyle. As a result, the TikToker split their usual spending habits into allowed and not allowed purchases. Allowed purchases include the basics (one coffee per week, one takeout meal per week, essentials), while not allowed purchases bare them from buying home decor, clothes, jewelry, and drinks.
Whether you need to give your credit card a break after a summer full of spending or just want to see if you're up for the challenge, No Spend September definitely has its benefits. The only downside is that you won't be able to get your hands on a PSL from Starbucks until October.