17 Non-Alcoholic Thanksgiving Drinks That Are Still Festive
Your brain will probably thank you the next morning.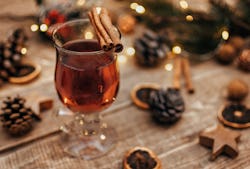 Marko Klaric / EyeEm/EyeEm/Getty Images
While "the holidays" tends to connote indulgence of all kinds, it doesn't need to include alcohol. Check out these non-alcoholic Thanksgiving drink ideas for a pain-free (read: hangover free) next few weeks.
The holiday season in the United States — which begins either at Halloween or Thanksgiving depending on who you ask and ends with New Year's Day — has become a months-long marathon of pie eating, gift giving, and familial obligations. Thanksgiving falls smack dab in the middle, and in this era of increasing generational gaps and political tension, it has developed a reputation as a heavy-drinking, heavy-eating, heavy-fighting holiday.
But for those who are sober, or are sober curious, Thanksgiving may look a little different this year. People who are sober curious limit their alcohol intake or completely cut drinking out of their lives to improve their well-being. Reducing your alcohol consumption can result in more stable moods and better REM sleep, allowing you to concentrate better throughout your day, especially since a lot more of us are working from home during the coronavirus pandemic.
But that doesn't mean you can't have a mocktail on Thanksgiving. If you're looking to experience the holiday sober, check out these non-alcoholic ciders, tonics, coffee drinks, and hot chocolates.
This article was originally published on