On-Trend Home Accessories For Under $200
by Erin Cunningham and Jamie Cuccinelli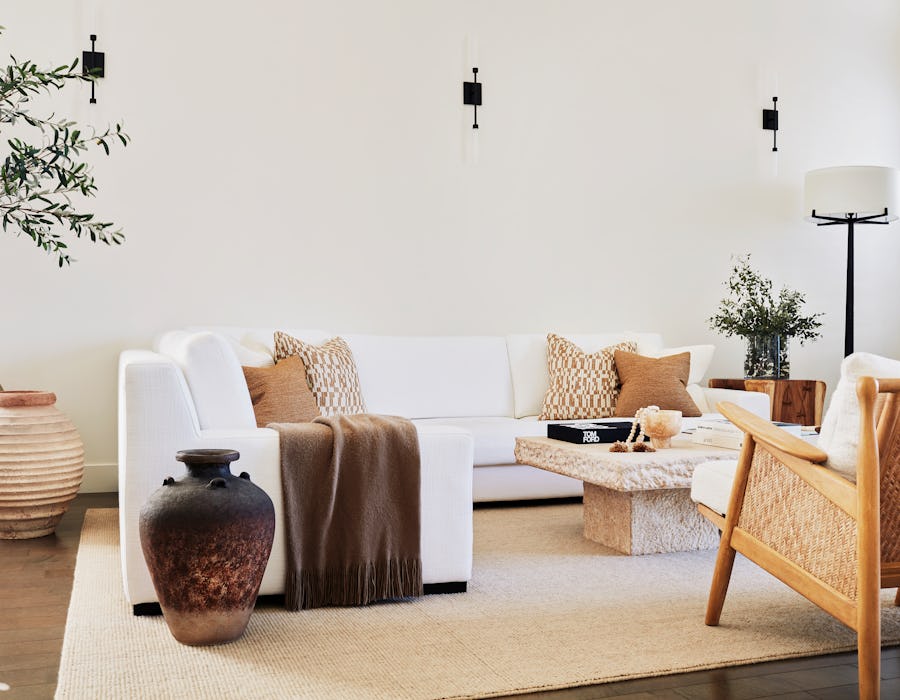 It's about time we start thinking about our spaces like we do our seasonal closet refreshes: adding a few pieces here and there can make existing items feel like new. Something as simple as a cool ceramic planter or a colorful glassware set can completely refresh your home when you've been staring at the same four walls for way too long.
While furniture is a longer-term investment, smaller touches like glassware, linens, and other decorative objects can easily rotate in and out of your space as your mood and style continues to change.
Focusing on these smaller housewares pieces is also an easy — and less expensive — way to experiment with and incorporate some current trends, like wavy shapes and rattan. Sure, a large wavy mirror or a rattan headboard may be an intimidating commitment, but wavy candles and rattan baskets are the perfect way to introduce these trends into your home.
For under $200, you can play with these emerging home trends and more. From regency-inspired decor to pieces that fit right in with the "cluttercore" aesthetic, affordable stylish selects are well within reach.
Below, shop all of the trending home accessories you need for an instant interior upgrade.
Bustle Shop is Bustle's shoppable guide to editor-approved buys in fashion, beauty, wellness, and lifestyle. We may receive a portion of sales if you purchase a product through a link in this article.
Bustle Shop brings you the editor-approved buys we can't get enough of and think you'll adore, too. Best of all, you can shop all of the products above directly on this page without visiting multiple retailers. Simply click on an item to learn more, choose your size or favorite color (if applicable), and then hit "add to cart." When you're done, you can click over to your cart in the top right corner of your screen to purchase all your stellar selects at once. How easy is that?
Questions about shipping, returns, or your order in general? Click here for more information.
Explore more of Bustle Shop (and our fashion, beauty, and lifestyle must-haves) here.
This article was originally published on