Our Place Just Upgraded Their Most Popular Pan & We're Obsessed
The revamped Always Pan replaces up to 10 pieces of traditional cookware. I know.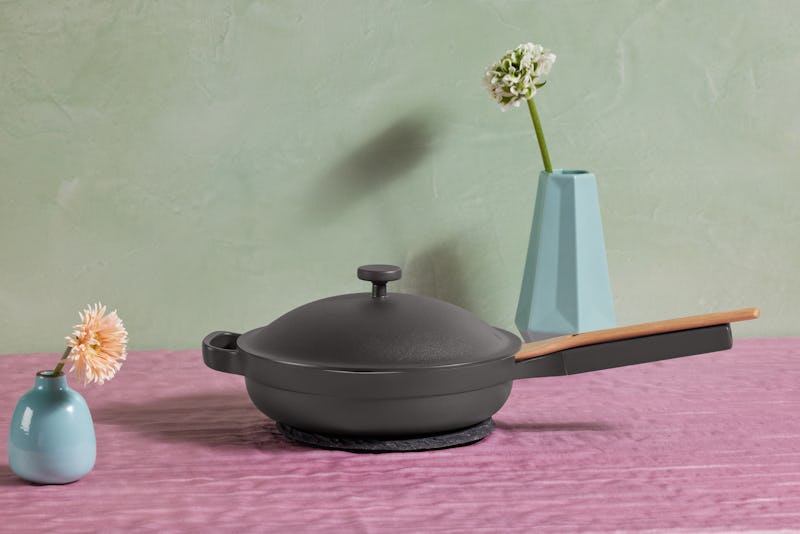 We may receive a portion of sales if you purchase a product through a link in this article.
As someone with a long-standing, self-diagnosed allergy to cooking (I can't help it, my birth chart tells me I'm 'subject to indolence'), I didn't think I'd ever see a day where I was jazzed about cookware. But, alas, the viral, new-and-improved Our Place Always Pan 2.0 got me.
See, with my 30th birthday imminently approaching and just a dinky pan in my arsenal of cookware, I decided it was time for me to adult up and invest in something worthwhile — ideally, something that would inspire me to channel my inner Martha Stewart and finally get in the kitchen. The fabulous 10-in-1 Always Pan did just this.
Despite my aversion to playing home chef, I'd been idly admiring Our Place's gorgeous range of kitchen products (and noting their rave reviews) from afar for a minute. The Instagram-famous brand's intriguing lineup almost made me want to overcome my grocery-shopping anxiety. Then, one night, after a particularly disappointing DoorDash dinner, an updated version of their cult-favorite Always Pan popped up on my feed, and I took it as a sign. I made moves and days later, boom, I was marveling at the single chicest pan I'd ever laid eyes on.
I ordered mine in Spice, an earthy, dusty-rose shade that instantly made me feel warm inside when I opened my package. The uber stylish, multipurpose pan is also offered in other matte colors, including cool neutrals and a dreamy lavender hue (which I seriously considered).
Appearance aside, I ultimately wanted to put the best-selling non-stick pan to the test in the kitchen. The Always Pan 2.0 has been newly engineered to replace up to 10 pieces of traditional cookware and is conveniently oven-safe. Reviewers also love its ceramic Thermakind coating that's free of toxins found in a lot of non-stick cookware, and the durable, ultra-conductive aluminum core is sustainably built from 100% certified post-consumer waste. I can't help but stan a versatile, space-saving design that's easy on our planet.
So, what can the Always Pan 2.0 do, you wonder? Offering even more functionality than its predecessor, the 10.5-inch pan is equipped to handle all of your cooking needs; it braises, sears, steams, strains, sauté, fries, boils, bakes, serves, and stores. I especially love the included stainless steel steamer basket that makes steaming veggies a cinch. Other standout features, for me, are the spout that promotes easy, mess-free pouring and the handle's built-in spoon rest that the included beechwood spatula fits into seamlessly. It's those little, but thoughtful, details that put this pan on another level.
Also of note is that while the pan is sizeable (it's deep enough to roast a chicken), I immediately noticed it didn't feel cumbersome. It felt practically featherlight in my tiny-ass hands as I took to my formerly-shunned kitch to whip up a creamy mushroom pasta recipe of my girlfriend's choosing. It warmed up fast, providing even heat, and the Always Pan's nifty stay-cool handle even protected me from accidentally burning myself. Then when it came time to clean up, it couldn't have been easier.
So, if you're anything like me and you've been resistant to home cooking, for whatever reason, Our Place's Always Pan 2.0 is the best place to get started. Personally, as soon as I got into playing around with it, I felt akin to Amy Adams in Julie & Julia. And here's a hot tip for anyone looking to upgrade more than just their pan: Our Place also offers a ton of great kitchenware bundles at a solid discount, so you can start feeling excited and more confident in the kitchen with your own beautiful cookware.