13 Productivity Apps For When You Need To Get In The Zone
Who says screen time's always a bad thing?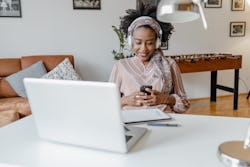 blackCAT/E+/Getty Images
Getting organized can be overwhelming — especially if you're looking at a lengthy to-do list. And while you'd like to believe that you are totally capable of staying on task when you're under fire, it's OK to admit to needing a little extra help focusing and checking everything off that list. Since your smartphone is probably by your side most of the time, one of your best resources could be mobile productivity apps that'll get you in the zone and keep you there.
Productivity can mean different things to different people. For some, being productive means being able to complete one assignment in a short amount of time without being distracted. For others, productivity means getting through a ton of projects over a longer period of time. According to a July 2018 survey conducted by OnePoll on behalf of streaming platform Vudu, putting off a task is a guilty pleasure that 35% of Americans partake in knowingly. However you define your inability to tick off boxes, it's important to find a plan and method that works for you, so that you can adopt the habits long term. Whether you need help cutting out distractions or keeping up with everything you need to get done, countless productivity hacks are at the tips of your fingers.
Here are 13 apps that'll help you stay on track and on top of your goals.
This article was originally published on