Everything You Need To Know About The Samsung Galaxy S23 Ultra's New Camera
Your concert videos will be even better quality.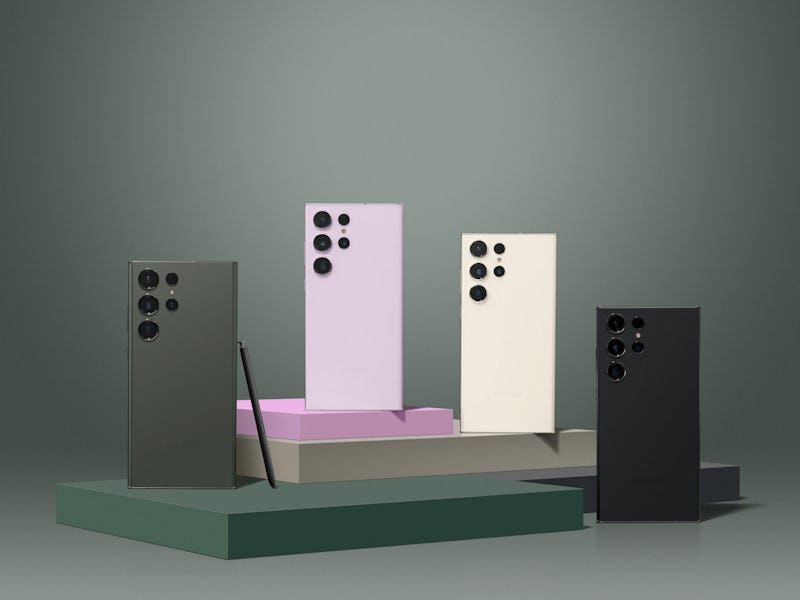 Samsung
On Feb. 1, Samsung announced the latest launches to their product portfolio which includes three new phones as part of the Galaxy S23 Series. The Samsung Galaxy S23 Ultra, Samsung Galaxy S23+, and Samsung Galaxy S23 include updated software and cameras to make the user experience higher quality than ever before. The Samsung Galaxy S23 Ultra offers an especially impressive camera that will up your selfie game and your sunset photos, and here's everything you need to know about its new features.
The Samsung Galaxy S23 Ultra boasts the most advanced camera system of the Samsung smartphone lineup, with updates that allow for clear photo capturing in all lighting environments, a super high-definition selfie camera, and AI-powered image signal processing to address blurry details when you snap your photos. Below, some of the most impressive features of the new Samsung Galaxy S23 Ultra.
Nightography & Low Light Capture Capability
From day to night, you'll be able to take Insta-worthy photos with this new phone no matter what the lighting conditions may look like. When you take photos at night you might be used to some parts of the picture coming out too dark or blurry, and the new phone offers an AI-powered feature that corrects these errors, resulting in a clear and precise photo.
Better Video Capture
Higher quality videos are also available with the Samsung Galaxy S23 Ultra, as a doubled optical image stabilizer helps keep videos clearer from every angle. Videos taken on the Galaxy S23 Ultra will be caught in 8K at 30 frames per second with 360 audio recording so your concert videos will actually be enjoyable to watch back, though this does mean you'll still be able to hear yourself singing along in the background, FYI.
Astrophoto & The Expert RAW App
An app exclusive to Samsung Galaxy, the Expert RAW App gives users DSLR-level shooting capability, so you can have photographer-level pictures taken right from your handheld device. Within the app and the Samsung Camera app, users can try out Astrophoto settings, which make it possible to take crystal-clear images of the night sky. Read as: the next full moon can totally be captured through your phone camera. Plus, the Samsung Galaxy S23 Ultra comes with its own S Pen, which will be useful for photo editing once you get the snapshots you want.
The Samsung Galaxy S23 Ultra starts at $1,199.99 with storage capacities of 256 GB, 512 GB, and 1TB. It's available in stores in phantom black, cream, green, and lavender colorways. If you happen to order online through the Samsung website, you'll have access to exclusive colors like sky blue and lime. Note that prices and color availability may vary based on your service provider.