Starbucks' Pumpkin Spice Latte Is Officially Back In Stores This Week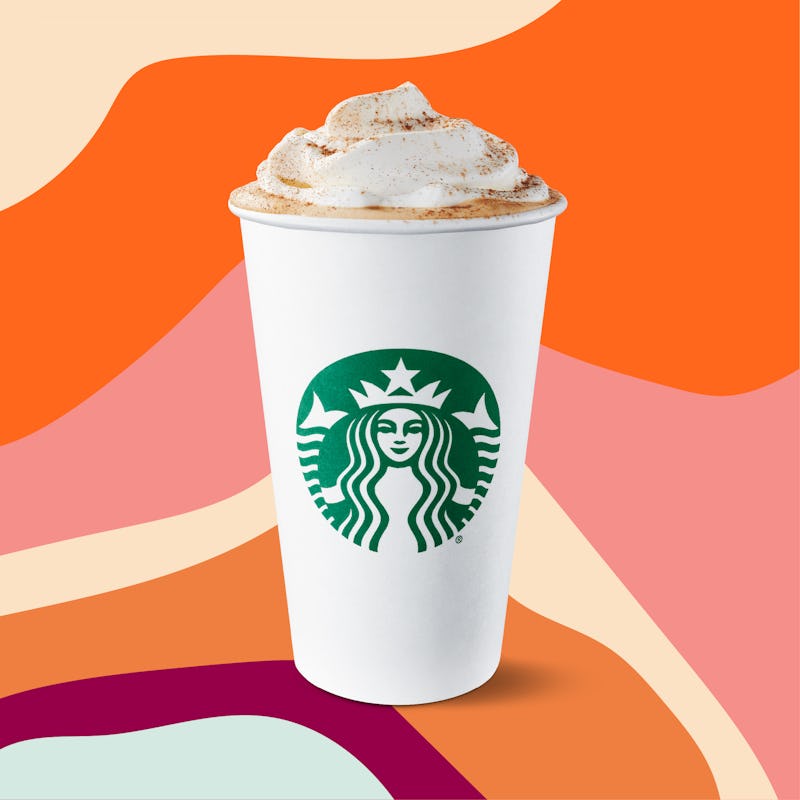 Courtesy of Starbucks
It's every coffee drinker's favorite time of the year: Pumpkin season is back at Starbucks. You can stop worrying and wondering about when you can finally get your hands on your go-to fall drink because Starbucks' Pumpkin Spice Latte will make its epic return on Tuesday, Aug. 30, 2022.
If we look at years past — from 2011 to 2017 to be specific — the official return date for the Pumpkin Spice Latte was usually in the first week of September. However, in more recent years Starbucks and other coffee chains have jump started the fall vibes earlier and earlier. Although you may not be ready to bid farewell to summer quite yet, warming up to the thought of all things cozy — pumpkin spice, fall home decor, and Halloween costume ideas — should be enough to get you in the fall spirit.
But the fun doesn't stop at the beloved Pumpkin Spice Latte because the Pumpkin Cream Cold Brew returns to the menu for a fourth year in a row. As a refresher, the Pumpkin Cream Cold Brew is cold brew sweetened with vanilla syrup, and topped with a pumpkin cream cold foam and light dusting of pumpkin spice topping. Basically, it's a dream for all of those coffee drinkers that prefer iced beverages all year long.
Aside from the Pumpkin Spice Latte returning for its 19th year, Starbucks announced the return of pumpkin bakery items, including the Pumpkin Cream Cheese Muffin and Pumpkin Scone. These two additions will be available during the season, alongside the year-round Pumpkin Loaf. If you want a break from pumpkin-flavored goodies, Starbucks is also offering an Apple Crisp Oatmilk Macchiato (which is returning for its second year, this time dairy-free) and a vanilla cake and buttercream Owl Cake Pop that is dipped in chocolate icing.
Now that the fall offerings from Starbucks are right around the corner, keep in mind that the summer items will be out of commission until next season when the brand inevitably whips something special up. That means you'll be saying goodbye to the new Chocolate Cream Cold Brew that was introduced this year. Thankfully the three fall drink options can fill that coffee-shaped hole in your heart.
To keep your caffeine craze in check until the fall menu officially hits Starbucks locations, there's a whole lineup of pumpkin-flavored goodies available across grocery stores nationwide. Ahead of the PSL's much-anticipated Aug. 30 return, a few fall favorites are back on the shelves and are ready for drinking. Starbucks released a new Nitro Cold Brew Pumpkin Cream and A Salted Caramel Mocha Flavored Roast and Ground Coffee which pair perfectly with their returning creamers.
While it's still technically summer, the return of Starbucks Pumpkin Spice Latte and all of its other fall treats means that it's autumn in our heads. All we need now is some sweater weather.
This article was originally published on