The 5 Best Sheets For Your Purple Mattress, According To Reviewers & The Brand
We only recommend products we love and that we think you will, too. We may receive a portion of sales from products purchased from this article, which was written by our Commerce team.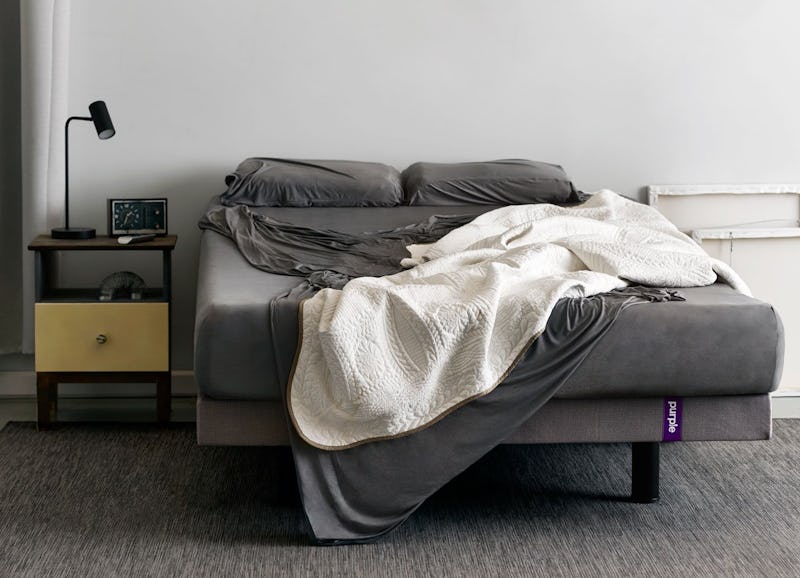 Amazon
With a promise to be "comfy however you sleep," the Purple mattress is designed to keep your body cool and in alignment while you rest. But in order to get the most out of this high-tech mattress brand, you need to use the right sheets. Due to its unique patented design, there are a few things to consider when purchasing the best sheets for your Purple mattress.
Beneath the Purple's soft knit cover is a honeycomb-like grid that adapts to your body's position, keeping your spine aligned and distributing weight evenly. For this pressure-reducing technology to work, your sheets need to be able to move with and conform to your body. If you were to use sheets with no "give" on a Purple mattress, you'd essentially create a tight layer on the surface of the mattress, thereby missing out on its benefits. Look for sheets that offer some flexibility or stretch so you can take advantage of all that the Purple has to offer.
For added comfort, you should look for stretchy sheets made from natural materials like cotton or bamboo. Overall, these materials offer the most breathability and will soften over time. You should avoid sheets made from synthetic materials, which are prone to pilling and can make you overheat at night.
In a hurry? These are the best stretchy sheets for Purple mattresses.
1. The Best Sheets For Purple Mattresses: Purple SoftStretch Sheets
2. The Best Affordable Fitted Sheet: Cosmoplus Fitted Sheet
3. The Best For Hot Sleepers: Oasis Fine Linens Island Bamboo Collection
4. The Best Affordable Sheet Set For Purple Mattresses: Great Bay Home Jersey Knit Sheets
5. The Best Cotton Sheets For Purple Mattresses: Purple Complete Comfort Sheets
The best sheets for Purple mattresses range in price and come in a variety of colors, but they will all deliver the best sleep experience possible on this innovative mattress.
This article was originally published on