The 8 Best Chew Bones For Puppies, According To A Vet
We only recommend products we love and that we think you will, too. We may receive a portion of sales from products purchased from this article, which was written by our Commerce team.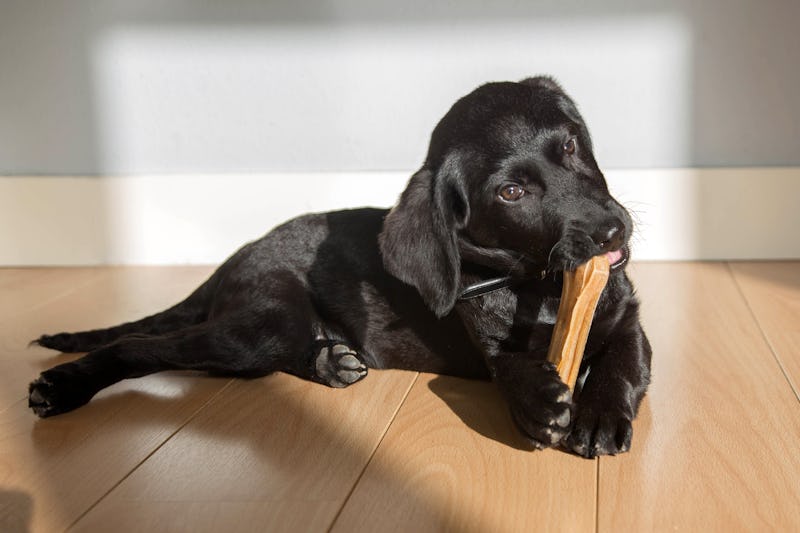 Shutterstock/Vitalinka
Bringing home a new puppy is all kinds of fun, but let's be honest: It's a lot of work, too. To prevent your new furry BFF from chewing up everything in sight, investing in the best chew bones for puppies is a must. That said, there's no shortage of options, so Dr. Rebecca Greenstein, veterinary medical advisor for Rover, is here to help narrow them down. The first step is deciding between edible or non-edible chew bones, but whichever one you pick, it should be made from safe ingredients or materials.
How To Choose Between Edible And Non-Edible Chew Bones
Since many dogs are motivated by food, you may want to consider edible puppy bones that you can use as a reward or training treat. According to Dr. Greenstein, however, they're not all created equal: "The benefits (and risks!) of a particular edible chew vary greatly." For example, "certain animal-derived chews like pig ears and pizzle sticks have been associated with cases of bacterial contamination." You should also only give edible chew bones to your pup while they're being supervised, since even the so-called edible ones aren't always fully digestible and can cause internal blockages "if accidentally swallowed in giant pieces," according to Dr. Greenstein. And keep an eye out for a bone that simultaneously "does work" — like cleaning your dog's teeth while they chew.
Some pups can chew through an edible bone in minutes, so if that's your dog, a non-edible chew may be a safer, longer-lasting option. "When it comes to non-edible chews, the choice of material is key. Always look for something just pliable enough to dent with your fingernail," Dr. Greenstein wrote. "Anything super hard [like bones, hooves, antlers] can risk breaking a dog's teeth." For that reason, synthetic materials are a good option, especially for "tenacious chewers or large dogs with powerful jaws."
Not sure which one to start with? Here's are some of the best chew bones for you to choose from.
Shop The Best Chew Bones For Puppies
In a hurry? Here are the best chew bones, both edible and non-edible.
Expert:
Dr. Rebecca Greenstein, veterinary medical advisor for Rover
This article was originally published on