The 6 Best Closet Dehumidifiers On Amazon
We only recommend products we love and that we think you will, too. We may receive a portion of sales from products purchased from this article, which was written by our Commerce team.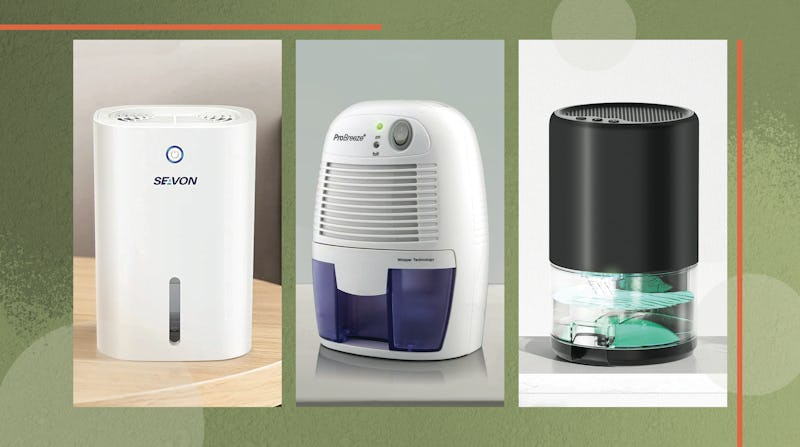 Bustle / Amazon
If you're tackling the lingering odors and other issues caused by excess moisture in your home, the best closet dehumidifiers help tackle humidity-related issues while being super easy to maintain. Some could even be taken to other small areas of your home like a pantry or laundry room.
What Criteria To Consider
When you're looking for the best portable dehumidifier or a small dehumidifier for a bedroom, consider the following:
Ease Of Use
For a dehumidifier you'll actually use, make sure it's easy to operate. Think about how often you want to empty water tanks or refresh the container and pick a dehumidifier with an appropriate absorption capacity. Also consider if you have an outlet in easy access or if you'd prefer something that isn't electrically powered.
Square Footage
To buy the best dehumidifier for your closet, keep the square footage of that space in mind. For a walk-in up to 150 square feet is size, you will want a stronger dehumidifier or a few less powerful units. But for smaller closets, a more compact one will do the job.
Shop The Best Dehumidifiers For Closets
In a hurry? Here are the top picks for the best dehumidifiers for closets:
1. The Fan-Favorite Electric Dehumidifier For Closets: Pro Breeze Electric Mini Dehumidifier
2. The Electric Dehumidifier With A Larger Tank: SEAVON Compact Dehumidifier
3. The Best Rechargeable Mini Dehumidifier For Closets: Eva Dry Wireless Mini Dehumidifier
4. The Best Fragrance-Free, Single-Use Dehumidifier: airBOSS Closet Dehumidifier
5. The Best Hanging Closet Dehumidifier: DampRid Moisture Absorber, Fresh Scent
6. The Dehumidifier With An Extra-Large Tank & A Quiet Setting: AYAFATO Small Portable Dehumidifier
No matter your needs, scroll on for small dehumidifiers that will get the mustiness out of your closets and other small spaces.
This article was originally published on