The 6 Best Color Bed Sheets To Hide Stains
We only recommend products we love and that we think you will, too. We may receive a portion of sales from products purchased from this article, which was written by our Commerce team.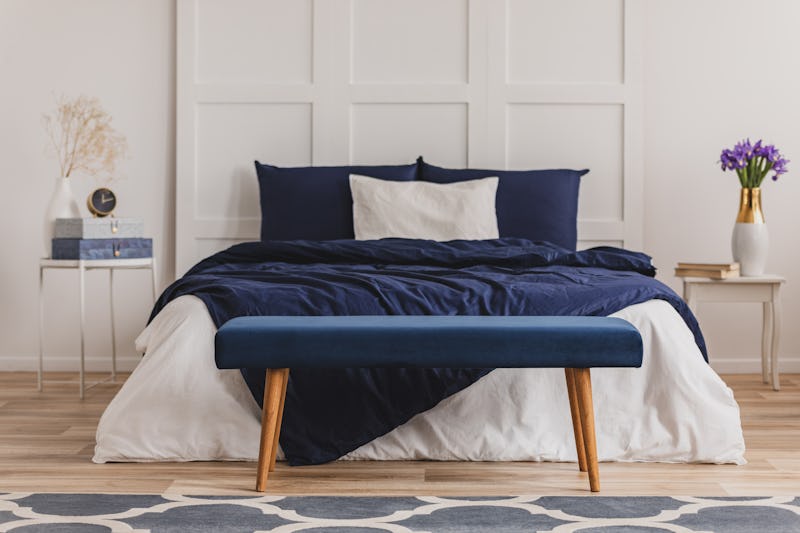 Shutterstock
Whether you're dealing with pet messes, period blood, sweaty nights, or sex stains, knowing what the best color bed sheets to hide stains are can come in handy — especially if you want your sheets to last for years to come.
But before you start shopping, it's important to know which colors are best for which stains. Because it's so dark, many people find black to be an ideal shade for hiding bloodstains, like those seemingly unavoidable period stains that tend to plague all of us who menstruate. And very dark colors, like navy blue, should hide any sweat stains you may be dealing with. Since urine naturally has some yellow pigments, dark brown sheets may be up to the task of hiding pesky bedwetting or pet stains; and because semen and vaginal fluids tend to be clear or white, light, neutral-colored sheets (like white or cream) can be great for hiding sex stains.
You should also think about quality and ease of care when you're buying bed sheets. Whether you plan to use your sheets only for specific times of the month or every single day of the year, you'll want to find quality bed sheets that are comfortable, long-lasting, and easy to clean. Cotton tends to be a popular fabric for bed sheets due to its softness, breathability, and durability. Egyptian cotton is ideal if you're looking for luxury, while a cotton-polyester blend is a solid choice if you're more interested in affordability, easy-care, and durability. Microfiber sheets are a budget-friendly option, but the material is not as breathable as cotton — so keep that in mind if you tend to heat up at night. Bamboo is also a breathable choice, and typically more eco-friendly. It's also not a bad idea to focus on fade-resistant and/or stain-resistant sheets.
Take a look at the best bed sheets to hide stains below. Whether you're on a budget or looking to splurge, all of the selections below are highly rated by Amazon shoppers.
This article was originally published on