The 7 Best Toothpastes for Sensitive Teeth, According To Dentists
We only recommend products we love and that we think you will, too. We may receive a portion of sales from products purchased from this article, which was written by our Commerce team.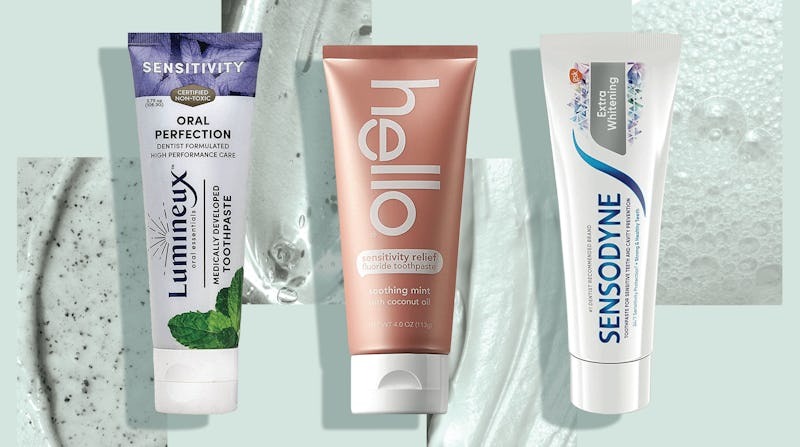 Amazon/Bustle
Tooth sensitivity can be frustrating to live with, especially if you can't get through a meal without wincing. To help alleviate discomfort, you'll want to use one of the best toothpastes for sensitive teeth. The ones you'll find on this list are hand-picked by dentists, and they're formulated to alleviate discomfort with the help of ingredients like potassium nitrate, sodium fluoride, and hydroxyapatite.
Lana Rozenberg, DDS, of Rozenberg Dentistry in New York City says, "The root cause of most tooth sensitivity is the loss of a protective covering around a tooth's dentin, or the material that composes most of the inside of each tooth. Dentin is typically protected by enamel (the outer covering of each tooth), cementum (which protects the tooth root under the gum line), and the gums (which further help protect the root of the tooth), but a number of issues can erode this protective layer."
So what causes dentin to be exposed? According to Sharon Huang, DDS, MICOI, of Les Belles NYC Dentistry in New York, anything from brushing teeth too hard to grinding teeth to eating or drinking acidic foods or beverages can be to blame — in fact, tooth sensitivity can even be a symptom of certain medical conditions.
While it's always important to consult with a dentist if you're having serious oral discomfort, there are a number of steps you can take to manage the problem on your own, including brushing with a soft-bristled toothbrush twice a day, remembering to floss, and above all, switching to a better toothpaste. But before you do, you want to make sure you're selecting a new one with care, because they're not all the same.
Dr. Huang says, "If you have sensitive teeth, it is best to use a toothpaste indicated for teeth sensitivity. The key ingredient to look for is potassium nitrate. Potassium nitrate alleviates teeth sensitivity by calming the nerves in the teeth. Other key ingredients to look for are sodium fluoride and hydroxyapatite, both [of which] work by rebuilding minerals in teeth to make them stronger and helping to prevent cavities." Dr. Huang also says there is one ingredient to avoid: charcoal. "Charcoal is an abrasive [...] Long term use of a charcoal toothpaste will cause enamel wear and teeth sensitivity."
With that advice in mind, here are the best toothpastes for sensitive teeth, as recommended by dentists.
Experts:
Lana Rozenberg, DDS, of Rozenberg Dentistry in New York City
Sharon Huang, DDS, MICOI, of Les Belles NYC Dentistry in New York
Dr. Rob Raimondi of One Manhattan Dental
This article was originally published on