The 6 Best Dish Drying Racks For Pots & Pans In 2021
We only recommend products we love and that we think you will, too. We may receive a portion of sales from products purchased from this article, which was written by our Commerce team.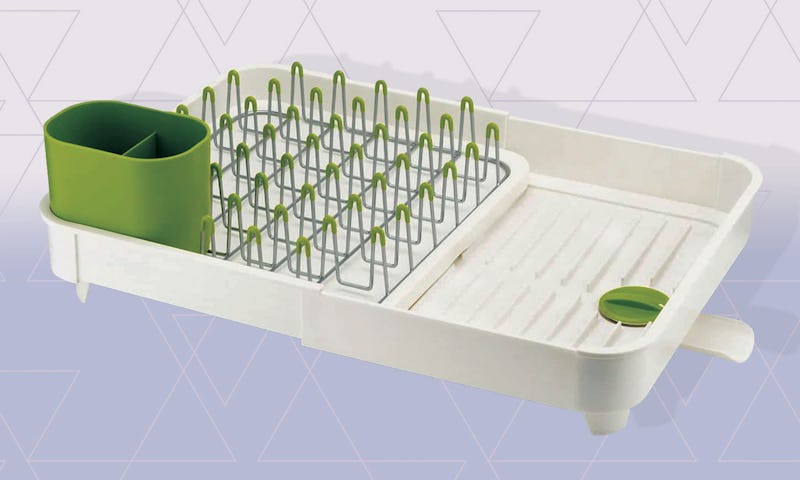 Amazon / Bustle
Saucepans and skillets are larger and heavier than other dishes, so the best dish drying racks for pots and pans should be big and sturdy enough to accommodate their bulk. Lightweight racks with dish-sized slots can work for standard kitchenware, but if you're drying a pasta pot, they just won't make the cut.
Space & Structure
There are a few different ways for dish racks to offer space for larger items. Dish racks usually come in one- or two-tiered styles. A single-tier rack is often the most sturdy, since it's never top heavy. But a two-tier rack can often hold a greater number of items, which is especially nice if you need a dish drying rack for a small space. If you decide to look for a two-tier rack, make sure there's enough space for your pots and pans on the bottom level — or just be aware that placing heavy items on the top tier could make the rack less stable. Some single-tier racks are also expandable, offering the option to swap between a smaller footprint and having additional space to work with.
The way that a rack's space is structured can also affect how well your pots and pans fit. Traditionally, drying racks often have spots intended to hold specific types of dishes, such as plates. But some racks instead have prongs meant to accommodate just about anything that needs drying. This can be especially helpful for oddly-shaped cookware, like frying pans or pots with handles.
Materials
When it comes to stability, materials matter. Stainless steel is a good option because it's durable and rust-resistant. You'll also find that plastic is a common option used for small or large parts of various racks because it's budget-friendly — just be aware that some plastic racks may not be as sturdy and are more prone to mold or discoloration. Bamboo racks are much less common, but are an aesthetic choice for something that might permanently live on your kitchen counter.
Over-The-Sink Racks
Finally, if it's made from sturdy materials, an over-the-sink drying rack can be as good an option. Because these racks sit over the sink, they tend to drain efficiently, but may not be especially large. That said, they're a perfectly reasonable place to rest a pot or two as they dry.
Whether you want an over-the-sink rack or an expandable one made mostly from sturdy plastic, these five dish drying racks that are the best for handling large drying jobs. According to thousands of Amazon reviewers, they're sturdy, functional, and will hold up over time.
This article was originally published on