5 Life-Changing Espresso Machines That Are Like Having A Barista In Your Home
We only recommend products we love and that we think you will, too. We may receive a portion of sales from products purchased from this article, which was written by our Commerce team.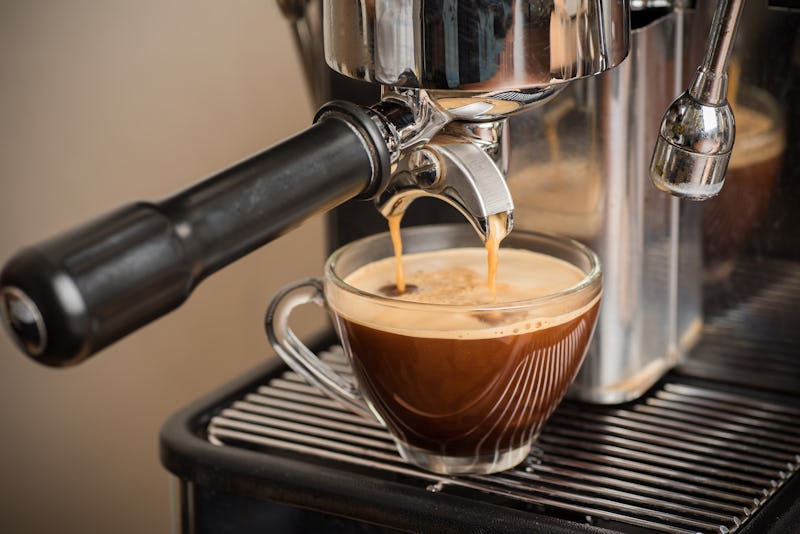 Nungning20 / Shutterstock
Caffeine enthusiasts know that when it comes to coffee, espresso is the cream of the crop. From simple shots to foamy cappuccinos, there's a lot you can make with an espresso machine, and the best espresso machines will generate a perfect extraction that results in deliciously thick, creamy espresso.
What is the difference between an espresso machine and other coffee makers?
The central difference between coffee and espresso is how they are made. Unlike drip coffee, French press, or stovetop percolation processes, an espresso machine uses pressurization (about 130 pounds per square inch, or nine bars, of pressure is ideal) in addition to hot water to quickly extract flavor and caffeine from the beans. It's so fast that the process should only last about 25 seconds. There's also a difference in the beans themselves. For espresso, you should use a dark roast — which is best for consistently producing a full-bodied, less acidic espresso topped with crema — and the beans should be ground very finely right before you use them.
Basic Espresso Machine Features To Consider:
In general, espresso machines that include more features and offer more beverage customization options typically cost more than their simpler counterparts. When deciding which espresso machine is best for you, take a look at all the features the machine offers and think about which kinds of drinks you'd like to make. If you enjoy drinking cappuccinos or lattes, you may want to consider a machine that includes a milk steamer or frother rather than one that just makes espresso shots. Also, some models include grinders either built into the machine or as accessories, and others require you to buy them separately. If space is an issue, you should keep in mind that the more accessories and features a machine has, the larger it tends to be.
Choosing Between Semi-Automatic & Manual Espresso Machines:
You should also consider whether you'd prefer a semi-automatic espresso machine or a manual one. Semi-automatic machines use electric pumps to generate the pressure needed for espresso, while manual machines require — you guessed it — a bit of arm muscle to create the pressure. Lastly, you'll have to decide if you prefer to use loose beans and grounds or pods with your machine. Pod machines, which require purchasing prepackaged capsules to insert into the machine, can be convenient and simpler to use, but you may find that you're more limited with bean options than when you select and grind your own. If you alternate between drinking drip coffee and espresso, a pod machine that can make both could be a good fit for you.
Why 'Bars Of Pressure' Is An Important Spec To Look At:
It's important to ensure that whatever machine you choose can produce the nine bars of pressure needed to create true espresso. Some machines on the market are listed as espresso machines but can only generate three to four bars. All of the semi-automatic, pod, and manual espresso machines on this list can produce enough pressure for espresso. (If you'd prefer a non-pod espresso machine that doesn't require manually grinding the beans, you can opt for a fully automatic espresso machine instead.)
From easy-to-use pod machines to manual models, here are the best espresso machines you can buy on Amazon.
This article was originally published on