The 9 Best Outdoor String Lights For Your Backyard, Porch, Or Patio
We only recommend products we love and that we think you will, too. We may receive a portion of sales from products purchased from this article, which was written by our Commerce team.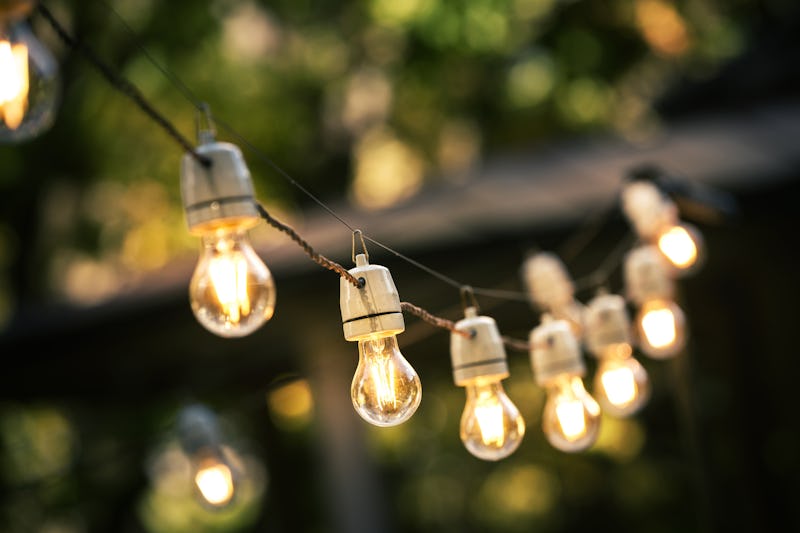 ronstik / Shutterstock
Craving some extra illumination, especially in your home's most serene areas like on your porch or garden? If so, you'll want to pick up some of the best outdoor string lights, which will add some magic to any backyard (or any outdoor space — you could even use the string lights while camping!). There are tons of different types of outdoor lights to choose from, but the best ones are durable, weather resistant, and meet your specific needs when it comes to brightness, the power source they use, and their general aesthetic. You'll also want to consider how long you'd like your string lights to be before you make a purchase.
To choose lights with the brightness you need, consider the lumens listed. The higher the number of lumens, the brighter the lights — 1 to 30 lumens is ideal for mood lighting, while higher numbers will get you more illumination (as will bigger bulbs). If you plan to set your lights up near an outlet or don't get much sunlight in your yard, plug-in string lights are your best bet, but solar-powered outdoor lights are a great choice for sunny areas that aren't outlet-adjacent. Lights that run on batteries can be placed just about anywhere, regardless of outlet location or sunshine. In terms of style, your options range from fairy lights, to string lights with larger bulbs, to beautifully atmospheric lanterns, so pick the type of light that works best for your space. Finally, price range is always a consideration; if you're on a budget, many cheap string lights are actually really good.
If you're shopping for outdoor string lights and want an inside look at some of the most well-reviewed options on the market, this round-up dives into nine of the most popular lighting options you can find on Amazon, and get this: they're all just a click away — no annoying Home Depot trips required. Plus, buying on Amazon gives you the opportunity to hear what real people are actually saying in user reviews, because knowing what other shoppers think is always a bright idea before you buy.
This article was originally published on