The Best Of Bustle Digital Group: Our Favorite Stories From 2017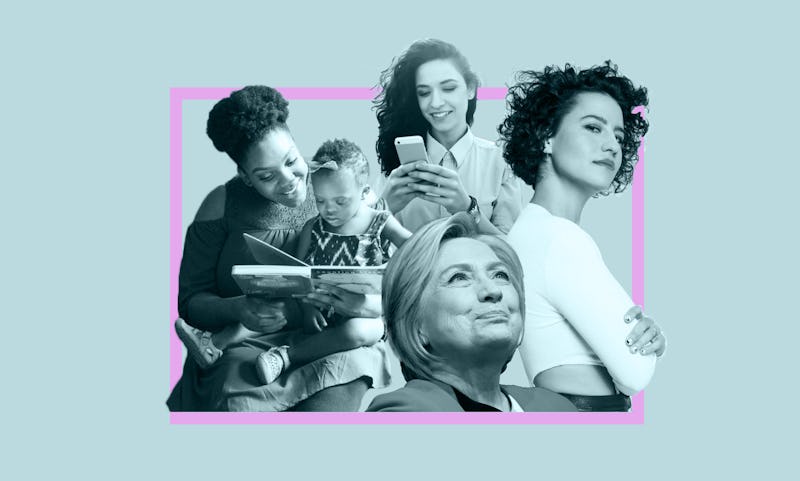 Caroline Wurtzel/Bustle
For most women, 2017 started in a hopeless place. Or, at least, a confusing place. We had spent years preparing for a future that seemed cemented — one in which reform supporting progressive, feminist ideals would become commonplace. But then, in November 2016, none of that came to pass. With such an uncertain future, where would we turn? It's hard to believe that, by the end of 2017, we have an answer to that question: we turned to one another.
Just look at Wonder Woman, or #MeToo, or, of course, the Women's March. In 2017, women refused to be silent, taking over the box office, social media, and the streets to prove our voice matters. And we were thrilled to be able to amplify those voices across Bustle Digital Group, on Bustle, Romper, and Elite Daily, bringing attention to women's struggles and victories this year.
Female survivalists. Doulas. Women of color who teach other women of color to surf. On Bustle Digital Group's pages, there was no shortage of identities that made a difference in 2017 just by supporting other women. In fact, reading through our round-up of the 29 best stories published across Bustle, Romper, and Elite Daily, it's easy to understand why the future is so much brighter than it seemed 365 days ago. (And, for more inspiration, check out the Best of Bustle, Best of Romper, and Best of Elite Daily.) We might have been in a confusing place last year, but, at this year's close, it's never been clearer: We're here for each other. We're here for you.