80% Of Sportswriters Are Men. At The Gist, None Are.
What could sports coverage look like if it weren't always from a male perspective?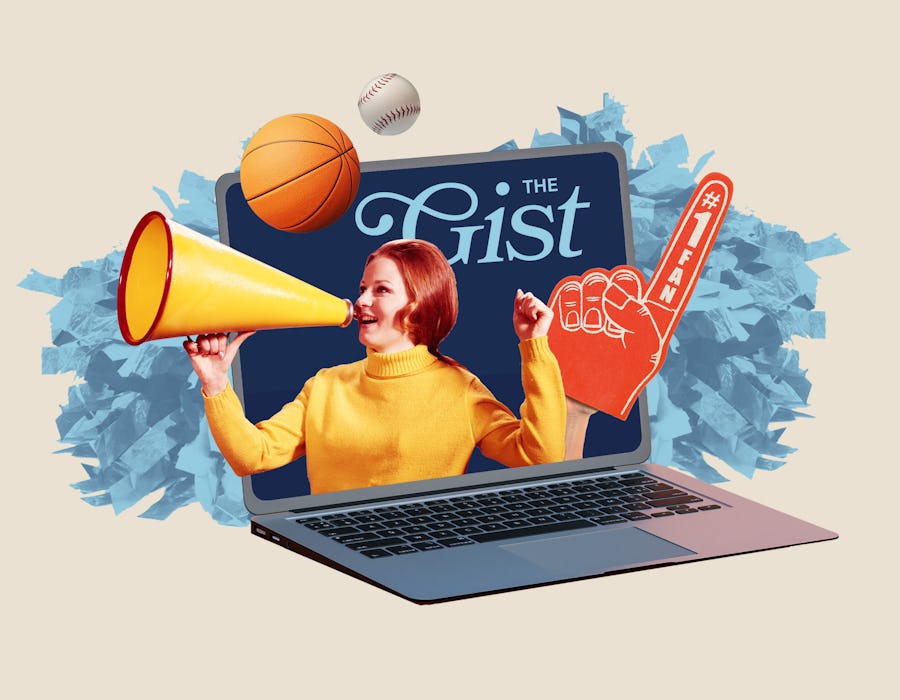 The Gist, a women-run sports newsletter, started off like many great ideas among friends do: over a glass of wine.
One evening in February 2017, Ellen Hyslop, Jacie deHoop, and Roslyn McLarty met up at McLarty's apartment. The friends, who had studied business at Queen's University together and all worked on Toronto's Bay Street (Canada's Wall Street), chatted and caught each other up on their lives over takeout.
At one point, perhaps after the first (or maybe second) glass of wine, Hyslop, a lifelong sports fan, enthusiastically monologued about Toronto Maple Leafs center Auston Matthews, who had recently joined the team. (The Leafs had only made the playoffs once in the last 10 years, and no one expected it to happen again this year. This was supposed to be a rebuild year! And then here comes Matthews — the only Leafs player to make the All-Star Team! — and it was looking like finally, finally, the playoffs were a possibility.) "I was so excited about it," says Hyslop.
DeHoop and McLarty grew up playing sports, but that hadn't translated into avid sports fandom as an adult like it did for Hyslop. But after listening to Hyslop's recap, deHoop and McLarty realized it was the first time they'd enjoyed a conversation about sports in a long time. "Just the fact that it was coming from a friend and a female voice and perspective was really key," says deHoop.
And with that, The Gist was born. All three friends subscribed to TheSkimm — the chatty newsletter that summarizes the day's current events — and they thought something similar should exist for sports news. Current events are a form of social currency, and so, too, is the latest sports news — but too often, the latter is considered the domain of men only. "It still just felt like this boys club," says deHoop. "As a female fan, there's just this automatic assumption that you don't know what's going on or aren't interested in what's going on."
Plenty of women, of course, follow sports and very much do know what's going on, but the three founders thought those women would still appreciate a sports news roundup written from a nonmale perspective. (More than 80% of sports writers and reporters are men, according to a 2021 study.) Then and now, Hyslop says, the driving idea behind The Gist was for it to sound like "you're hearing about sports from your witty, sports-obsessed best friend."
The thing is, though, if you don't know what's going on, it's tough to know where to even begin. It can feel difficult to follow sports casually, like if you aren't a stats-obsessed fan with a yearslong history of paying fanatical attention, you're lost. Another of The Gist's goals was to meet those potential fans where they were and give them a place to start. For example, Gist readers lately are getting more into golf, so the content team will link to definitions of terms like eagle, birdie, or par for those who are still learning the sport. "It's basically providing the background and resources in order for them to be able to learn more and not feel bad that they need to learn more," Hyslop says.
In addition, the three founders issued one more edict for their project: They would cover men's and women's sports equally. "We really felt like the future of what the sports industry needs to look like is that women's sports are on that level playing field, and you're getting all your sports updates in one place," deHoop says.
Sports should feel like they're for everyone, says deHoop, but they often don't — and that's largely because of the lack of women's sports coverage. A longitudinal study by Cheryl Cooky — a professor of women's, gender, and sexuality studies at Purdue University — and her colleagues found that only 5% of traditional sports news is devoted to women's sports. On top of that, "what we found in our study," says Cooky, "was that women's sports are presented in ways that are dull, lackluster, 'just the facts.'" Compare that, Cooky continues, to the "visually and verbally exciting delivery of stories on men's sports that are often accompanied by high production values, including interviews, game footage and highlights, and graphics with stats or other pertinent information." In other words: When women's sports do get their brief time in the spotlight, the coverage tends to be boring.
The Gist aims to be anything but that. Recent issues have included, for example, a rap about the Women's World Cup to the tune of "Fresh Prince of Bel-Air"; a funny clip of a volleyball serve gone awry; and catchy language like Fri-yay — plus information on much weightier issues like equal pay and sexual assault. The founders admit it took a minute to find their voice, however.
They soft-launched in December 2017, and Hyslop recalls that the early newsletters were "so bad," written in a casual texting style. "We would use so much slang. We'd use so many exclamation points. We'd be writing in all caps," says deHoop. But after feedback, the team modified its writing to sound more professional. Hyslop also wrote all of the early content herself. As a one-woman writing show, it limited the scope of what the newsletter could cover.
Despite the initial trial and errors, it didn't take long for the trio to understand they had a potential hit on their hands. The three women started working on The Gist full time in May 2018 after receiving a grant from the Facebook Journalism Project. By September 2019, when the company launched in the United States after participating in the Comcast NBCUniversal Lift Lab Accelerator, there were already around 30,000 subscribers.
Today, the company employs 45 people, and all of the content is written by women and nonbinary people — that's key to the company's mission of "leveling the playing field," as Hyslop describes it. The Gist now distributes three weekly newsletters, focused on general sports news, sports business, and college sports; all told, it's grown to 750,000 subscribers, whom the company affectionately refers to as Gisters.
For subscriber Tomika Anderson-Smith, who describes herself as an avid sports fan, it was the focus on women's sports that caught her initial interest. "I especially love that it isn't just an update or fact, but that they'll give some really great deeper information about one specific thing so I learn and don't just see a score or something," Anderson-Smith says. Through The Gist, for example, she recently learned about when women's "footy" was banned in 1921 in England by the Football Association.
This kind of storytelling is engaging for longtime sports fans and newbies alike — and it's a good thing it works because this is the kind of context you need to cover women's sports. You can't tell the story of Spain winning the Women's World Cup this summer without telling what happened after the game, when Luis Rubiales, the country's soccer federation chief, kissed player Jenni Hermoso without her consent. It would help, too, to provide context of the team's long-held antipathy toward coach Jorge Vilda — and that its World Cup victory is even more incredible considering that of the 15 players who in 2022 quit in protest over Vilda's behavior, only three returned to the squad in time for the tournament. Stats-focused coverage doesn't provide that necessary context, but The Gist does.
Its readers have taken notice. "It's different because it prioritizes those playing over the game," says Anderson-Smith. "It celebrates big wins, stats, and personal victories, but also speaks out against things like sexual assault in hockey." Last fall, The Gist covered the news that Hockey Canada maintained a secret slush fund — or to be more accurate, a third secret slush fund — to cover up uninsured claims, including those from sexual assault cases. Anderson-Smith was unaware of the issues plaguing hockey culture before she read that article. "They still managed to celebrate the sport and the Stanley Cup, which was important to show that you can have bad people that are a part of a good thing," she says.
The company's inclusive approach seems to be working. Its revenue has more than doubled year over year, according to the company. More than 375,000 people follow The Gist on social media, and its podcast, The Gist of It, which is co-hosted by Hyslop, garners 30,000 downloads monthly. (Fans can also check out their job board focused on jobs in sports, as well as The Gist-branded merchandise like an Equal Play for Equal Pay T-shirt.)
But despite its growth, the team's goal remains the same as when it emerged over a glass of wine — to be the go-to source for underserved sports fans. "They want to be part of the conversation," Hyslop says. "They want to be part of the community, and now they're finally being welcomed in."