Starbucks UK Is Selling A Colour-Changing Cup & Two New Festive Drinks
Here's what we know so far about the Starbucks 2021 Christmas menu.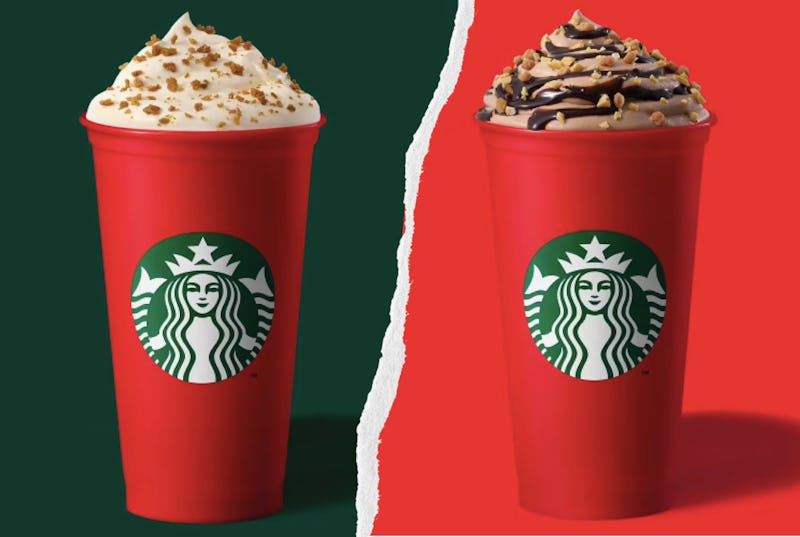 Judging by the biting weather and perfectly timed re-emergence of Mariah Carey, it's clear the festive season is upon us. And – as always – Starbucks UK is set to treat customers to a snazzy new Christmas menu, with a few fan favourites making a yuletide comeback.
The Christmas menu will be returning to 560 Starbucks UK stores and via drive-thru around the country from tomorrow (Nov. 4). So there's not too long to wait to try a new drink or get reacquainted with a wintertime favourite. (Although, if you're a Starbucks reward member, you'll get early access to the brand new holiday menu.)
Keep reading to find out all the details you need.
What's On The Starbucks UK Christmas 2021 Drinks Menu?
Alongside familiar staples like the Eggnog Latte, the Toffee Nut Latte, and the Gingerbread Latte, Starbucks UK is bringing us two new Christmassy drinks this year: the Caramel Waffle Latte and the Fudge Brownie Hot Chocolate.
The Caramel Waffle Latte is described by Starbucks as "a delicately spiced sip hand-crafted with a combination of Starbucks signature espresso, steamed milk, warming winter waffle sauce and a stroopwafel flavoured Caramel Waffle crunch."
However, if you fancy something caffeine-free, perhaps the Fudge Hot Chocolate Brownie will be more your vibe. It's said to be a smooth mocha with a rich biscuit sauce and milk to create that familiar melt-in-the-mouth, gooey brownie feeling.
Both drinks can be topped with caramel whipped cream.
What's On The Starbucks UK Christmas 2021 Food Menu?
The coffee chain is yet to announce their 2021 festive food menu but, if it's anything like last year's, customers can expect an exciting theme, like the Friends-inspired gravy sandwich.
In the sweet department, 2020 customers enjoyed the Christmas Tree Brownie, Raspberry and Pistachio Linzer Cookie, and a Sea Salted Caramel and Pecan Swirl.
Let's hope some of these delicious goods can be found on the shelves of your local Starbucks this year. Watch this space.
When Will The Red Cups Be Available At Starbucks UK?
Fans of the iconic Christmassy red cups will be excited to hear that those too are returning from Nov. 4. And if you're a sustainable coffee consumer, you're in luck. The reusable colour-changing coffee cup will also be back this winter, too. The cup will change from a bold holly green to a deep berry red using heat-sensitive technology. And remember that Starbucks UK knocks off 25p for those who bring in reusable cups (whether they're made by the coffee chain or not).
This article was originally published on