"Tinis & Weenies" Is TikTok's Fave Highbrow Lowbrow Dinner Party
These are a few of my favorite things.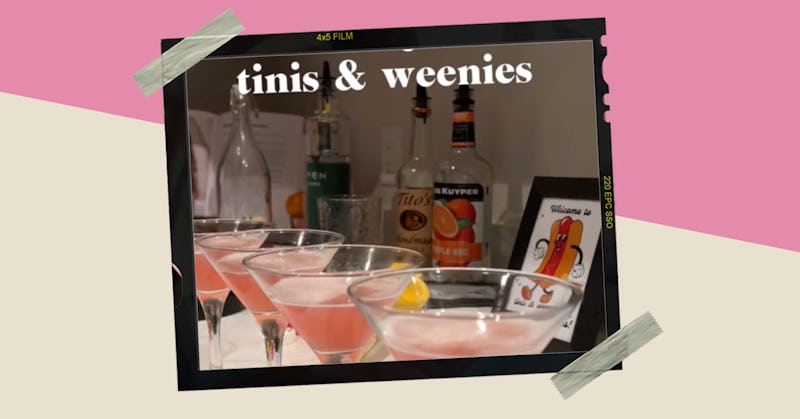 When it comes to parties, there's no shortage of idea inspiration on TikTok. From unique themes to classy summer send-offs, creators are always finding new ways to celebrate, and the latest craze to take over the FYP is no exception. The dinner party trend, known as "weenies and tinis," is the social media platform's favorite mix of highbrow and lowbrow, and yes — it's exactly what it sounds like... hot dogs and martinis, that is.
Now's the time to stock up on your favorite hot dog toppings before TikTok users wipe out your local grocery store. The deliciously cute trend began circulating after creator @barisbootcamp posted a video encouraging others to "throw a weenies & tinis party this summer" while showcasing their party spread on July 30. The event, which took place on a rooftop at sunset, featured the essentials: flowers, cupcakes, snacks, and of course, all the ingredients you could need to make martinis and hot dogs. Not only did the video go viral with nearly 359K views, but the related hashtag has gained over two million views as of Sept. 13, so it's fair to say people are on board with the dinner duo. Not to mention, the reversed #tinisandweenies tag also has just under two million views, so the trend has racked in nearly four million views in total.
Though hot dogs and martinis can be enjoyed all year long, TikTokers seem to be squeezing in their casual cocktail parties before the summer comes to a close. Attendees at @vshleyortega's event spent the night chasing martinis with French fries, while @slickerson3 set up a whole martini bar stocked with olives, lemons, olive skewers, and more.
Sure, weenies and tinis is a great happy hour theme, but it also works for brunch, too. Just ask @thehanniediaries, who used adorable place settings, handwritten notes, and canned espresso martinis for their party.
User @beautyofthefoodie provided their guests with fried pickle dip and summer corn salad to start, hot dogs, marinated chicken kebabs, and pasta salad for the main course, and vanilla bean cupcakes and espresso martinis for dessert. The creator even made weenies and tinis merch for their besties, because no party is complete without a party favor.
If you're a wiener dog lover, this trend might mean something different to you. The creator behind the account @yuzu_thedoxie threw a weenies and tinis party in their pup's honor filled with wiener dog-inspired goodies for an adorable event that's totally canine-approved.
Though you probably don't need an excuse to host a gathering for your friends, you can't go wrong with a themed party, especially when the theme is hot dogs and martinis.