This Viral Furniture Brand's New Couch Might Just Be The Only One You'll Ever Need
Built to last out of solid wood and steel, it can go from a 2-seater armchair to a 10-person sectional.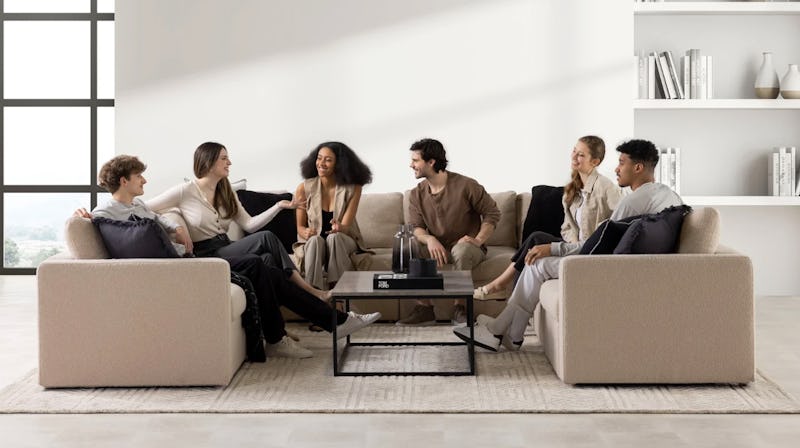 We may receive a portion of sales if you purchase a product through a link in this article.
I live in a particularly small house, so I can't afford to waste precious storage or living space. That's why I love window shopping innovative brands that make the most out of your space, even as life and needs change — and Transformer Table is one of them. You've probably seen the brand's adaptive, six-in-one table all over social media last year, and now, the company has added a modular Transformer Couch to its lineup — and it's equally genius. It's also 30% off right now, so if you're looking for some space-saving furniture, read on.
FAST FACTS:
Transformer Couch options range from a two-seater armchair to a 10-person sectional
Interchangeable, removable, and machine-washable covers
Sleeper sofa styles available
Available in four colors and more than 20 configurations
What makes this couch so cool?
The most revolutionary thing about the new Transformer Couch is its adaptability. Since all of the pieces come apart and securely reattach with steel connectors, you can create any configuration that suits your living space and your needs — from a two-seater armchair to a 10-person U-shaped sectional and beyond. And if you buy a smaller size now, you can add pieces and rearrange your setup later on with the interlocking system.
Transformer Table
Transformer Table
Transformer Table
The couch comes in your choice of four colors: light gray, dark gray, cream beige bouclé, and ivory white bouclé. And if you've dreamed about a light-colored couch but were concerned about it holding up to everyday use, you'll be happy to know that they have stain-resistant and washable covers which make it easy to take care of (and are a life-saver for households with pets, kids, or a love of red wine). And since the covers are replaceable, you can switch up the color at any time without having to invest in an entirely new couch.
More versatile pieces from Transformer Table
Beyond the couch, Transformer Table (the brand) also offers the viral transformer table, stackable chairs, telescoping benches, storage unit coffee tables, and even outdoor furniture.
This article was originally published on