Travis Kelce's Old Tweets Are Going Viral, Thanks To Swifties
"All Im sayin is this Chipolte is about to SHHHHMACK!!"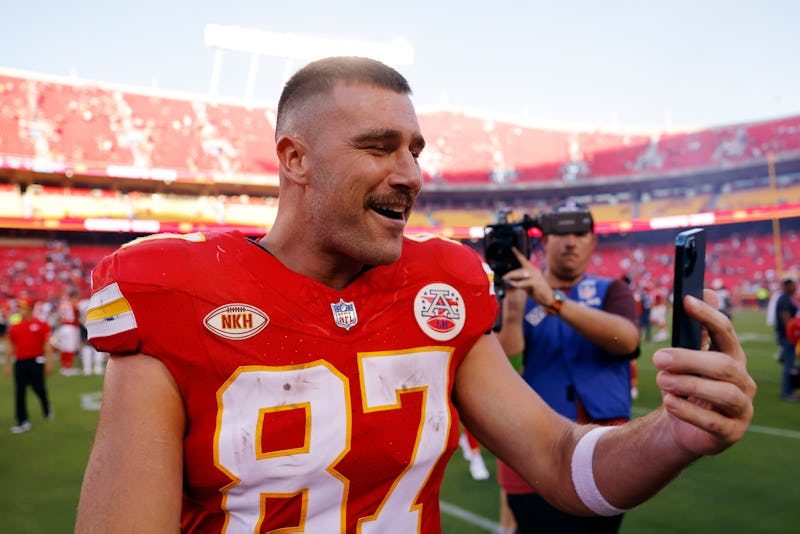 David Eulitt/Getty Images Sport/Getty Images
Normally when a celebrity's old posts resurface on X (previously known as Twitter), it usually spells trouble for their career. But for Travis Kelce, it only made fans love him even more.
If you saw the phrase "Travis Kelce tweets" trending on Nov. 15, you probably assumed the famous football player had been canceled for an inflammatory take from a decade ago, or arguably worse — he bad-mouthed future girlfriend Taylor Swift. But luckily there's no need to get rid of your 87 jersey just yet, because the only offense Kelce, 34, committed was posting about his snacking, napping, and manifestation habits without checking his spelling first.
"Tall glass of #DosAquis and a BBQ becon burger please!!! Happy Cinco de Meyo!!!!!", Kelce posted on May 5, 2011, typos and all. These are exactly the kind of thoughts that were running through the heartthrob's mind 12-14 years ago, and fans can't seem to get enough.
"Travis Kelce's old tweets are like reading the thoughts of a puppy," @tomanlorenzo posted on X. "I'm not gonna lie, those old Travis Kelce tweets have swayed me," writes @axilatl. "That's my guy, I love him. Protect him at all costs."
From much-needed Chipotle runs to entrancing squirrel encounters, there's so much to unpack about Travis Kelce's old posts.
Travis Kelce, Fast Food Extraordinaire
Travis Kelce spent a lot time posting about food between the years of 2009 and 2011, and before you jump to any conclusions: No, he wasn't tweeting about bad restaurant experiences like a troll. Judging by his overzealous use of capitalization and exclamation marks, it seems like the guy just really loves food.
"Bout to get some Taco Bell!!! then hit everyone up, n see whats poppin tonight," Kelce wrote on Sept. 14, 2009. After the post went viral, the official Taco Bell account couldn't resist chiming in. "Karma is a crunchwrap supreme coming straight home to me," the account posted on Nov. 15, referencing a lyric change Swift made to her hit song "Karma" during a concert in Argentina on Nov. 11.
Taco Bell wasn't the only fast casual dining place Kelce was frequenting in his early 20s. "Up at Olive Garden with papa!! Had to grab the Fettucini with the Chicken Alfredo!! #shmackin," the two-time Super Bowl champ posted on June 27, 2011, to which the Italian restaurant chain replied on Nov. 15, "It's a love story, baby just say 'when,'" along with a red heart and cheese emoji.
Kelce made sure to give some love to the most important meal of the day, too. "I HOP!!!!!! I love commin here for breakfast! Ummm I think ill have the T-bone steak n Eggs please! Haha with some white toast on the side!", the Kansas City Chiefs tight end posted on July 18, 2010. "Such a good order king," X user @loveisgolden13_ replied on Nov. 14.
Of all the restaurants he was tweeting about between the ages of 20 and 22, there was one establishment that seemed to capture Kelce's heart the most. That place was Chipotle, or as he called it, "Chipolte."
"All Im sayin is this Chipolte is about to SHHHHMACK!!", Kelce wrote on Sept. 14, 2009. (Keep in mind, he posted this the same day he tweeted about Taco Bell.) If you search the word "Chipotle" on Kelce's X account, you can see all of the footballer's embarrassing typos for yourself.
"Currito burrito is good............. but the flavors can't compare with CHIPOLTE!!!!!!!!," the Chief's tight end posted on May 16, 2010. In another life, Kelce would've been a fantastic food critic. Yes, chef!
Nap Time Never Ends
When he wasn't posting about food, Kelce was probably napping. "One thing about Travis Kelce is that he's GONNA take that nap," writes X user @phoenixlokis, along with a screenshot of 15 — yes, 15 — different tweets with the word "nap" in them.
"I wish I had Travis kelce's mind," says @rottenpeachs. "Not worried about nothing just football and nap time." He has the sleeping habits I've been striving for.
Man vs. Wild
You have to admit, Kelce's old tweets are a good representation of how most 22-year-olds were posting in 2011. But while Kelce was contemplating his next "Chipolte" order, his future GF was literally writing the playbook about being 22, and there's no denying the pop star was much more eloquent with her words at that age.
"Yeah, we're happy, free, confused, and lonely at the same time / It's magical and miserable, oh yeah / Tonight's the night we forget about the deadlines," Swift declares in the hit song "22." As the songwriter was busy memorializing all the emotional intricacies that were plaguing her early years of adulthood in a catchy pop tune, Kelce was somewhere marveling at a squirrel.
"I just gave a squirle a peice of bread and it straight smashed all of it!!!! I had no idea they ate bread like that!! Haha #crazy," the pro athlete posted on April 14, 2011. Again, all of these typos are real. Autocorrect, where?
Understandably, the stark contrast has inspired some pretty hilarious reactions on X. "In 2011 Taylor Swift was touring for Speak Now and Travis could barely speak," says @samantha_megan0 with the crying laughing emoji. Sounds like the perfect man to me.
Fans React To Travis Kelce's Old Tweets
Instead of causing a public fall from grace, the wholesome posts have turned casual fans into full-on Kelce stans.
"Travis Kelce's old tweets are the biggest green flags I've ever seen in my life," shares @spelunky_. No wonder why T-Swift likes him so much.
"Truly can't get enough of Travis Kelce's old tweets— he's just a gentle himbo, floating through stardom," says @nf4awesome. Don't worry, Travis: That's a compliment.
Some people found the posts endearing because they reminded them of someone they know. "Travis Kelce's old tweets are peak guy at a college party you are initially afraid of but then he talks to you for an hour while drunk and you never see him again but you think back on him fondly," writes @_stardustem. It's a specific vibe, but Kelce has it down to a T.
The football pro has yet to comment on his newfound virality as of Nov. 16, but when (or if) he does, we can only hope Kelce will add a few typos for old-time's sake.