10 Tweets From People Crushing On Nick Sirianni, The Hot Eagles Coach
"I am once again tweeting about how hot Nick Sirianni is."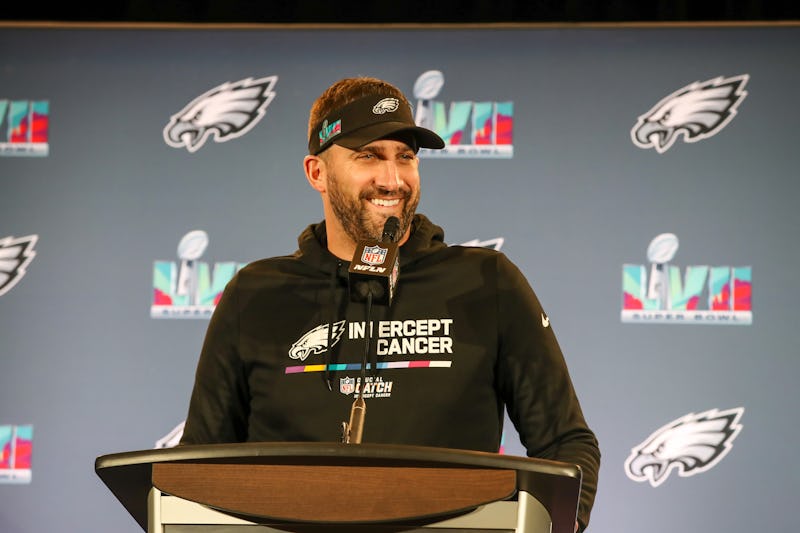 Icon Sportswire/Icon Sportswire/Getty Images
As Super Bowl LVII officially kicked off, people were already getting thirsty — and I'm not just talking about the football players. During Chris Stapleton's national anthem performance on Feb. 12, one particular camera shot of the Philadelphia Eagles' football coach Nick Sirianni crying during the song caught the eyes (and hearts) of viewers, who quickly took to Twitter to share their newfound crush. The internet really does act fast.
Sirianni has been coaching the Eagles since 2021 but has held several different coaching titles on NFL teams like the Indianapolis Colts, San Diego Chargers, and, ironically, the competing team for this Super Bowl LVII, the Kansas City Chiefs, during his tenure in the league.
While it's unclear what exactly it was that made Sirianni shed tears during "The Star-Spangled Banner," it can be assumed that the momentous accomplishment of bringing a team to the Super Bowl as head coach could be what made him so emotional. That, or he's just a really big Chris Stapleton stan. Regardless, Twitter users were quick to share their newfound parasocial romance online... looks like thirsting over Joe Burrow is so last year.
Below are 10 of the best tweets about Philadelphia's finest, Nick Sirianni.
Some users have had their eye on Sirianni way before Super Bowl Sunday.
Others believe thinking Sirianni is hot is not a hot take at all.
Twitter user @La_serLife is prepared to debate anyone that denies Sirianni's rizz.
Sirianni once shared the fast-casual food he loves to eat while watching football... turns out some pizza isn't the only thing Twitter wants to take out. 😉
"I'm sorry that people are so jealous of me, but I can't help it that I'm popular." — Gretchen Weiners
It seems the tears were the biggest draw for new Sirianni lovers. Hot men go to therapy... and cry, too.
Although the tears weren't crush-fuel for everyone. For @AnnouncerBrian, it was simply proof that hard work pays off.
This isn't the first time Sirianni made waves online. Back in January 2023, he was called out for spitting all over himself on the sidelines of a game. Hot, I guess?
It might have been the biggest display of tears in sports in the NFL, some are assuming, so despite the game's outcome Sirianni might have already made history.
While the game is currently underway, some think the tears might be a good omen for an Eagles win. Hopefully, that means more Sirianni content to come. Full eyes, full hearts, can't lose.