What The UK Blocking Scotland's Gender Recognition Bill Means
Nicola Sturgeon described the move as a "full-frontal attack."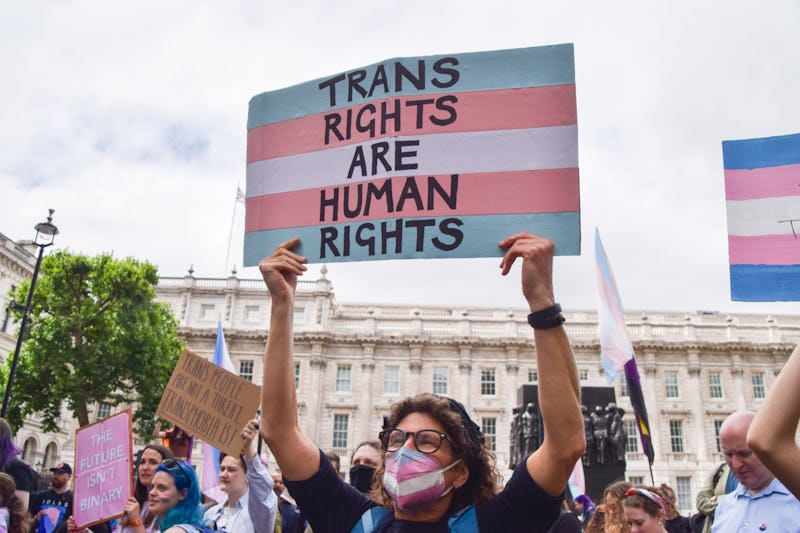 SOPA Images/LightRocket/Getty Images
The UK government has blocked a bill passed by the Scottish Parliament which would allow trans people in Scotland to legally change their gender without a medical diagnosis. Passed in Scotland on Dec. 2022, the Gender Recognition Reform Bill aimed to improve "the system by which transgender people can apply for legal recognition through a Gender Recognition Certificate (GRC)." The bill states that transgender people must be at least 16 years old to apply for a GRC, and will be required to make a "legally binding declaration that they are already living in their acquired gender and intend to do so permanently." However, on Jan. 16, Rishi Sunak's government made an order under section 35 of the Scotland Act 1998, preventing the bill from proceeding to Royal Assent. The controversial move has added fuel to the firey debate surrounding Scottish independence.
In a statement the UK government's Scottish Secretary, Alister Jack, said he did not take the decision "lightly," adding that he is "concerned" the legislation would have an "adverse impact on the operation of Great Britain-wide equalities legislation."
"Transgender people who are going through the process to change their legal sex deserve our respect, support and understanding. My decision today is about the legislation's consequences for the operation of GB-wide equalities protections and other reserved matters ... I have concluded, therefore, that this is the necessary and correct course of action," said Jack.
Although some welcomed the decision, many were quick to voice their disapproval over the "nuclear option" of blocking the bill. Scotland's first minister, Nicola Sturgeon, described the move as a "full-frontal attack" on the "democratically elected Scottish Parliament and its ability to make its own decisions on devolved matters."
Following the government's announcement, a spokesperson for the Prime Minister confirmed Sunak's position that "18 is the correct age for transgender people to change their sex."
On Jan. 16, Labour leader Sir Keir Starmer shared his view that "16 is too young" for people to make decisions about their gender. "On this whole issue of trans rights, I think the government is looking to divide people rather than bring people together," he added.
Meanwhile, Tory MP and UK Education Secretary, Gillian Keegan, appeared to break ranks with Conservative Party peers by telling Sky News that she does believe 16-year-olds are mature enough to decide on their gender. "I was working at 16, I was paying tax at 16, I was making decisions for myself at 16," she explained. However, Keegan later clarified that she was speaking from personal experience and did not intend to contradict the government's stance.
"This is not about whether or not Members of the Scottish Parliament were right to legislate on gender reform; it's broadly accepted that they were acting within Holyrood's powers," explains Philip Sim, the BBC's Political correspondent in Scotland. "Rather, the question is whether the reforms they have made would have broader consequences which could affect how UK-wide legislation works. For all of the political rhetoric flying around, those are the detailed legal points on which this bill will stand or fall."