30 Thoughtful Wedding Favors Your Guests Will Actually Appreciate
So you can spend more time planning the big stuff.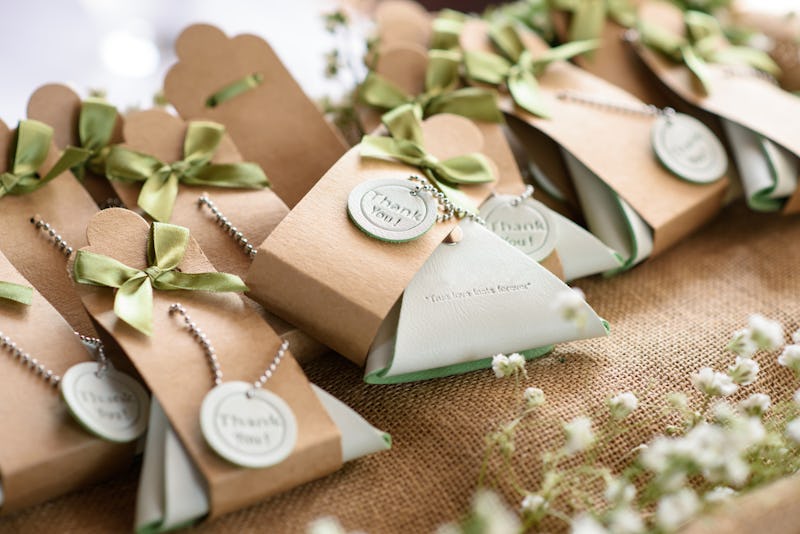 Shutterstock
Planning your wedding can seem a lot more fun in theory than in reality. Tasks like picking your wedding colors, searching for the perfect dress, finding unique wedding favors, even choosing flowers all sound great individually — but the stress of it all can really add up. Wedding planning is cumulative, and it likely won't come as a surprise to find that your stress levels — and perhaps your wallet, too — are taking a beating, but it doesn't have to be that way.
It can be stressful to not only come up with ideas for personalized wedding favors, but also to budget for them. According to the Wedding Report's annual survey, couples in the U.S. spent an average of $241 on wedding favors alone in 2019 (wedding data from 2020 is a bit abnormal for obvious reasons) — and that's not including other gifts for family and attendees like the bridal party. However, this average is by no means a blueprint, and you should prioritize what feels right for you.
"Eliminate things that are not important to you or don't add value to your priorities," Boston's Seaport Hotel's wedding expert Leah Malin explains to Bustle. "Don't feel the pressure to have a completely branded and customized wedding with lots of signage and over-the-top favors if that is not authentic to your taste and style." Instead, focus on things that are more about meaning than cost.
This is especially true of wedding favors. You want to give something memorable, something that will let your guests remember the big day but also your history with them — and that doesn't always have to break the bank or be a major cause of stress. The internet is brimming with amazing ways to come up with thoughtful, whimsical wedding favors that will make your guests feel cared about. Still overwhelmed? Here's where to start.
We only include products that have been independently selected by Bustle's editorial team. However, we may receive a portion of sales if you purchase a product through a link in this article.
Planning a wedding can definitely be overwhelming, so make sure that you're focusing your attention where it really matters. With favors, like with the rest of your wedding, it's the thought that counts — that's what your guests will remember.
This article was originally published on